Luther Cora, Australian Story
WORDS: Greg Pride PHOTOGRAPHY Brian Usher - www.usherusher.com
WITH his greying, bushy beard, painted skin and red loincloth, Luther Cora looks to have stepped straight out of an ancient world.
Standing fiercely on the beach next to Elephant Rock at Currumbin, spear in hand, he could easily be mistaken for a time-traveller were it not for the high-rise skyline of Surfers Paradise glinting in the early morning sun to the north.
Luther Cora, 43, is a proud Yugambeh man, his family's connections to the Gold and Tweed coasts going back generations, long before white settlement.
Plenty of born-and-bred Gold Coasters lay claim to being true locals, but they're really blow-ins compared with Luther and his people.
"We've traced our family's connections to this area as far back as my great, great, great, great grandfather," he tells Ocean Road.
"My grandmother, who recently passed away in her 90s, was born on Ukerebagh Island in the middle of the Tweed River (where Aboriginal senator Neville Bonner was also famously born).
"We've been here a fair while (laughs)."
Many readers will have seen Luther and his family performing at the Currumbin Wildlife Sanctuary, Gold Coast Suns and Indigenous All Stars games or in the opening ceremony of the 2018 Gold Coast Commonwealth Games as part of the Yugambeh Aboriginal Dancers troupe. The performances are one of the ways Luther reaches out to non-indigenous people in an effort to share his culture, break down barriers and build a bridge.
"It's not Aboriginal history or Aboriginal culture or stories, it's Australian history, Australian culture, Australian stories," he says.
"The Aboriginal culture – the histories, the stories – they belong to this land and so if you are Australian, they belong to you too."
We're chatting to Luther at the Jellurgal Aboriginal Cultural Centre in the shadow of Burleigh headland, which – Dreamtime legend has it – was formed when the giant creator spirit Jabreen lay down to rest and was fossilised in molten lava after swimming out to the horizon following a day of hunting and feasting on kuppai (native honey).
The photo shoot done, Luther has swapped his dance attire for shorts and a singlet emblazoned with colourful indigenous artwork, his thick beard and dreadlocks framing kind eyes and a big smile.
Taking a seat at a table decorated with Aboriginal art, he tells us he was born at the old Southport Hospital, the eldest of 10 siblings.
His family moved to Mackay when he was aged three or four and he grew up there and later, in Townsville.
"North Queensland has a much bigger indigenous population than the Gold Coast so the culture is a lot stronger and I really engaged in it up there," he says.
"Mum was the homework co-ordinator at Garbutt State School (in Townsville) and she engaged the local indigenous elders to see if they wanted to be involved in teaching kids a bit of culture to try and keep them busy in the afternoons.
"The elders came and taught us dance, song and art and I really engaged in that and soaked it up and connected well with it. I found it really hit me in the right spot. I loved it and I couldn't get enough of it.
"Like most teenagers, I was a bit lost and needed a bit of identity. You learn about the culture, the protocols and respect and you sort of found out who you are and where you fit in in this world."
When he was 16, Luther went to Canberra to live with his uncle, who was part of an Aboriginal dance troupe performing at the National Zoo and Aquarium and touring local schools.
It immersed him even deeper in his culture, sowing the seeds for a career as a professional Aboriginal dancer and cultural educator.
"It really affected me somehow and I just wanted to pursue it and chase it," he says.
"Being around these old people (elders), they have a lot of information and they passed that information on to me.
"I didn't see it as a career or a job in the early days. I just found it necessary to pass on whatever I was getting taught about Aboriginal culture. I didn't know I was educating people at that stage, I just thought I was sharing the culture.
"I realised people were really engaging and wanted to learn more about it. People are more open to it, moreso now than when I first started.
"They want to know more about indigenous people and it wasn't always the case."
After two years in Canberra, Luther returned to the Gold Coast to learn more about the stories of Yugambeh country to pass on to locals and tourists. He began dancing at Currumbin Wildlife Sanctuary in 1997 and has performed there, off and on, ever since, as well as at schools and corporate events.
Today, the show can boast as many as three generations of Coras, including his dad Steven, 60, and Luther's five kids – Khadesia, 19, Hezekiah, 17, Tayvonne, 15, Tedashii, 13 and Jahquon, 11. Nephews, nieces and cousins can also be part of the spine-tingling performances.
"I teach my children to be proud of who they are when they're dancing, to speak well, to present well," he says.
"I instil into my children who they are and how they belong by taking them out on country fishing and hunting, showing them different parts of the area that are special to local indigenous people and just giving them the opportunity to learn culture."
Luther and his family performed in the spectacular opening ceremony at the 2018 Gold Coast Commonwealth Games at Carrara Stadium. He directed the performance, which included a moving indigenous smoking ceremony.
"We invited performers down from other remote communities including Woorabinda, Kuranda and Lockhart River to share the stage with us," he says.
"We perform every day on a big stage but I wanted to give those guys an opportunity like that to showcase how good they are. To have an opportunity to perform at something like the Commonwealth Games was life-changing for those guys and an experience they'll never forget."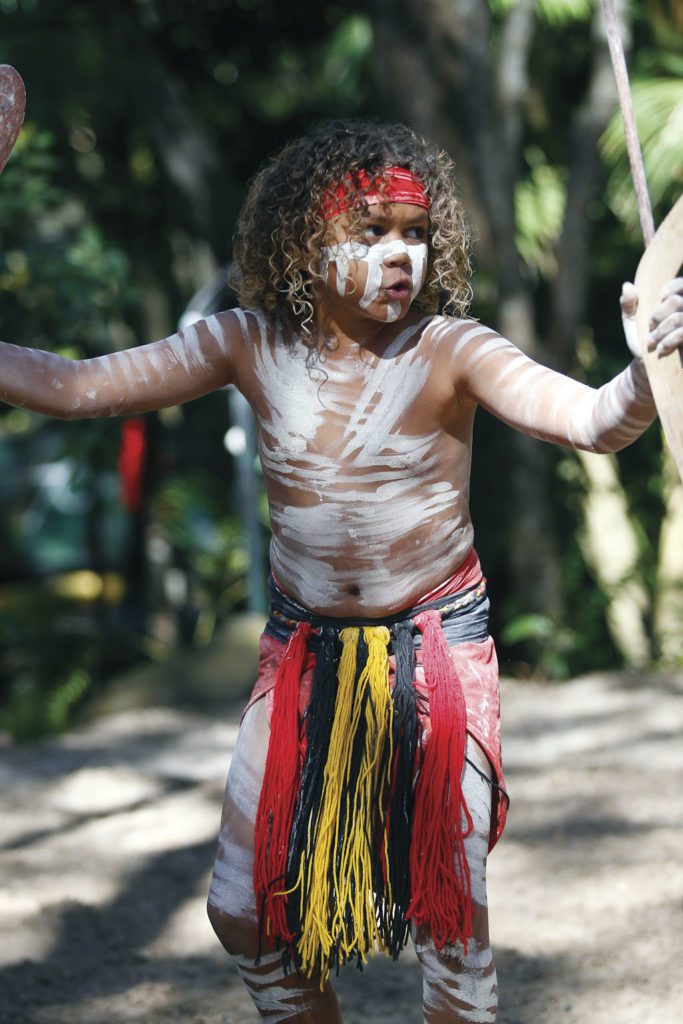 Indigenous activists staged at-times violent protests at the Games and while Luther says he understands why, it's not his style.
"For us, we fight the same fight but in a different way," he says.
"We understood why the guys were protesting – we don't deny that things need to change in Australia – but I myself and my family have a different approach by trying to bring change through dance and culture.
"There's a time and a place for everything, including protesting."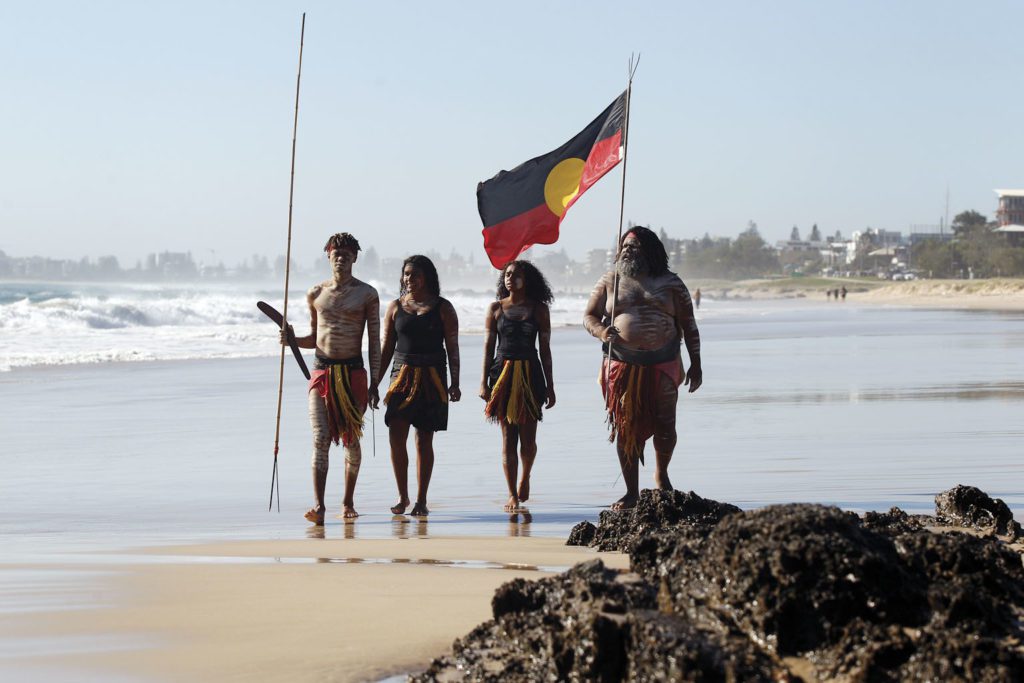 Luther did take part in last year's Black Lives Matter march in Brisbane.
"Sometimes you have to stand up and fight against the system," he says.
"They got a bit carried away in America last year with the rioting but as Martin Luther King said, riots are just the language of the unheard. If no-one's listening to you, you're going to have to start a big noise to get them to hear and that's what our people have always done.
"Sometimes it seems like we don't have a voice. But I prefer to send a message through dance and culture to let (non-indigenous) people see the beauty of this land. Let them know that this is their culture, that it's something they should be proud of.
"The Indigenous cultures of Australia are the oldest continuing living culture in the world and science has now proven that it is at least 60,000 years old.
"People travel overseas to find exotic cultures, to visit the pyramids of Egypt that are 2000 years old, when we have the most beautiful, rich culture right here in our backyard."
Luther says he and his family don't celebrate Australia Day – 'I'm usually working' – but doesn't have a 'strong stance' on the controversy surrounding the date.
"I personally don't have an issue with it but obviously my people do and they are angry and marching about it. There must be something wrong," he says.
"It's not just one person's view on it, it's a collective. I don't think there's ever been a conversation about it with my people.
"No one has ever asked us all to come together and talk about what the actual issue is. There has never been that conversation on a government level. Create a space for our people to come together and ask us why we don't want to celebrate that day."
Luther is passionate about educating not only non-indigenous people, but his own community. He tours areas including Cape York to mentor indigenous youths about issues such as identity and respect.
"I love working with young people and encouraging them," he says.
"I'm going to 14 communities with the PCYC to talk to youth and encourage them to realise how strong they are and how resilient we are as a people.
"Culture is about respect, not only respecting yourself but respecting others, no matter who they are.
"I teach it to all children, black and white. Education is important, talent is important, but if you don't have respect to go with that, you don't have anything. No one will care.
"You see football players who are smart and talented but have no respect for themselves or their community and go out and do stupid things.
"Respect has gotten me to where I am now. I've travelled all around the world and Australia, met big names and celebrities and it's not because I'm educated or talented, but because I have respect for myself and others."
As well as his dancing and educational skills, Luther is also a talented visual artist, dabbling not just in painting but also photography and sculpture.
"I'll try my hand at anything," he says with a chuckle.
He has designed the Gold Coast Suns' indigenous jerseys for several years and one of his pieces featured in last year's Swell Sculpture Festival at Currumbin Beach.
Photography is a relatively new-found passion and his Instagram page, @photography_by_black_cockatoo, showcases ethereally beautiful digital portraits of subjects including his children.
"I love all people but I really have a passion for my people," he says.
For Luther, passing on his culture is not just a job. It's a duty.
"I feel it's my job to teach people our culture because they won't find it in textbooks," he says.
"It's untold at the moment."