WORDS: PHOTOGRAPHY
Our amazing African journey began in Capetown, South Africa. Then, we set off riding a motorcycle (two-up) with fellow Gold Coasters Dr. Mark and Camille Thompson from Capetown, Western Cape of South Africa. We travelled through the deserts of Namibia, into the Kalahari and the Okovango Delta in Botswana, into Zimbabwe and Victoria Falls.
On we travelled to Oliphants River Private Game reserve which borders Kruger national park as guests of Gold Coasters, Dr. Manny and Gail Pohl.
The motorcycle element proved to be the most challenging, yet rewarding, component. We covered over 4000klms of diverse African terrain, en route meeting a huge range of people, different cultures and of course, animals.
Day 1: bikes
Capetown is awesome, a truly beautiful city with a blend of cultures and history that seems to work here. This afternoon we join our other Gold Coast travelling companions Dr. Mark & Camille Thompson and others from all over the world. We will be handed the keys for our BMW 1200 GS Adventure. I have never ridden one before so it could be interesting given where we are going all two up.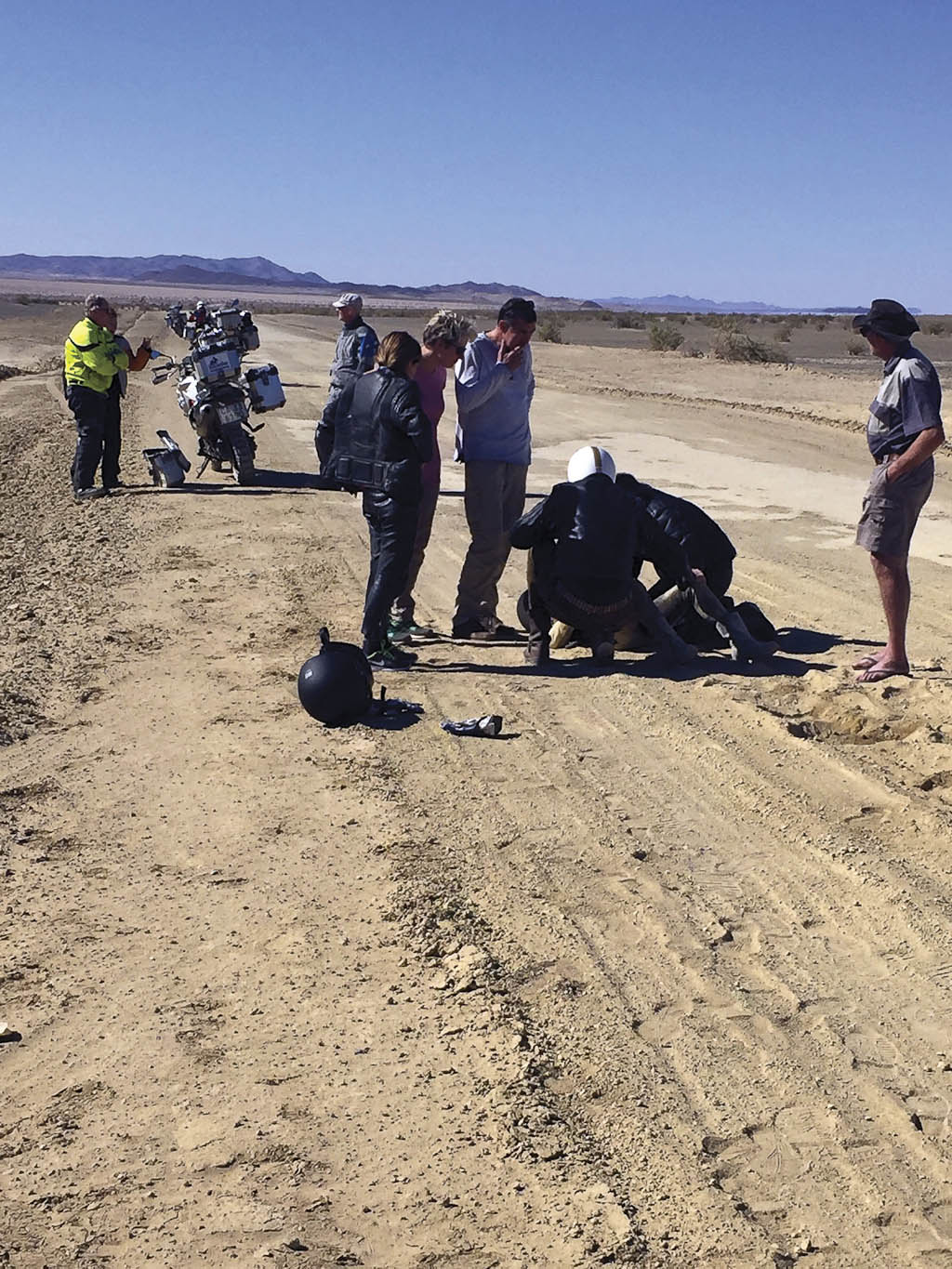 Day 2: rain
The first day on bikes – heavy rain!
The rain started as we headed out of the hotel car park. Two crashes in the carpark both due to the riders being not suited to their bikes. Bikes recovered, one swapped over, dignity restored we again headed out.
The ride took in some great scenery, but due to the fog and rain, we just didn't see it. We headed straight to our Citrusdal hotel, in my case minus gloves due to them being burnt in a fireplace trying to dry them out. Another rider sustained nasty burns from his heated grips! Comedy of errors – bring on day three.

Day 3: speed
Warm, sunny day and with fabulous roads. I was able to give the big 1200 Beemer a good work out towards the Namibian border via Lambert Bay and its beautiful coastal landscape. Bike went well despite, off road tyres, panniers and two up!
Day 4: gravel, sand and bureaucracy
Namibian border was just an hour or so away. Passports checked on South African side before we crossed over to Namibia and to our first real taste of African bureaucratic bull#*@. Immigration forms galore. Two people to process many including the 19 of us. One official refused to let our support vehicle driver, Stephen in without a visa even though he had been doing this same border crossing for eight years without one. Stephen carries the groups luggage, a spare motorcycle and provides the essential backup role which proved its worth later that day. Unsatisfactory compromise was Stephen allowed to take the luggage to the overnight stop but then had to return back over the border within 24 hours!
Stark desert terrain and riding was very difficult on, corrugated, gravel and sandy road. Proved to be too much for one of our group who crashed badly. She was concussed but otherwise not badly injured. Bike was rideable but understandably she opted to ride with Stephen, as did two other pillion passengers who were shaken up by the accident. Stephen drove remaining140 kilometres to the lodge, then drove the same crap road back to the border.
Day 5: desert experiences
Canyon Lodge. Welcome oasis in the desert after the dramas of the day before and for the days ahead. Stephen back from the border so off to magnificent, breathtaking Fish River Canyon, second in size to only the Grand Canyon.
Namibian desert break stop, interesting strange roadhouse more automobile museum than eatery. Car and truck stuff everywhere. Met a Japanese guy who had ridden 7000klms from Cairo en route to Capetown on some of the crappiest roads one would ever encounter – on a pushbike. Amazing!
Keetmanshoop after a few more kilometres of dirt then asphalt which settled the dust a bit then a rather difficult dirt section, with "washboards" as the Americans called the corrugations.
Arrived at Quiver Tree forest rest camp. Captive (but not tame!) cheetahs hand-fed by the owners of the camp. Warthogs grazing next to the bar where we enjoyed après riding beers.
Domenico, our head guide, was annoying the largest hogs until it attacked him which was both amusing and scary at the same time. Pumbah wasn't in the Hakuna Matata mood.
Day 6: to the oasis
Breakfast with the same wart hog then after viewing Giants Playground, natural boulders forming structures that looked man made, a difficult dirt road out to the asphalt. Short quick 220klm ride to the Kalahari Anib resort – another oasis.
Two kilometres of slippery sand between the asphalt and resort.
Day 7:
Asphalt to Maltahoe where we gave some little kids a koala. Lunch in a pub that wouldn't look out of place in Australia except for the stuffed hyena in the bar! Then corrugations, sandy patches and dust…dust that temporarily blinds you when a truck passes. Riding two up on these roads is a real challenge. Concentrating so hard to keep the bike upright that I didn't see an Oryx (gemsbok) running alongside us only a metre or two away! Spectacular desert mountain scenery around our destination the Namib Nakult lodge yet another oasis. Ground squirrels to meet us; beers and African camp oven meal. Great!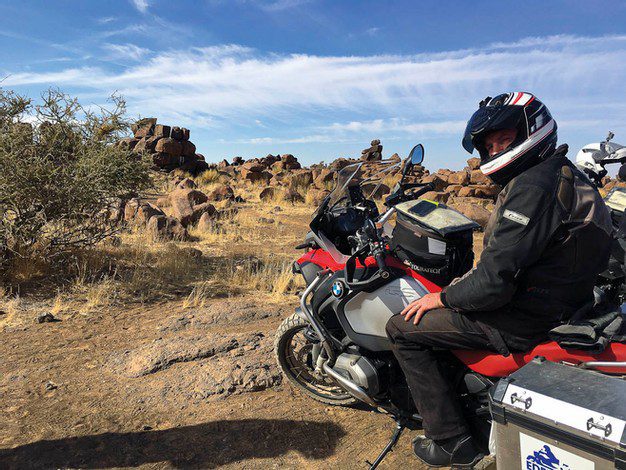 Day 8: off the bikes
Welcome day off the bikes but no rest. Up at 4:30am for a 130km drive to Sossusvlei to visit the world highest sand dunes. Desert wind blew throughout the night and hadn't abated when we left for the dunes.
Despite the dust storm we encountered omnipresent Springbok, more Oryx but delighted to come across six giraffe in the pre-dawn half-light. They had apparently been relocated from Etosha game reserve to see if they would survive the desert. Venture out to Dead Valley, a now white clay pan where 800 year old trees albeit long dead, provided a stark contrast to the red sand and blue sky. Good day despite the dust and wind.
Day 9: desert to coast
Next day the wind was even stronger for the 300klm to the coast. Our last day in the gravel. Decision made: too risky to go two up. Wind too strong, road so bad.
Good call as wind, dust, corrugations, sand, potholes and other vehicles namely buses and safari vehicles nearly caused me to collide with a safari vehicle appearing out of the dust. Then another when I swerved to miss it. Had we been two up it would have most certainly ended differently.
Crossed the Tropic of Capricorn. Support vehicle now with six passengers (three pillion passengers, three riders who opted to trailer their bikes and ride in the car rather than tackle the road) and driver, plus four bikes, hit sand on the side of the road, jack- knifed, recovered but all but bogged in the sand.
No pillions meant I could stand on the bike pegs at speed. Letting the bike take all the pounding, which the BMW 1200GSA is very good at absorbing. Yes, there were dented rims, loosened panniers and other vibration related faults but the bikes did remarkably well.
Walvis Bay and the coast. Flamingo on foreshore through the sea mist to Swakopmund and to our hotel to dust off. No more dirt! Asphalt all the way to Victoria Falls!
Day 10: blacktop to the capital
Brief morning tour of Swakopmund before headed off to the capital of Namibia, Windhoek. Good road, quick pace but passed by locals at a considerably quicker pace!
Landscape now less stark with some stubby trees. Backdrop of spectacular desert mountains until we reached Windhoek. Surprisingly modern city. Great accommodation again with the now expected good food and South African wines. Enjoyed very German influenced local Namibian beer but food and drink so far on the ride with very little exercise due to being unsafe outside of the hotels didn't help the waistline! Even ATMs had security guards 24/7.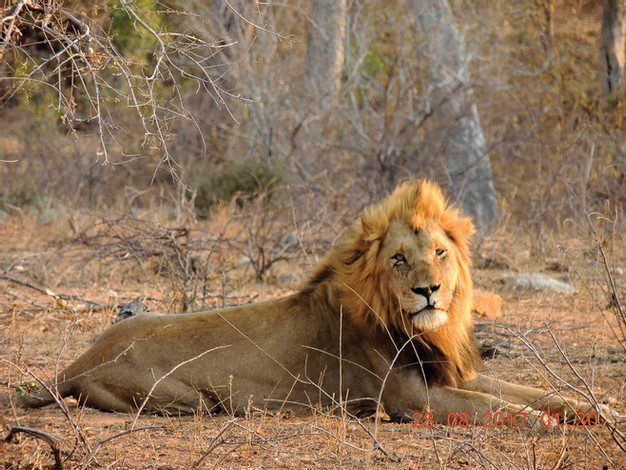 Day 11 & 12: enter Botswana, Kalahari and Okavango
Long ride of 530 klms to Ghanzie in Botswana. Last day in Namibia. The road to Ghanzie from Windhoek straight due east, always unpredictable in Africa. A few baboons and wildlife on the way; warthogs, springboks and ostrich. More fenced cattle farms rather than native wildlife. Slow, uneventful Botswanan border crossing made enjoyable by little kids wanting to sit on our bike for photos with little koalas we'd given them.
Botswana. One of the fastest growing economies in Africa. Little evidence of this in western Botswana. Roads deteriorate, made more dangerous by broken down trucks being repaired in the middle of the highway. Plus constant threat from potholes, donkeys and cattle crossing the road. Ghanzie, and the interesting The Kalahari Arms Hotel. Mounted heads of Eland, kudu, oryx etc. even a Cape buffalo around the wall in the bar.
Short 280klm ride to Maun in the heart of the Okavango delta and a safari! Highlight was the brightly coloured dresses of Herero women in villages – who, incidentally, don't like having their photo taken.
Heading to some of the best wildlife viewing in Africa, and not on a pub wall.
Day 13: safari
Trip into the Moremi game reserve, part of the larger delta park system, a real bonus to motorcycle adventure.
Left Maun lodge at 5am with two local guides in open game viewing vehicles. Freezing! Same gravel roads we experienced on bikes. Four hour drive to park. Many elephants and evidence of how destructive to the bush they can be in large numbers.
Sighted giraffe, hippo, gazelles, kudu, wildebeest, zebra, warthogs, impala, mongoose and more, but we were too late to see predators like lion, leopard cheetah, hyena. Nor did we see buffalo or rhino, sadly very few left in the park. Lunch next to a waterhole with animals providing a typically African backdrop. Fantastic! Amazing just how close we were able to get to the animals in the park.
Day 14: dash to Nata
Penultimate riding day. Short 320 km from Maun to Nata. Landscape, low trees and bushes. Wide grassed verges frequented by donkeys and cattle. Riders hit potholes causing major damage to tyres and rims but fortunately still rideable. Road gangs fixing potholes amidst the traffic. No stop/go guys here. Lunch at Planet Baobab. Resort in Baobab trees, middle of Kalahari desert.
Had to negotiate a 10klm detour on dreaded gravel, corrugated, dusty roads again to reach the Nata Lodge. Passed beautiful lake full of flamingo, made it worthwhile.
Day 15 – elephants
Last riding day to Kasanne. Can't believe it's almost over… Wonder if they will let me keep my bike?
Nata Lodge very impressive, could have easily spent more time. Still had 300kms to ride to Kasanne. Warned to expect elephant on the road. Stopped to photograph four or five elephants grazing 100 metres from us. Realizing as we reeled of shots more elephants on the opposite side of the road. Seeing an elephant herd whilst on the bike was exhilarating but being virtually in the herd was breathtaking. Heart pounding, helmets still on, motor running. Another rider stopped his bike between a large elephant and the rest of the herd across the road. Standoff until both moved away. Fantastic experience all round. Highlight of the trip so far.
Rode into magnificent Chobe Marina Lodge in Kasanne with great sense of achievement and relief. Also some sadness we wouldn't be getting up next morning and riding off into the cool African morning.
Pleasant surprise waiting for us. Soon after arrival, onto a Chobe River punt to circumnavigate a large island in the river that was a refuge for hundreds of animals; elephant, Cape buffalo, antelope, hippopotamus, crocodile, kudu, baboons, Malibu stork, water bucks.
In awe of natural vista before us. Treated to one of the best sunsets you could ever see. Fantastic end to a fantastic day and memorable motorcycle journey.
Day 16: Victoria Falls – why else?
Magnificent Victoria Falls. Leaving superb hotel room, given a show by resident monkeys, mongeese and more warthogs. Boarded the bus for Zimbabwe border. Sadly bikes have gone by now.
Botswana side hectic as we lined up to have our passports stamped with dozens of others. Cars and trucks all over the place, but our driver made it easier by collecting our passports, all stamped together, back onto the bus.
Short drive to the Zimbabwe side. Scene from a movie. Hundreds of people channeled through a door in the sun amidst, trucks, buses and cars with no apparent order. Lined up for agonizingly slow three hours in the hot African sun. When I finally reached the front of the queue one of the two officials took a lunch break. Well, it is Africa!
Arrived at Kingdom Hotel and headed to Falls, five minutes' walk from hotel. Awesome!
Motorcycle adventure has come to an end, but we take away a fantastic experience we shared with people from the US, Germany, Ukraine, France, Italy, Switzerland, Austria and Australia.
Day 17, 18, 19, 20, 21: Oliphants River
Now heading to a private game reserve called "Oliphants River" near Hoedspruit in South Africa. No problem departing Zimbabwe, unlike painful process crossing from Botswana.
Short flight to Johannesburg, night in a hotel near airport before early morning flight to Hoedspruit. We were advised not to go out of the hotel room or even answer the door. Not a positive impression given of city.
Tomorrow off to Hoedspruit and Oliphants River Private game reserve.
We had met our hosts, fellow Gold Coasters, Dr. Manny and Gail Pohl at the Johannesburg airport together with other well known Gold Coast identities Murray and Cath Dalmeida and Brisbane solicitor Dominic and Mary-Rita McGann. Manny, Murray and myself are all trustees to the Currumbin Wildlife Hospital Foundation and us such share a common commitment to animal conservation. Manny and Gail (as is Cath Dalmeida) are native born South Africans. Bought their share in the 12000 hectacre Oliphants River Private game Reserve in the interests of animal preservation and to retain their piece of South Africa. As entry to the reserve is by owner invitation only, Leanne and I felt very privileged to be asked to join the Pohl's at their fantastic wildlife haven.

A mini van transfer to the reserve through bush land. See giraffe, warthogs, impala and more. Fences, guarded gates and warnings informing all that the reserves rhino horns had been injected with poison, a reminder of sad reality of poaching that is prevalent in the area.
Arriving at the Pohl's Oliphants River residence told not to venture off the house porch, pity as it's next to the river, very picturesque.
Twice-daily game runs were fantastic. Oliphants backs onto the Kruger with no fence separating them and so what animals Kruger has Oliphants has.
Reserve very dry but we saw a lot of game that we hadn't seen whilst on the bike – probably a good thing as we viewed quite a few lion.
Manny driving, Gail proving food and drinks. Hospitality boundless and appreciated. One night Manny organized a Braai and a fire pit under the stars. I couldn't stop myself from looking out into the darkness thinking something was watching us. Couple of red wines dispelled the anxiety.
Highlights were plentiful. Two males lions resting up at dusk before the nights' hunt and hearing at close range the two roaring at each other. Chilling! Two female lions resting on a railway track that runs through the reserve (apparently quite a few lions are hit by trains). Watching baboons climbing high power poles to get eagle eggs from the nest perched on top.

In last 24 hours, most memorable highlights occurred.
Radio call informing a leopard had been spotted with a kill near a section of the river. Manny quick detour but there was no leopard to be seen. Watching a large crocodile instead when another vehicle parked immediately in front of us. We enquired if they knew where the leopard was The driver very laconically pointed past us and stated , " it's right behind you!"
We just laughed this comment off when he reiterated the statement somewhat more forcibly.
Turned around. There to our absolute delight was a leopard walking cautiously across the track behind us!

I think it was the surprised involuntary expletive I shouted that scared him off, but not before everyone in our car caught a glimpse. I remarkably managed to get a photo despite the fleeting moment. Amazing!
Our last morning saw us running again looking for the elusive rhino.
Leanne throughout entire trip had gained a reputation as an ace animal spotter. She didn't let us down on this occasion either. Out of the corner of her eye she noticed an impala make a sudden jerky sideways jump from the bushes. She focused on this impala and observed a large grey shape moving in the bush.
The realisation then hit her and she yelled for Manny to STOP! There were actually four or possibly even more rhino in that bush. We marvelled at the sight before us.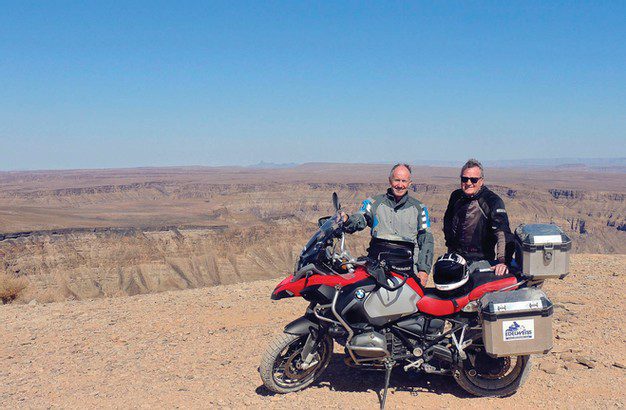 African adventure: complete
It was a magnificent trip in three parts; Capetown, the motorcycle tour and Oliphants River game reserve. All three componnents were fantastic in their own right. We met and spent time with some great people from all over the world but it was those from the Gold Coast whose company we enjoyed immensely.
We want to thank Dr. Mark Thompson and Camille who initially suggested the motorcycle odyssey to us and were our travelling companions on this fantastic adventure. We particularly want to thank Manny and Gail Pohl for their generosity in sharing their magnificent South African residence with us.