LIFESTYLE & HOME ESSENTIALS
WORDS: PHOTOGRAPHY
This season hottest lifestyle & home essentials.
HERO IMAGE Caption details
Product name: Denver Sofa
Description: Denver sofa with Bagru coffee and side table
Price: POA
Company: OZ Design Furniture
Stockist: www.ozdesignfurniture.com.au
Loose lips tea Co
Relax and rejuvenate with the all-organic handmade tea range.
We love Grand Ginger Lemon RRP 14 80g and Peppermint & Licorice 50g. RRP$12.50 Tip: Infuse tea into silicon infuser RRP $5. www.looselipstea.com.au
HAND WASH
Melt into this luxurious hand wash of pear and honey heaven.
MOLTON BROWN Comice Pear & Wild Honey Fine liquid Hand Wash
RRP$39.
www.moltonbrown.com.au
Umbrella Love (LOVING)
As the weather heats up, get down the beach and create the perfect weekend vibe with this on-trend vintage style umbrella.
RRP$249.
www.sundaysupply.co
GROW YOUR OWN
Urbangreens is an Australian company offering small seeding grow kits with everything you need to grow your own fresh produce at home. Five kits to choose from, available at Biome Eco Stores.
We love Some Like it Hot & Summer Salad, RRP $24.95 each. www.biome.com.au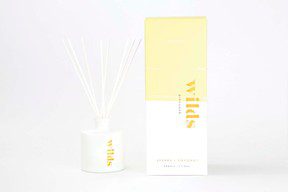 HOME SCENTS
Refresh your scent pallet with these affordable scented candles and diffuser collection. The smell of summer is on our doorstep!
Wild Classic Candle 260g RRP $29.95.
Room Diffuser 200ml RRP $29.95.
www.wildshome.com.au
THE CHAIR
Caption details
Product name: Granada Butterfly Occasional Chair
Description: Galvanised Powdercoated Iron Frame with Resin Weaving
Price: $750.00
Company: GlobeWest
Stockist information: www.globewest.com.au/store-locator/
Product name: BRIGHT BEADS 4 CLUSTER
Designer Tip: A fantastic way to incorporate various shapes and colours into your home. These clusters will create a warm textured feeling.
Price: $1580.00.
Company: The Design Hunter Pty Ltd.
Stockist information: www.thedesignhunter.com.au
Product name: SOPHORA PILLOWSLIP PAIR – SILK AND
Product name: CASCADES I PILLOWSLIP PAIR – SILK
Description: Made in New Zealand.
Price is for the cover only, insert not included- pack includes two pillowslips!
Price: $369.00.
Company: The Design Hunter Pty Ltd.
Stockist information: www.thedesignhunter.com.au
Product name: Bamileke Feather Headdress (white)
Description: Inspiration

Handmade in Cameroon

Traditionally worn by royal dancers of the Bamileke tribe during ceremonies, this striking African feather headdress [juju hat] symbolises prosperity. A rare object of beauty, they're believed to possess the positive qualities of birds.
Price: $595.00.
Company: Safari Fusion.
Stockist information: safarifusion.com.au