Lapping the competition: Newnham Constructions brings resort-style iving to one coast home with a dazzling design collaboration with Leanne O'Toole Interior Design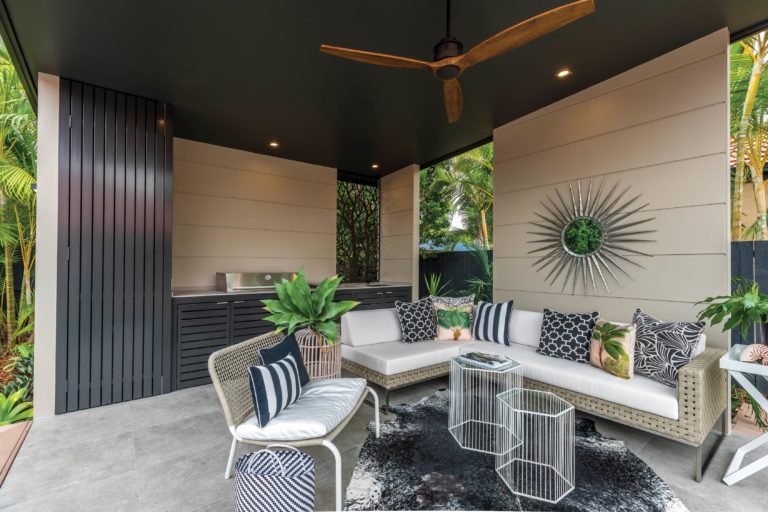 WORDS: PHOTOGRAPHY
A stunning swimming pool and entertainment area go hand in hand with the ultimate coastal lifestyle, but for some property owners, achieving that dream entails perseverance, vision and building ingenuity.
When Jennifer and Shane Marles-Malone bought their Burleigh Waters home 12 years ago, they initially entertained the idea of a backyard lap pool, but the location of council sewer and pipe locations stymied that plan.
Not to be deterred, the couple asked Gold Coast-based interior designer Leanne O'Toole, director of LOT Interior Design, to create an alternative pool and pavilion design.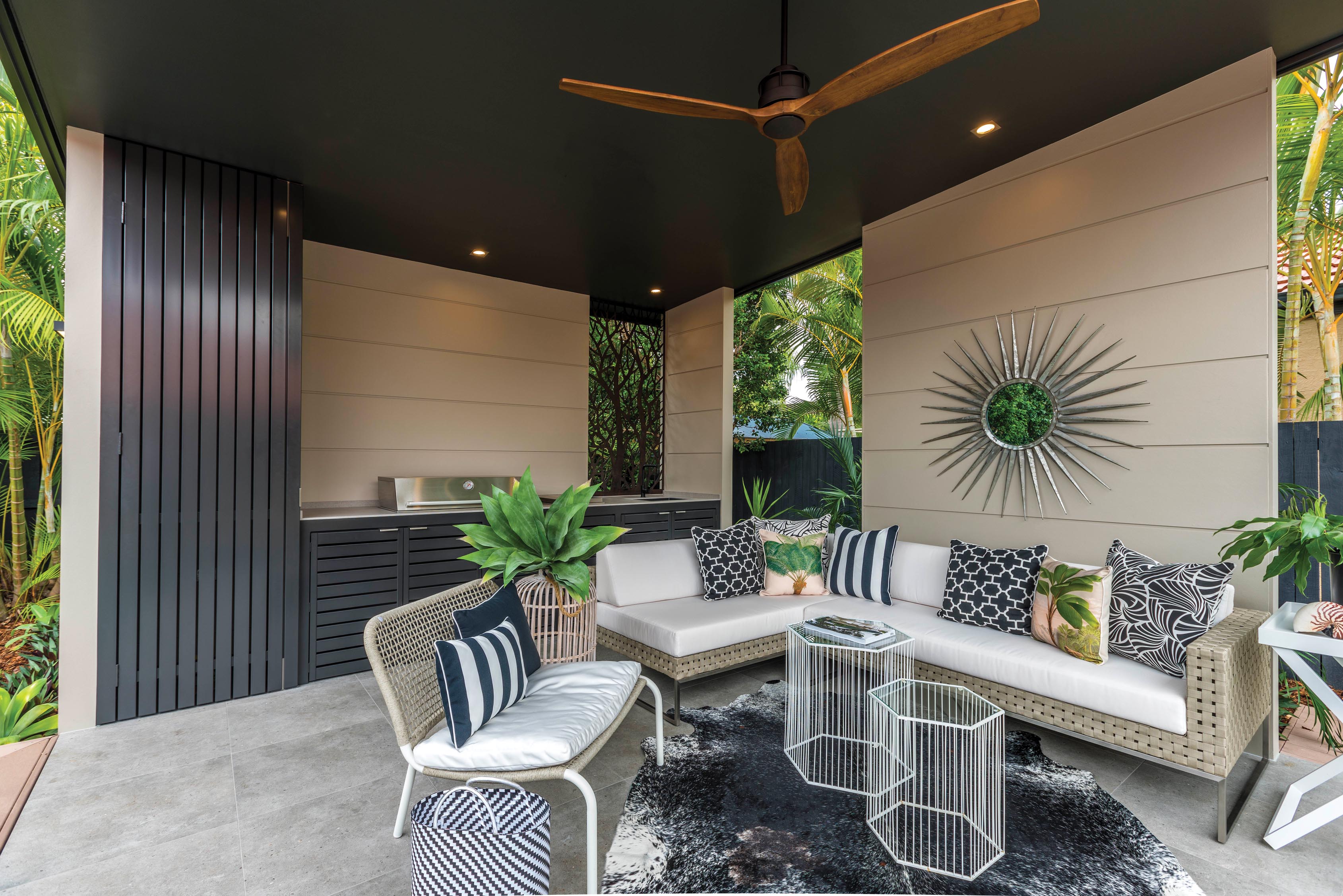 "One area that was a huge concern was the fact that the rear garden often filled with water during heavy downpours… and it was slow to subside," Leanne explains.
"We certainly didn't want to increase this problem with the addition of a swimming pool."
Leanne's solution was to design a striking resort-style pool which would wrap around the home's main living areas, showcasing a modern entertainers' pavilion as its focal point.
Delighted with the plans, Jennifer and Shane engaged Leanne to obtain three building tenders which were submitted for client approval with a Tender review. Leanne highly recommended the award-winning Gold Coast building company Newnham Constructions.
"I wanted my clients to have peace of mind in terms of their drainage issues and a Quality build," Leanne says.
"I had worked with Newnham Constructions on other major renovation projects in Sanctuary Cove whilst I was design director for Robertsons Design Studio. One of those renovations in Anchorage Terrace had major water issues due to inadequate storm water drainage. Before we renovated that home, it had flooded three times.
"As soon as we started the construction works at Burleigh Waters, it was evident to the client that Frank Newnham was the right choice."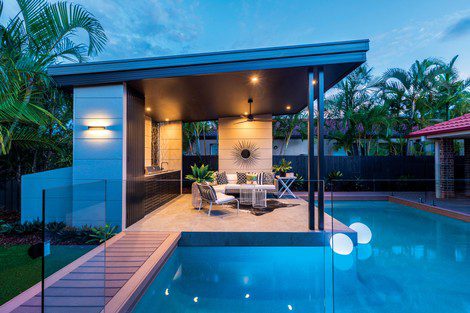 With L&V Pools engaged to install the saltwater pool, Frank Newnham and his team used their building expertise to resolve the complex drainage issues and construct the stunning pool pavilion and timber decking.
Company general manager Daniel Newnham explains the intricate process:
"We put in additional drainage to accommodate all of the storm water from the original house roof, and also added additional drainage for the pool which was concealed under the new timber deck areas," Daniel says.
"There was (delete also) extensive drainage added for the outdoor shower."
Once the drainage issues were resolved, the Newnham team was able to focus on executing the other unique design elements to create an outdoor renovation the owners describe as their 'home sanctuary.'
Surrounded by sparkling water and tropical plants, the stylish pavilion appears to be floating; its elegant simplicity enhanced by a self-contained outdoor kitchen complete with built-in barbecue, under counter sink and weather-proof panels that conceal a fridge and pantry zone.
There are even industrial strength hooks in the pavilion's skillion roof – supported by a main beam – allowing the home owners to suspend a fabric hammock to indulge their passion for aerial yoga.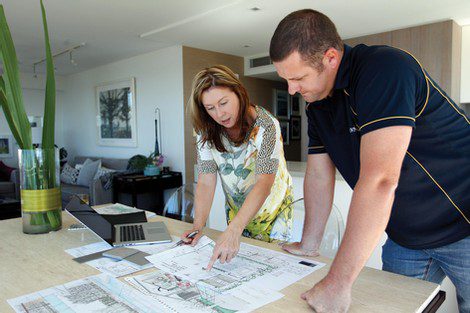 "It took me two days to find the right industrial-strength hooks capable of bearing up to 500 kilograms in weight," Daniel laughs.
Daniel, who along with his father Frank has worked on dozens of prestige Gold Coast homes, says the Burleigh Waters project shows how even the most difficult site issues can be overcome with a good designer and the right builder.
"It does cost a little more when you involve more people in the construction process, but it's worth it in the long run to get a finished project that looks fantastic, is compliant with council regulations and eliminates any potential drainage problems.
"Frank's knowledge on those sorts of issues is just brilliant. He knows how to find a solution."
Leanne O'Toole says the clients, who are currently based overseas, have already reaped dividends from their $120,000 renovation investment, with the home attracting a higher rental return and gaining significant value overall.
"Burleigh Waters is a sought-after area and the property now has a real resort-living vibe which is great for entertaining," Leanne says.
"The L-shaped pool follows the family room, the dining room and flows across the living room and master bedroom. They can walk onto the timber decking from the master bedroom, and also their dining room and family room."
Daniel says any property owner who wants to bring their dream project to life can achieve a similar result with the right budget and planning.
"This project shows the scope of what can be done. Luckily we have the depth of experience to solve those complicated issues like drainage problems and still create an end build that has flair and a luxury finish.
"Ultimately, we want to build spaces that are a joy for people to live in and I think we've been able to achieve that with this project."