KING FISH SASHIMI WITH AVOCADO, SQUID INK RICE CRACKER AND TOGARASHI
WORDS: PHOTOGRAPHY
240G KING FISH FILLET
1 TABLESPOON SOY(TAMARI)
1 TEASPOON RICE WINE VINEGAR
CHIVES(CHOPPED FINE)
100G SUSHI RICE
500ML WATER
1.5 TABLESPOON SQUID INK
1.5LT VEGETABLE OIL
TOGARASHI SPICE
1 1/2 AVOCADO
1 LEMON
SALT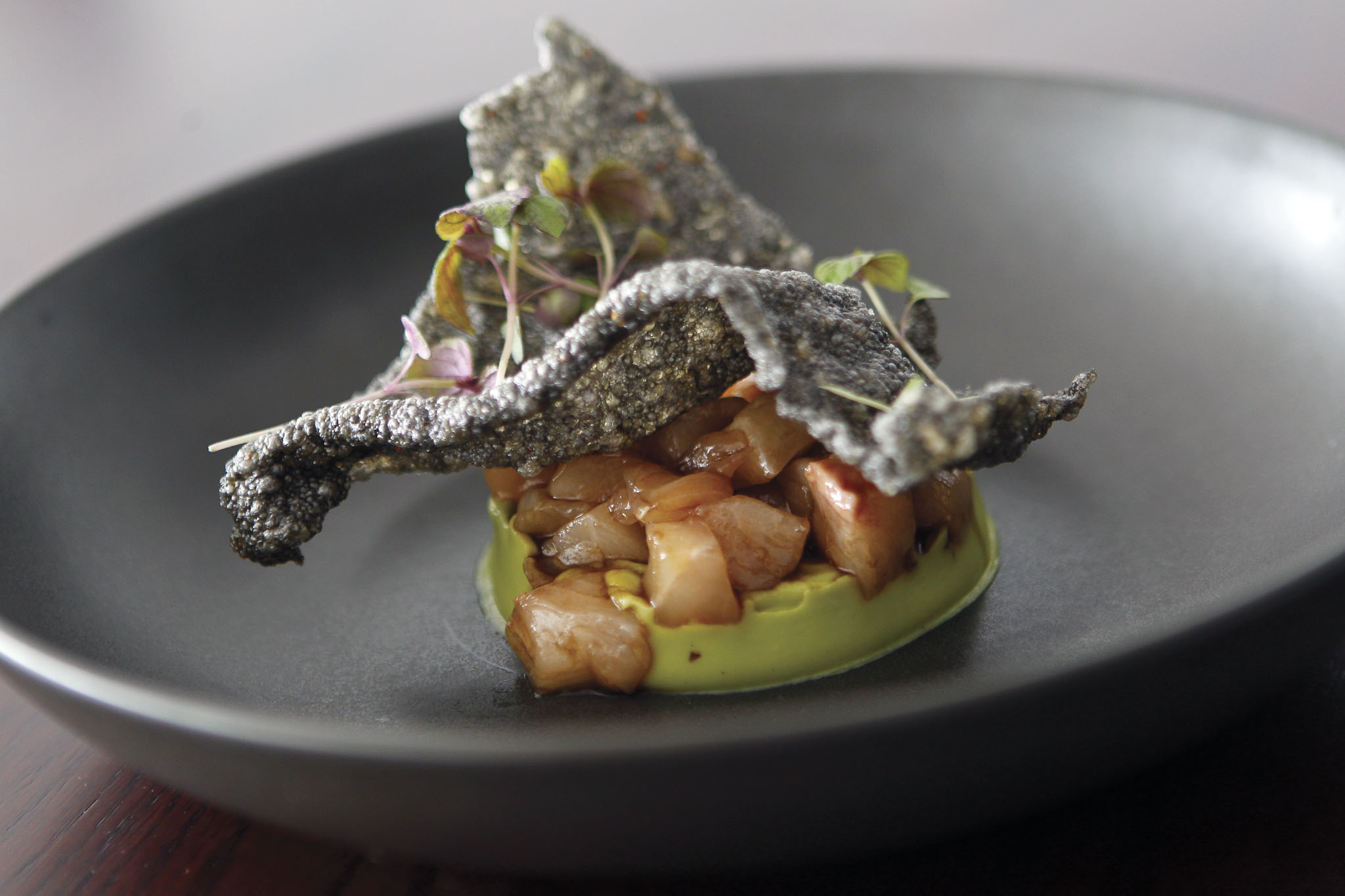 Buy skinless king fish (most fish mongers will do this), dice into 1/2 cm cubes. Wrap in bowl and put in fridge for later.
Put rice and water into saucepan, bring to boil.
Once boiled, turn heat down to a simmer. Cook rice for 20-25 minutes (until rice looks like porridge). Take off heat, use a whisk to break up the rice grains. This should be easy as the rice will be very soft. Add squid ink to rice.
Spread rice mix on baking paper onto oven trays. Try to spread rice mix thinly and evenly. Dry in oven on lowest setting till crisp(when dry enough, rice cracker will crack).
Warm vegetable oil to 180 deg celsius. Drop rice cracker into oil, will start to puff and bubble. When the bubbles will disappear, the rice cracker will be ready. Pull out of oil, and place onto paper towel. Season with togarashi spice and salt.
For the avocado puree, peel and de-seed avocado. Blend with a little bit of lemon juice and season with salt.
When ready to plate, spoon a bit of the avocado puree on to middle of plate. Add soy and rice wine vinegar to kingfish, add chopped chives. Mix kingfish, place on top of avocado. Put rice cracker on top of kingfish.