KABANA SHOP LAUNCHES ON THE SHORES OF BURLEIGH HEADS, JAMES STREET!
WORDS: PHOTOGRAPHY
KABANA SHOP – a vibrant and creative new bohemian resort wear emporium has arrived at James Street, Burleigh Heads. Featuring all Australian made clothing and organic wellness products, KABANA SHOP will impress locals and visitors alike with its array of womens clothing with a distinctly Bohemian flavour. And as convenient as online shopping is, there is something unbeatable about the brick-and-mortar experience.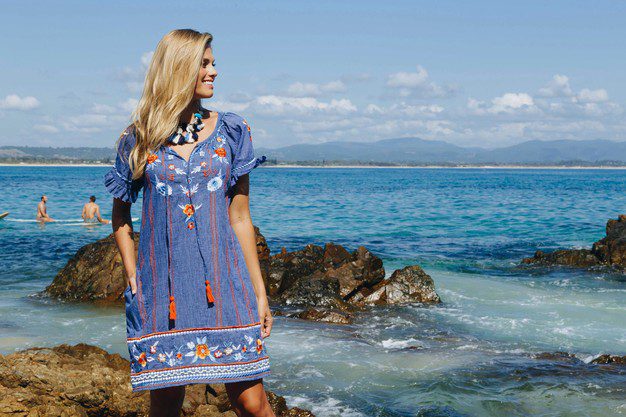 This season you'll want to slip into breezy dresses and blouses with brilliant colour, the pieces key to perfect holiday style, taking you from the beach to the bar. KABANA SHOP Burleigh Heads boasts creativity, inspired fashion, wholesome wellness and beauty finds designed to awaken your senses with beautiful craftsmanship, design and colour and are all earth friendly.
We have wandered the souks, bazaars and small villages of the world to bring together an authentic experience of everyday fashion, lifestyle delights and treats for the body. Fair-trade pieces from Australia and makers from around the globe adorn KABANA SHOP's shelves and floor space, whilst a luminous colour palate of versatile clothing, line the exposed brick walls with custom-made rose gold rails. The exclusive range is a truly mesmerising addition to the sun filled shores of the Gold Coast.
KABANA SHOP celebrates all the unique variations of handmade and organic products, aiming to deliver the experience of global travel through its resort wear fashion and wellness products. This paired with organic and vegan friendly beauty products from some of our very talented and passionate Australian curators allows customers to touch and feel products in person with the full experience of being helped along by an in-store stylist.
We believe that beauty and wellness rests within nature, so all of our products are formulated from natural ingredients that are free of parabens, fillers and toxins and not tested on animals.  We want to love and protect our planet for future generations.
KABANA SHOP strives to connect skilled artisans, talented craftsmen and women in developing countries to ensure their beautiful products reach a wider audience whilst helping to sustain their traditional methods in Australian designed fashion.
Our bohemian style clothing isn't made to be worn on the runway or be meticulously styled for hours on end. Our clothing isn't disposable or fast-fashion. We design resort wear pieces that will be loved for seasons to come.
KABANA SHOP clothes are meant for busy schedules in the face of the million places to be in one-hour challenge. They are resort wear clothes to wear to your kids' soccer game, to a friend's backyard party, on your trip abroad or a day spent shopping. Your clothing shouldn't hold you back, it should effortlessly complement your journey through the maze of life. Our bohemian clothing is fashion you can live in that celebrates the love of travel and offers countless combinations of effortless elegance.
KABANA SHOP is the Gold Coast's newest mecca for  Australian designed brands; Rubyyaya, LulaSoul and Lulalife, everyday vacation brands showcasing vibrant patterns and colours, with a focus on natural fabrics.
KABANA SHOP, 15C James Street, Burleigh Heads, www.kabanashop.com