WORDS: PHOTOGRAPHY
For years, locals and tourists hungering for fabulous food with a view have flocked to the Crowne Plaza Surfers Paradise for its iconic rooftop revolving restaurant, Four Winds, the only one of its kind in Queensland.
Sumptuous cuisine, served up with sweeping ocean and hinterland vistas on rotation, has made the hotel a dining destination of distinction.
Now, Crowne Plaza is offering foodies an exciting new perspective without even having to take the lift, with the opening of Balthazar Wine and Dining and SIFU.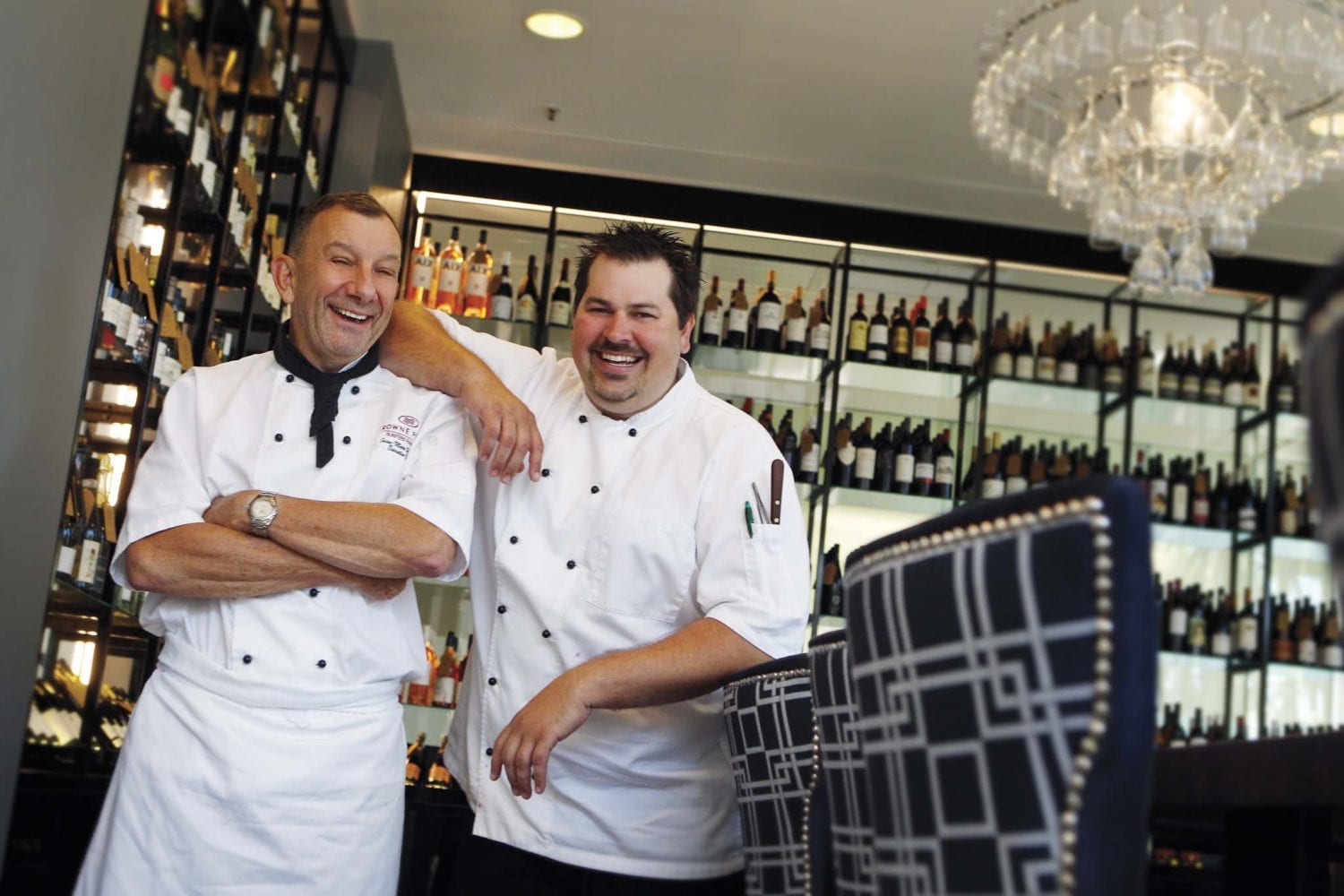 The two stylish new restaurants opened recently on the lobby level of the southern Surfers Paradise hotel as part of a multimillion-dollar upgrade by Xgenesis Management Pty Ltd, a Singaporean company which acquired the landmark property in 2015.
Balthazar Wine and Dining is a unique take on the chef's table concept, bringing it out of the kitchen and into an elegant floor-to-ceiling glass-walled room overlooking the Crowne Plaza's pool and lush gardens.
Guests step into an intimate private dining room featuring an 18-seat white and grey marble table as its centre-piece, lit by striking chandeliers made of wine glasses, to feast on a selection of divine dishes from no fewer than 15 degustation and tapas menus.
The entire back and side walls of the restaurant showcase the more than 500 rare and award-winning wines available in Balthazar, sourced by Chilean-born expert sommelier David Stevens-Castro from around the globe, to complement the stunning degustation and tapas menu.
A Balthazar typically refers to a 12-litre bottle of wine, but it is also a name derived from ancient Babylonian king Belshazzar who, according to the Bible, 'made a great feast … and drank wine before a thousand'.
It's a fitting appellation indeed for Crowne Plaza's palatial new dining space, where Michelin-trained executive chef Jean-Marc Heussner, head chef Troy Medynski and Stevens-Castro hold court.
A charismatic Frenchman who has worked in some of France's top restaurants, Heussner enthuses that Balthazar is "unique" on the Gold Coast.
"There are chef table events and cooking classes and so on but nothing like this," he tells Ocean Road as we soak up Balthazar's sophisticated yet welcoming surrounds.
"I don't know of any other place where the chefs plate up in the dining room and personally serve the guests while explaining each of the dishes. It's a very unique and special dining experience".
Heussner says his and Medynski's different cooking styles complement one another to create a wonderful fusion of flavours for guests.
"Troy is very modern Australian (cuisine), I'm very French with a bit of, I would say, an Asian fusion because I like to use some exotic ingredients," he says.
"My cooking skills are very French due to my training, including three years in a three-star Michelin restaurant in the Loire Valley. I've been on the Coast now for 26 years and I do not know any other place which is doing what we are here."
Heussner doffs his chef's hat to Medynski, who designed the tapas menu at Balthazar as well as the seven and nine-course menus.
"Troy and I work very well together," the executive chef says. "We connect and we have fun, which is the main thing. We cook in the kitchen and plate up here in front of the guests. Before we serve to the guests, myself or Troy explains each dish and what products we're using.
"Our focus is on local produce and we've discovered a couple of really good local suppliers, including a guy in Runaway Bay who makes our cheese. Being French, I really love my cheese!
"The meat is from the Gold Coast Hinterland and we have a herb, salad and micro-flower supplier at Canungra. The seafood we also try to source locally from the Tweed.
"So we really try to use the local product as much as possible, if we believe the local product is good enough."
Medynski says the 'personal touch', not to mention the food, makes Balthazar the special dining experience it is.
"Chef (Heussner) shares his stories of his background with the guests and that helps them to really connect with the chef and the food," he says. "You are dining at the chef's table but not like in the (TV) show Hell's Kitchen – this is more of an elegant or fine-dining chef's table. Having the wine cellar in the room adds to the whole ambience and experience."
Then there's the theatre.
"The guests will watch you plate up because it's very meticulous, putting the herbs and flowers on with tweezers and so on," Medynski says. "The guests are being educated on what we do and how we do it."
Heussner adds: "Troy and I both spend an entire day preparing for a chef's table so there's a lot of work that goes into it."
Guests can select from a total of 90 mouth-watering and superbly-presented degustation dishes across 15 menus, ranging from five-course through to nine-course, priced from $100 per person. There is the option of food-only or, for an extra $60, wines selected by Stevens-Castro and tailored to the menu can accompany each course to enhance the Balthazar dining experience.
Wines are also available by the bottle or the glass and can be purchased to take home by diners who fall in love with a certain special drop.
It's all part of a unique service provided by Balthazar and Stevens-Castro, an agricultural scientist who was born into a family of winemakers in his native Chile. Based in Australia since 2007, his stellar wine lists have won numerous high-accolade awards and he has been selected as a judge at major wine shows, co-authored a paired food and sparkling wine guide and is regularly awarded scholarships to visit wine regions to meet with winemakers 'at the source'. He has been a certified sommelier for five years, working at hotels including Peppers, Hilton Surfers Paradise and the Intercontinental Sanctuary Cove.
His extensive network of contacts in the fine wine industry enabled him to source for Balthazar rare and acclaimed wines representing every wine-making region in the world.
"My philosophy with Balthazar was to have wines that not many people know," he says. "(They are) wines that are special, usually have a smaller production and are those I have some degree of attachment to. It's a personal selection.
"I like to have a range that is particular, and every single bottle is attractive to me – and I hope my guests as well. Our intention is to have a world of wine – wines from all over the world. Classic regions and also producers that are at the cutting edge as well. "Representation and regionality is very important for me."
Ocean Road sampled several of the delectable dishes at Balthazar, including the scrumptious Scallops in kataifi pastry with yuzu pearl beurre blanc; Crisp pork belly with spiced apple compote and balsamic; Caramel shallot and goats cheese tart with berry gel; and the decadent Churos with chocolate ganache and strawberry.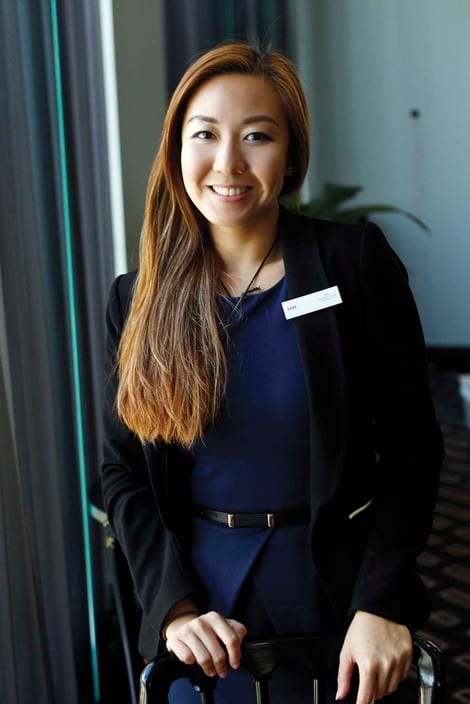 After our late morning 'appetiser', we head over to SIFU for lunch.
SIFU, like Balthazar, is located on the lobby level of Crowne Plaza looking out onto the manicured gardens through sheer window furnishings.
With its sleek charcoal and orange décor, including Asian-inspired timber screens and art, SIFU is a traditional Chinese restaurant but with a modern twist. Like most Chinese restaurants, the live seafood tank takes prides of place but don't expect to see the 'Lazy Suzan' banquets in this eatery, where rectangular and square tables and on-trend charcoal crockery laden with exquisitely-presented dishes help create a chic, contemporary vibe.
"SIFU is all about modern, contemporary Chinese dining," says Tom Dey, Crowne Plaza's food and beverage manager.
"Being Chinese themselves, our owners are really passionate about the hotel embracing the food scene. On the Gold Coast, there are a lot of Japanese restaurants out there but nobody that really does modern Chinese dining well.
"The philosophy of this restaurant is to appeal to the Chinese tourist market but also to our Australian hotel guests and of course the Gold Coast locals. We're not a classic Chinese restaurant at all – it's not about fine China and gold leaf plates, it's about serving traditional Chinese food in a modern way."
The term 'sifu' is often used to describe a martial arts master but in the case of SIFU, it's master wok chef Kyle Bu.
Bu came to Crowne Plaza from SkyCity Darwin Casino, where he was head chef and managed the acclaimed Dragon Court restaurant. He was previously executive sous chef at the Hilton Guangzhou Tianhe and has also worked at other top hotels throughout China.
"I've been wok cooking for 15 years and it's my passion for getting the best flavours and textures to serve to the guests," Bu tells Ocean Road.
"We cook in both Cantonese and Szechuan styles in SIFU. For the Cantonese style, the live seafood is the speciality for us here. It's really fresh seafood and the Cantonese cooking style gives us really nice flavours.
"We also serve authentic Szechuan dishes like Szechuan boiled beef or Szechuan boiled fish. They are really hot and can numb the tongue but the flavour is exceptional.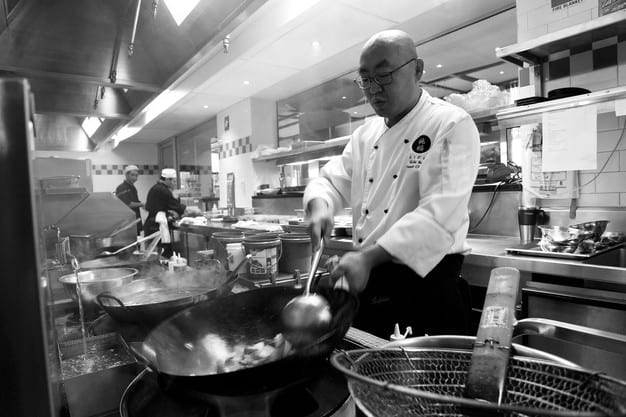 "I'm really proud to bring authentic Chinese cuisine to the Gold Coast. All our produce is sourced locally."
The SIFU menu is extensive with more than 80 dishes including the renowned Peking Duck as well as entire sections devoted to live seafood, sizzling Szechuan selections, and noodle, rice and vegetarian dishes.
We were treated to a Chinese feast that included house specialties Steamed Barramundi with ginger and sping onions, Stir-fried garlic prawns, the mouth-tingling Szechuan boiled beef and to-die-for dessert mango pudding.
SIFU also boasts a private dining room and an extensive beer and wine list, including many of the wines from Balthazar.
Ocean Road came away beyond satisfied, and convinced that Balthazar and SIFU are very much the new jewels in the crown at Crowne Plaza Surfers Paradise.