WORDS: PHOTOGRAPHY
No matter where you are in the city, it's virtually impossible not to see the towering cranes at the Broadbeach end of Surfers Paradise, that are helping Australian construction powerhouse, Multiplex, bring the $1.2billion+ Jewel development to life.
With a floor completed every five days, visitors have become captivated by the pace of progress of construction on the triple towers – snapping selfies in front of a development locals could never have imagined would happen just a few short years ago.
With the installation of more than 16,000 glass façade panels also now underway, before long, the Jewel exteriors will become resplendent in the afternoon light, their shimmering facets visible to boaties all the way up the Nerang River, and a landmark for ships meandering across the tepid waters of the Pacific Ocean.
But if you're anything like us here at Ocean Road Magazine, it's still difficult to imagine amid the concrete, steel and high-vis vests on site, what it will really be like inside the most extravagant beach front resort ever attempted not just here on the Gold Coast, but right across Australia.
To find out, we teamed up with the Jewel team to invite luxury travel and lifestyle reporter, former Getaway host and Gold Coast native Natalie Gruzlewski, to become the first guest at Jewel's new, VIP buyer experience.
It's 10am on a gorgeous spring day on the Gold Coast.
Right on time, Gold Coast BMW glides into the driveway to chauffer me for the next hour and a half as a guest of the Jewel development, to road test their new VIP experience.
I'm not sure what to expect as we pull in to Orchid Avenue in Surfers Paradise. I'm greeted by Jewel's Director of Sales and Marketing, Frank Joris, who kicks the morning off with a visit to the project's multi-million-dollar sales suite in Cavill Mall.
It seems like only yesterday I was here hosting the suite's grand unveiling, joining Tourism Minister Kate Jones and Mayor Tom Tate. We did the honours, releasing a billowing, two-storey gold fabric curtain from the roof, to reveal what had been hidden from view during weeks of top-secret design meetings and marathon construction efforts!
The unveiling was a pivotal moment for joint venture partner the Ridong Group. Chairman and proud Gold Coast local Riyu Li watched on as more than 300 people, dressed to the nines with champagnes in hands, caught their first glimpses of the shimmering gold display. Everyone was curious to find out what this mysterious, crystal-like development might actually entail.
It was such a crazy night trying to fit so many people through in such a short time, but I do remember how strangely orderly everyone was!
There was such a buzz already about the arrival of what was essentially going to be the biggest beachfront resort in Australian history. That buzz certainly didn't dissipate once guests discovered almost an entire apartment tucked away behind the shops in Cavil Lane. It had a modern, sculptural sophistication that was probably incomparable with any previous developments, and gave everyone a much greater sense of what was to come.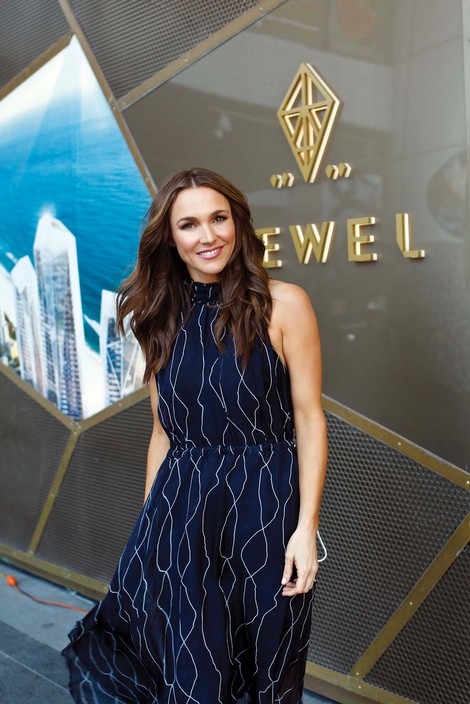 I think everyone also really understood after that night, just how much Jewel could change the dynamic for other businesses in the retail and hospitality space. After going through such a drop in inbound travel numbers, a project like this would be sure to kick start a new wave of elite tourism, and of course, a new wave of opportunity for locally-owned businesses.
I since discovered that it had taken Chairman Li a great deal of time to secure the 1.13 hectares of land for Jewel, even though at the time as we know, everyone else seemed to be deserting the Coast. So it must have been a long time coming for him to see so much excitement and willingness to get behind the project.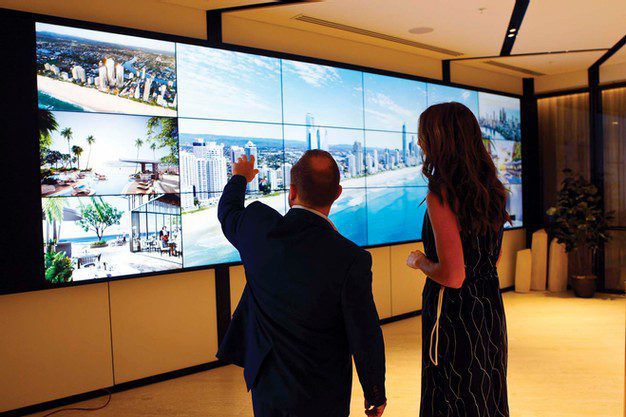 I'm told when the Chairman crossed paths with Dalian Wanda Chairman Wang Jianlin during an Australia China tourism event in 2013 he told him of his plans for this magnificent beachfront site. He spoke of an ocean in front, a river at the back, and mountains to the side, in a city with kilometres of white sandy beaches, endless blue waters, and perfect year-round temperature. He was on plane here in no time to see if for himself, and the rest is history!
So as I step out of Cavill Lane and into the sales suite again, I can't help thinking back to that stunning launch event. It makes me realise just how exciting the next few years are going to be for this city.
Despite the central location, the outside hustle and bustle really just fades away from the moment you walk through the doors. It's made even more beautiful by the stunning Jewel lifestyle video playing on the back wall, with its soft, orchestral music written and recorded just for the project.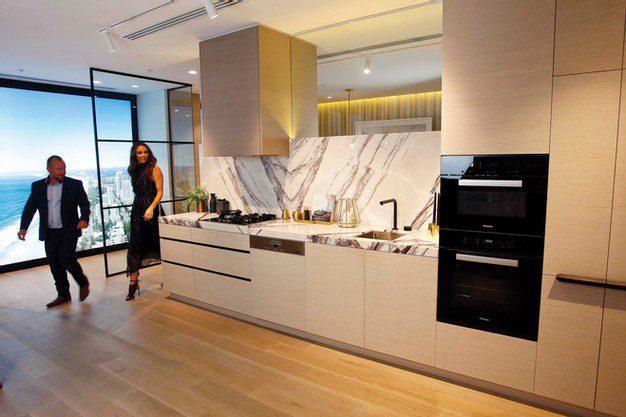 It's about this moment I realise that this is more than just a sales suite. It feels like a tranquil oasis, particularly when there aren't more than 300 people jostling for a peek!
As you walk in, a huge, scaled-up model of the project, complete with miniature beach-goers, really helps you put all the pieces together. You can really start to grasp the sheer scale of the development.
With 512 uber-luxe apartments spread across three towers, visitors to the sales suite can simply point to a vantage spot on the scaled up models in the interactive display. You can also find out what apartment it is, check out its floor plan and see which of the resort's restaurants will be the closest for a late night dessert fix (although I've since heard the signature Chinese restaurant set down for level 46 will serve the best dumplings going).
You can even use the technology to explore the views from different apartments!
They're making it hard for me not to imagine wiling away a few afternoons on the balcony with a wine and a good book in one of Tower Three's 108 ultra-exclusive apartments.
Jewel has only just released this offering to the market. I soon find out why they've called it the Diamond Collection; this tower sits a little further forward than the others. Architect Barry Lee of Gold Coast firm DBI Design designed it to capture full panoramic views that you'd be hard-pressed to find anywhere else on the coast.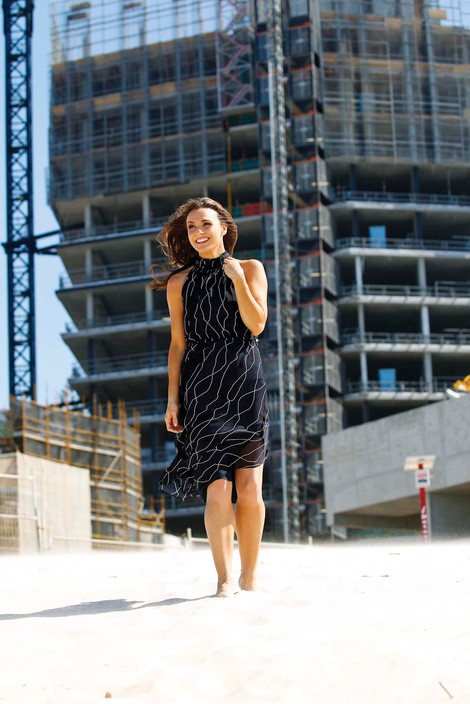 I've travelled extensively over the years with Getaway and have been lucky enough to stay in some impressive, high-end hotels, where having a 24-hour concierge service is quite normal. However it's quite unusual to find apartments that cater to owners in a similar way.
The addition of a service like this for Jewel Tower Three residents ((how wonderful to have someone on hand even just to pick up the dry cleaning!) is likely to set the bar quite high for luxury developments going forward.
Many of these apartments have views from as far north as South Stradbroke Island, all the way around to the south. I can only imagine how delightful it would be in the morning sunshine with a cappuccino and paper, watching surfers dotting the waves at Burleigh Heads.
But it's back to reality as we step back into the mall to head over to the Immersive Experience Centre, which also has a bird's eye view directly into its next door neighbour's place, the Jewel construction site.
Standing on the balcony you can watch the entire goings on. The palatial ballroom and interconnecting podium are taking shape just metres away.
I'm told builders Multiplex have now poured more than 70,000 of the 113 000 cubic metres of locally-sourced structural concrete. They've been completing a floor every five days, not just on one tower but across all three.
While it's a far cry from the soothing retreat we've just visited, it's not until you visit the Immersive Experience Centre that you can really grasp the sheer scale and magnitude of this project.
It's colossal, but seems to loom even larger above us as we wander down to the beach to see the cranes in action. And it's only half way up!
It's also here that you start to appreciate the meticulous coordination in bringing these towers to life, and on schedule. Just managing the logistics of having that many staff on site – more than 1000 at the height of construction – is mind-boggling.
But Jewel isn't just for residents and investors – it's also going to house Australia's first Wanda Vista hotel.
It would certainly be a familiar luxury hotel brand for those who travel in China frequently. Wanda's hotel component has created a highly consistent approach with a strong attention to detail that will also be brought to the Australian hotel.
Wanda Vista's calling card for travellers in China is its exceptionally high level of service, stunning interiors and ultra deluxe beds. All of these will be recreated for Jewel but with distinctly Australian twist.
The hotel is fairly bespoke. However with only 169 suites, it will have amenities designed to cater for everyone. Residents and guests will be able to enjoy an ultra-luxurious day spa that will have six double treatment rooms, state-of-the-art temperature control, high-tech speakers for the ultimate in sound quality, and the most plush linen sourced from around the world.
Clients will be able to choose from of some of the world's best spa treatments (and there's no shortage of volunteers angling to do the market testing on this before it's officially opened!).
With the virtual reality technology set up here in the Immersive Experience Centre, you can get a sense of what it will actually feel like when it's finished – whether you're in your apartment, hitting the gym, or by the showpiece pool at the centre point of the tropical outdoor podium.
As our tour hosts outline all the different restaurants Jewel will house, I can almost hear the local foodies rejoicing. From low-key, all-day beachfront dining through to five-star, gourmet, hatted restaurants to choose from, there really will be something for everyone.
The arrival of a grazing platter of fruit, cheeses and baguettes and a cappuccino to finish couldn't be timed any better, along with a macaroon or two for the chauffer-ride home.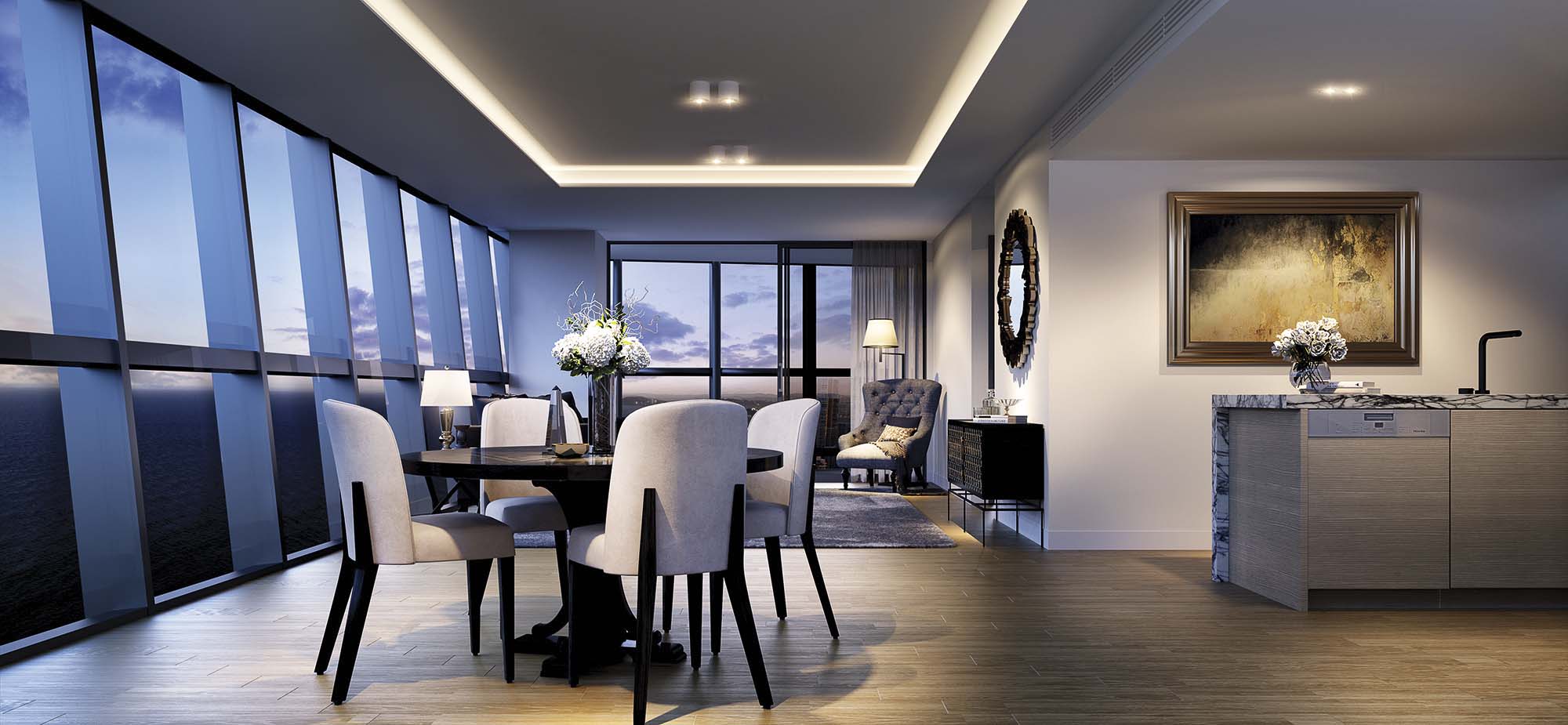 The Jewel development would like to invite Ocean Road Magazine's Gold Coast readers to be their guests on their new, buyer experience, including complimentary return transfers from your nominated address courtesy of Gold Coast BMW, and morning or afternoon tea overlooking the beach at the Jewel Immersive Experience Centre.
To RSVP for your VIP buyer experience, please phone 1800799 889.