J-Bay still a very special place
WORDS: PHOTOGRAPHY
Jeffrey's Bay in South Africa is one of the five most famous surfing destinations in the world – long renowned for its Super Tubes in July and most recently as the site where Coolangatta Kid Mick Fanning fought off a great white shark just minutes into the J-Bay Open finals. However, fellow ASP World Championship surfer Joel Parkinson now shares his love of J-Bay and South Africa with Ocean Road readers.
Our annual trip to South Africa for the Jeffrey's Bay ASP surfing contest is a family favourite, and it's a really special place for me. I first travelled to J-Bay when I was 18, and I remember the first morning I got there I woke up with a toothache … but the waves on the point were so good I had to paddle out and surf with an infected wisdom tooth.
I was just spell-bound by the place. And, of course, that first year I was only 18 and was lucky enough to get a wildcard into the contest, then even luckier to go on and win the whole thing. So naturally the place holds some really special memories and I've got a lot of close friends there who I've become even closer with over the years.
My kids just love visiting the African safari parks and checking out the animals. I remember I drove through a lion park with my Mum and my wife Monica this one time, and this huge lion just came over and bit the rear view mirror straight off the car, and then started biting the tyres, trying to pop them. The first tyre popped straight away and the girls were freaking out, and I've had to drive off as fast as I could go on three wheels.
I wake up at 6am when I'm in J-Bay. It gets light at 6.40am so t's a pot of tea and go get in your wetsuit in the dark, run up the beach in the dark. You have to jump of the rocks in the dark and you're just kind of guessing what's in front of your feet. Walking over the mussels if it's low tide is the worst thing. I sometimes just go round the back and punch straight out through the swell, which can be kind of scary in the dark but it's still better than getting your feet sliced to ribbons on the mussels. I'd rather eat them than walk on them, that's for sure.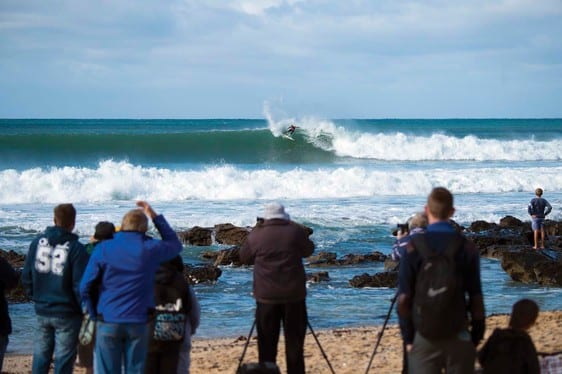 The first jump in is so cold, it just takes your breath away but, because you really can't see the swell, you're not sure how big it is and you know the colder that first jump in is, the bigger the swell is going to be.
The South African-style food is also great. I've got a couple of favourite restaurants but I reckon a place called the Walskipper is the one. It's down on the beach and they do big meat and seafood braais – the local barbecue – with all sorts of stuff you never get at home – kudu and ostrich and chokka … and they certainly know how to cook it all. The braai has got its pros and cons though. I'm an Aussie and I reckon I know my barbecues, but these guys are serious with it. And the South African guys love their heat beads. They'll throw heat beads on anything. "Should we put some more heat beads on, bru?"
There's a lot of untouched, wild coast in South Africa. It reminds me of the west coast of Tasmania and the bottom of Western Australia. Big, open coast with lots of raw weather, but J-Bay is this kind of protected oasis with this perfect wave right out front. There's a real energy to the place and you can feel it on the point and you can feel it in the water.
The ocean is really alive at J-Bay – as we all obviously saw this year with Mick – but there are whales and dolphins everywhere and while you worry about what else is out there you always kind of feel that it is all in balance and it never feels too sinister.
I don't know if that feeling is going to change after what happened to Mick. I probably won't know how I'll feel until I paddle out there again.