It's love at first bite as Queensland Ballet premieres Dracula for Queensland audiences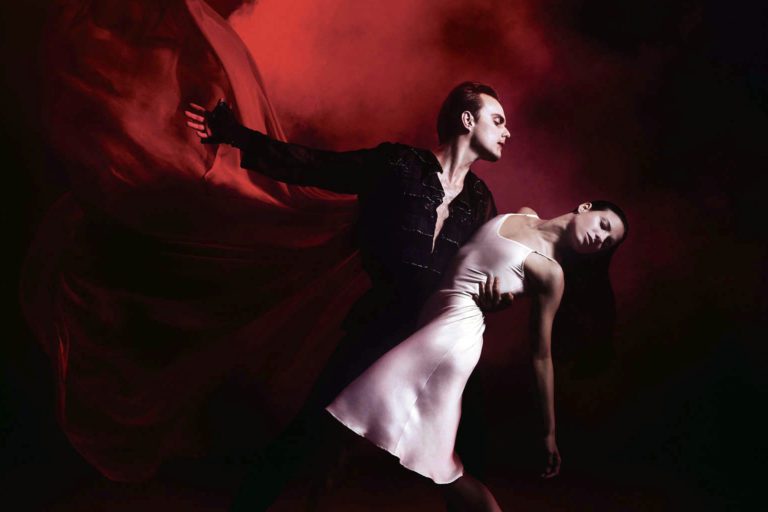 WORDS: Ellen Gilroy PHOTOGRAPHY Supplied
Every step a gothic story…
★ ★ ★ ★ ½ 'Dracula the ballet is a triumph'- ArtsHub
'Robust and ravishing'-  The Australian
Audiences will be captivated when Queensland Ballet (QB) brings to life the passionate and macabre tale of Dracula, opening on November 24th at QPAC.
Not your typical ballet, audiences will be suspended into a thrilling journey across centuries and into a dark world where true love never dies. This ballet with bite is a first-time collaboration between QB and world-renowned Polish choreographer Krzysztof Pastor, as they bring to life the unearthly and sensuous tale of Count Dracula as he tries to reunite with his one true love, Mina.
Derived from infamous vampire legends that have haunted and unnerved people for centuries, this neo-classical ballet follows Bram Stoker's legendary 1897 gothic novel Dracula.
QB Artistic Director Li Cunxin says this Season will have audiences captivated, with sublime choreography, music, costumes and sets creating an unmissable night at the ballet.
"This production of Dracula is quite unlike anything we've ever done before and we know audiences will be spellbound," said Mr Li.
"Driven by unbridled passion, Dracula unleashes a reign of terror, draining life from those around him to get what he desires.
"This gothic tale beloved by generations has been reimagined by celebrated Polish choreographer Krzysztof Pastor and set to a dramatic musical score by Wojciech Kilar, the composer who also created the score to Francis Ford Coppola's cult cinematic adaptation of the same name.
A co-production with West Australian Ballet (WAB), Dracula was first premiered by WAB to sell-out audiences in 2018, quickly becoming their best-selling season of the year. It's subsequent two seasons were also sell-out productions.
The tale of Dracula follows Count Dracula as he reigns terror following the tragic loss of his wife Elizabeth.
Years later, lawyer Jonathan Harker travels to Transylvania to finalise a London real estate deal with the Count. Dracula comes to believe that Harker's fiancé, Mina, is the reincarnation of his wife Elizabeth, and his journey to reunite with his true love begins.
QB's Dracula will run at the Lyric Theatre, QPAC from November 24th – December 4th. To find out more or book your tickets, click here https://www.queenslandballet.com.au/2021/dracula
For more on the history of Dracula click here.