WORDS: Steven Snow PHOTOGRAPHY Steven Snow and Morgan Snow
…of beaches, seafood, wine and weddings!
Let me tell you about the beaches in Puglia.
"Beautiful perfectly proportioned bronzed bodies, gold jewellery, love heart tattoos just waiting for you to insert your name, sensual dancing, long dark hair lapping at the bottoms of the slinkiest of red bikinis…and then you should see the girls!"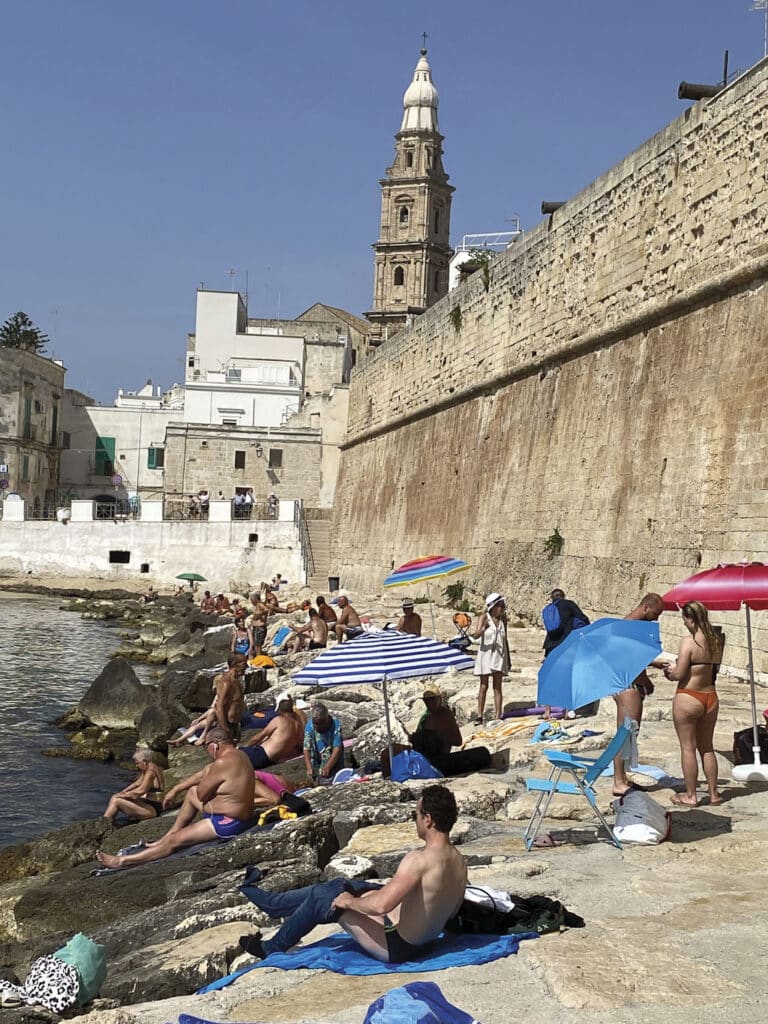 In Puglia everyone hangs out at Beach Clubs called "Lidos" where you live "La dolce vita", the good life. Everything goes. Do anything but relax.  Beats are played at volumes that shake the surrounding rocks. Young and old of every body type indulge in snacks, Aperol Spritz, more Aperol Spritz, more dancing, gorgeous girls. Grandmas and grandpas (almost) dressed in slinky swimsuits, barely visible under well-laden guts bulging forth with years of pasta, beer and wine servicing. Everybody is showboating and wow, what a scene. Uniquely Italian and akin to nothing ever seen at Bondi or Greenmount!
The Italian beach set-ups are elaborate. Wood-fired BBQs, marquees erected on rocks, wines, beers, dressing rooms, lots of mirrors, laughter and charcuterie. Why not? There's good times to be had and we could learn plenty from the Italians.
Our family dived into aquamarine waters and swam into caves carefree and fun. At home, it's sharks and rips. Over there we're 300m offshore, my 7 years old daughter "safe" in an inflatable ring from an Italian $2 shop, and I'm considering her invitation of "Dad, let's swim to Croatia". Good geography sweetheart!
Now, this was all in a normal Italian morning, but let's get to what brought us to Puglia.
My friends run wonderful restaurants in Sydney. They fell in love and decided to get married. If someone ever asks you "would you like to go to a wedding in Puglia" say yes very quickly.
The wedding was set in farmland around Ostuni in Puglia, southern Italy.  It's a fairy-tale place. An enchanting white city (all buildings are white) located on a hill overlooking the Adriatic Sea. Ostuni by night twinkles like a stage show; if Caravaggio painted cityscapes this would be one of his masterpieces.
Sam and Belinda were married in a "masseria", the Italian version of a chateau, steeped in history and the splendour of yesteryear. The masseria walls would have plenty of secrets to tell.  The grounds were alive with olive, lemon, apricot, fig and cherry trees, with an amazing 16th-century chapel sitting upon a field of verdant grass. Non-optional extras were a pool house with a black tiled swimming pool, lounge, reception area, multiple kitchens and a grand piano. It was a glamorous star-studded guest list, including some of Australia's top restaurateurs, influencers, filmmakers, fashion icons and chefs. But who cares? I'm not cooking, caterers were booked and the local seafood abundant.
Of late, heavy rain has been a way of life where I live in Australia. It's worth noting that Puglia is an extremely dry place, a desert terrain, rain a rare anomaly, and no one is prepared for torrential showers. Restaurants are all al fresco, under the stars with no covering. Rain comes and panic prevails. In the days leading up to the wedding it rained. More rain was forecast for the wedding day and it rained heavily that morning. It was thank heavens when the sun came out an hour before the wedding. The bride's jewellery glistened, she was gorgeous, the scene was set.
She alighted from the royal Maserati, our daughter (the flower girl) stunning in full flower girl regalia performed the task of carrying the bride's train brilliantly, and the two beautiful princesses sashayed along the path to the chapel. The handsome, cool groom was forced to wear sunglasses while waiting patiently for the grand arrival. Rings were exchanged amidst a blaze of flowers, birds chirped under blue skies and brilliant sunshine ensured that everyone witnessed the transformation to husband and wife.
Back at the reception, champagne corks were flying, we all laughed and danced, the pianist was brilliant and we feasted on caviar, scampi and the finest of seafoods.  The groom, a good Greek boy, opened his speech by paying his respects to the original inhabitants of the land we were rejoicing on—the Greeks.
So, what is it that the Italians do that is just so different and enviable? Work is seemingly organised after life and family in Italy, whereas in Australia we organise everything around work. Italy shuts down completely (banks and all) anytime from midday until about 4 pm for siesta. This is a time for a long lunch, wine, family, beach and lifestyle. An interesting departure for us Aussies who have some level of pride in regaling how busy we are. Too busy for life?
Italy is very regional and Puglia is the place for pasta and olive oil. Eat too much and you can watch your stomach expand; however, we relished our time of plenty.
Something that stood out for me is the lack of supermarkets in Puglia. It reminded me of my childhood.  We would know the shop owner's name; my parents were greeted heartily and knowingly advised on the best produce. In Puglia, people shop at specialty cheese shops, butcheries, markets, bakeries and most importantly, seafood shops. I love seafood and am excited by fresh fish and things piscatorial, and wow this was my kinda place. Cold water seafood with its inherent stronger ocean flavours. Marvellous.
Seemingly my wife likes her husband barefoot in the kitchen, and when armed with seafood like turbot, vongole, razor clams and the sweetest fresh scampi, I was happy to oblige.
Italy does "passing parades" like no other. Cafes face seats outward lest you miss something. There's plenty to look at, the coffee is strong and the gelati great.
I lived Italian and enjoyed my three cakes a day addiction. Consequently, my figure was ever expanding for the entirety of my stay. The upside, no one would have thought me out of place on the beach. Should I buy a slinky pair of red trunks?