WORDS: Katrina Ellis PHOTOGRAPHY Brian Usher - www.usherusher.com
Naturopath, iridologist and nutritionist Katrina Ellis N.D., the best-selling author of Raw Addiction, Shattering the Cancer Myth and Alchemy of Beauty, shares some of her favourite dishes with ORM.
THE magical warmth of summer is just around the corner – just in time to ditch those baggy track pants and squeeze into your swimsuit. That is unless the chilly weather, long lockdowns and other unexpected restrictions have caused you to gain a few unwanted kilos making you feel terrified at the thought of baring your winter comfort bulges.
Luckily, summer favourites such as poke bowls, cold-pressed juices and light salads are full of seasonal fruits and vegetables rich in hydrating electrolytes, thermogenic antioxidants, fat-flushing minerals and plenty of water to keep you hydrated and glowing from the inside out.
Seasonal fruits and vegetables should always display in recipes in the season they are grown, as the quality of the food is fresh and packed full of nutrition. When they are grown in the right season, there is always less use of harmful pesticides and sprays and you get the whole nutrition – perfect for the health of your summer body.
Summer fruits and vegetables such as watermelon, berries, oranges, cucumber, avocado, stone fruit, radish, peas and green leafies contain plenty of natural electrolytes, minerals and water to protect against sunstroke, dizziness, fatigue and dehydration. They keep your immune system strong, helping you to adjust to warmer temperatures so you don't get tummy bugs or a summer flu. Skin, hair and nails are prone to a lot of damage and dryness in humid summer months but luckily, summer foods are packed with healing nutrients including omega oils, lycopene, polyphenols and other antioxidants that help keep your hair shiny and your skin dewy.
I have included six of my favourite rainbow-coloured recipes from Alchemy of Beauty – a living guide to eating for optimal health and radiant beauty.  These summer recipes will keep you toned and trim, clean on the inside and full of vitality on the outside. Enjoy.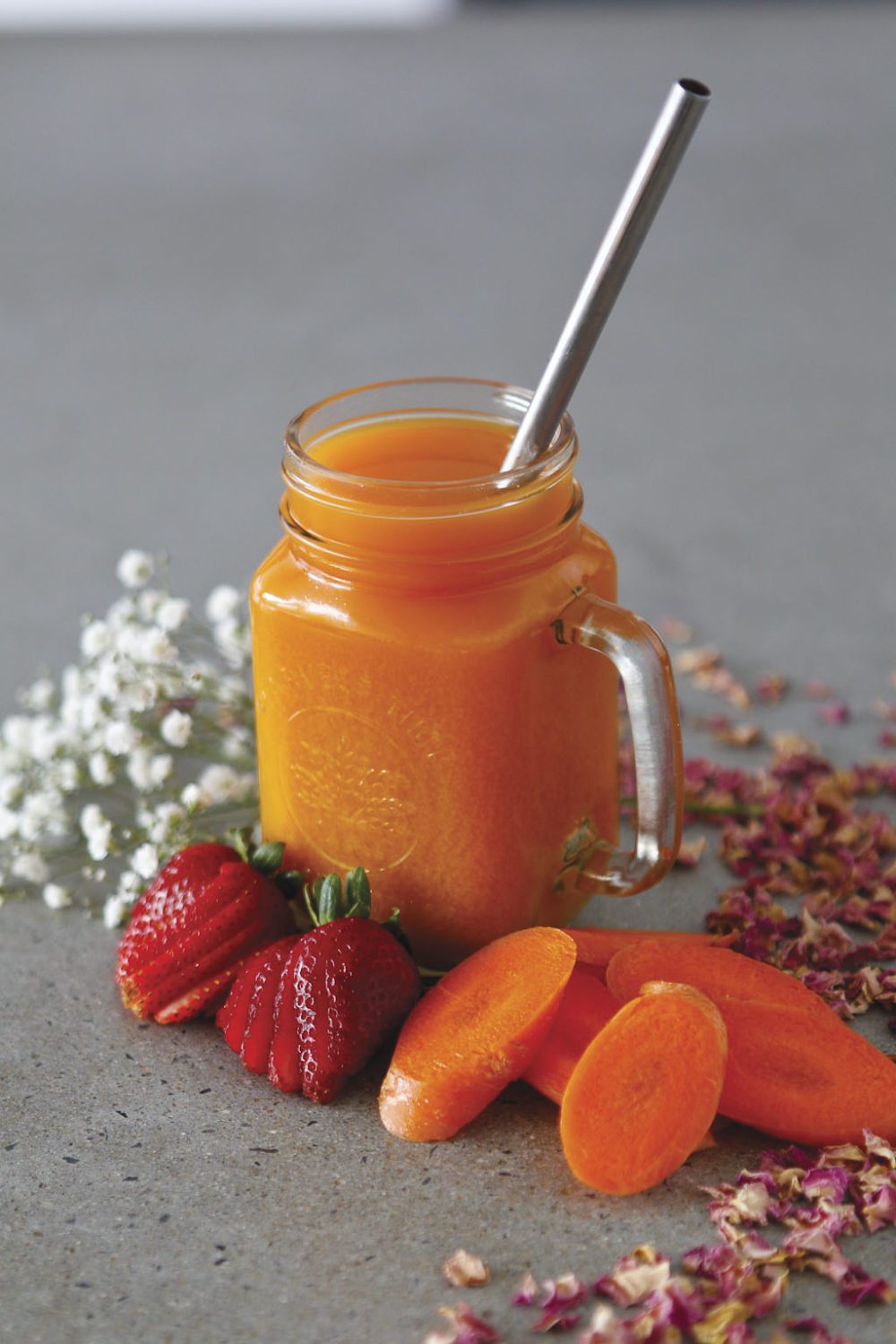 CAROTENE SUN SHIELD
Makes two cups
Ingredients
4 to 6 carrots
2 mangoes, peeled
6 to 8 strawberries
½ red capsicum
3 leaves of Tuscan or English kale
Water
Method
Put carrots, mangoes, strawberries, capsicum and kale through a juicer, adding water to achieve the perfect texture. This juice is incredibly rich in beta-carotene, zeaxanthin, alpha-carotene and lycopene. These super nutrients offer skin protection against dangerous UV rays that can cause skin cancer and advanced ageing.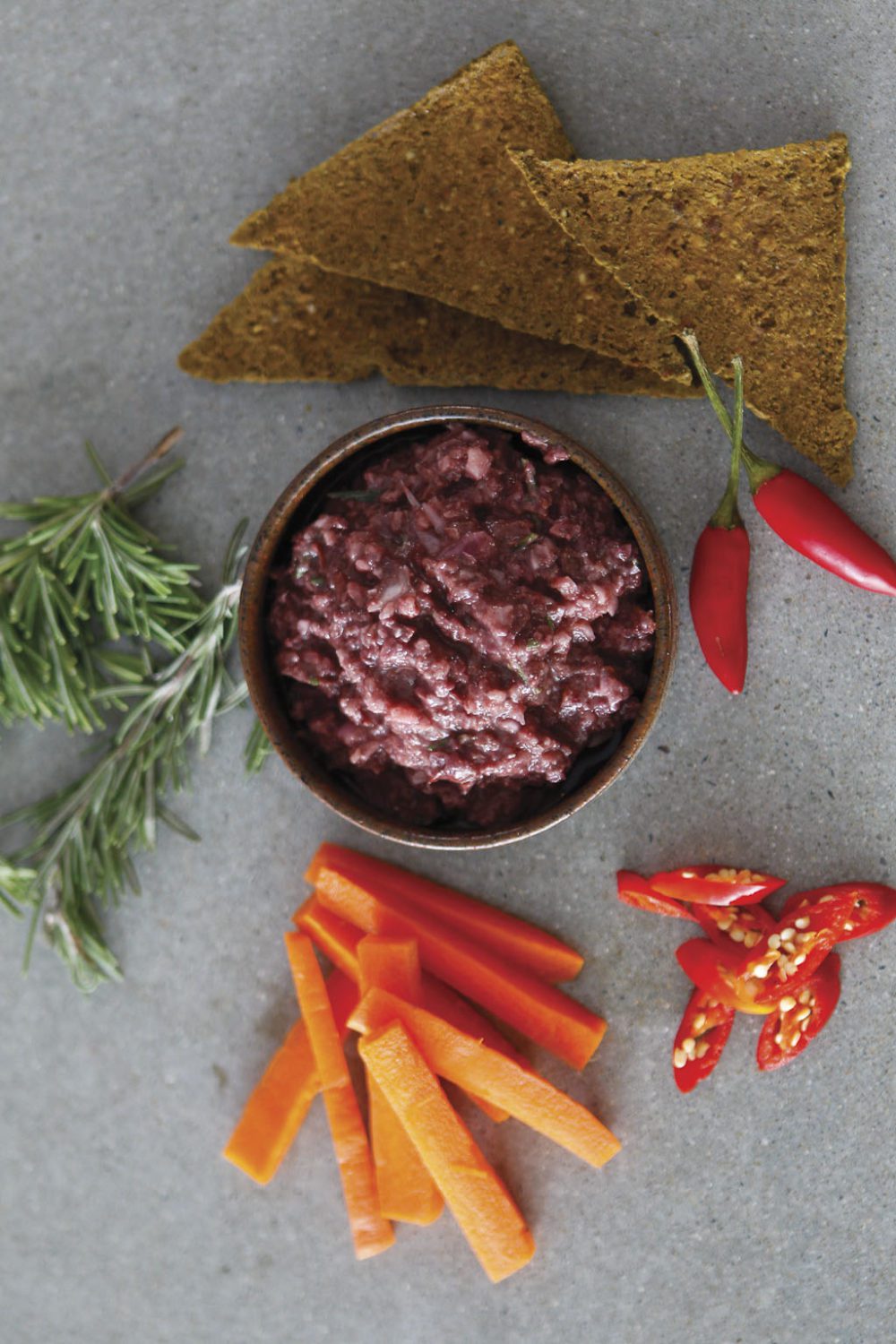 ROSEMARY OLIVE TAPENADE
Serves two
Ingredients
1 cup of black olives – pitted
½ Spanish onion, diced
2 to 3 garlic cloves, peeled
4 tablespoons of first cold-pressed olive oil
1 fresh lemon, juiced
2 tablespoons of parsley
2 tablespoons of fresh or dried rosemary
Celtic salt and pepper for extra flavour
Method
I love my tapenades rustic, so if you are like me, simply pulse all of the ingredients quickly to get a rough texture. This dip keeps for five days in the fridge and goes beautifully with chopped vegetables, dehydrated crackers and many other foods. Olives are true 'beauty superstars'. They contain nourishing Omega oils, Vitamin A, polyphenols, most B vitamins and other antioxidants which halt the free radical attack that causes skin ageing and disease. Rosemary is an anti-ageing herb that protects the brain against deterioration and memory loss. If you feel like a different taste, try swapping rosemary for basil or coriander
RAW BEAUTY BREKKY BOWL NO#1
Serves two
Ingredients
SCRAMBLED EGGS
3 eggs
½ cup of nut milk
BOWL
A handful of parsley, diced
1 red capsicum, diced
2 tablespoons of kimchee
¼ purple or green cabbage, diced
3 cups of lettuce mix or Romaine lettuce
A handful of sprouts
2 limes, juiced
4 tablespoons of sesame seeds
Dash of rice or Apple Cider Vinegar
GARLIC CHILLI SAUCE
¼ cup of bird chilli (chopped and deseeded)
1 tablespoon of coconut nectar or 1 tsp of monk fruit syrup
3 tablespoons of rice vinegar
Dash of Celtic salt
1 garlic clove diced
8 cherry tomatoes
Method
Place all the ingredients into a pan and heat, stirring until everything mixes well. If eating raw, simply pulse all of the ingredients until you get the perfect sauce.
To make the chilli eggs: Whisk eggs with chopped parsley, garlic chilli sauce and nut milk. Quickly cook in a pan with a little coconut oil or ghee and scramble as you cook. If you want it spicier, add more chilli sauce after eggs are scrambled.
To make the beauty mix: Chop the lettuce and place in a bowl with sprouts, red capsicum and cabbage and sprinkle with sesame seeds. Cut an avocado in half and place any leftover chilli sauce inside the avocado and sprinkle vinegar over the top.
Add kimchee to each bowl and finish with the scrambled chilli egg mix. Absolutely delicious.
Superfood powers
This is a delicious and nutritious breakfast bowl. It contains around 20 grams of protein, lots of indoles to detoxify harmful chemicals, fermented foods to improve digestion and plenty of Vitamin A, C and E to guard against dangerous age-promoting free radicals. What a yummy way to eat yourself towards more beauty and health.
JAPANESE POKE
Makes two bowls
Ingredients
POKE BOWL
2 large pieces of Ahi or mahi-mahi or salmon, chopped into 2cm squares
POKE MARINADE
2 to 4 tablespoons of toasted black sesame oil
2 tablespoons of brown rice vinegar or mirin
1 teaspoon of wasabi paste
1 teaspoon of grated ginger or ginger powder
3 limes, juiced
SALAD
1 bunch of watercress
½ cup of brown or organic Jasmine rice
6 small radish, shredded or diced
2 small carrots, shredded or made into matchsticks
250 grams of edamame, steamed and opened
1 tablespoon of organic, pickled ginger
Seaweed flakes
2 tablespoons of white or black sesame seeds
Method
Chop the fish into 2cm squares and place in a bowl. Combine all of the marinade ingredients and pour over the fish mix.
Place in the fridge for around 2 hours to cook. In 2 to 3 bowls, place cooked rice, watercress, radish, carrot, edamame and ginger. 3. When the fish is ready, spread evenly into each bowl and mix with the salad ingredients. Dress each bowl with pickled ginger, sesame seeds and nori flakes. Like all poke bowls, this dish is super high in Omega 3 oils. It contains fermented foods to enhance digestive health and watercress to remove bad hormones protecting against cancer. Organic edamame beans are one the most powerful beautifying foods in the world.
MINTED LARB GAI
Serves three to four
Ingredients
6 tablespoons of premium fish sauce or Bragg's amino acid seasoning
2 limes, juiced
1 to 2 teaspoons of maple or monk fruit syrup, coconut nectar or raw honey
4 small red chillies, diced
½ cup of coriander, shredded
½ cup of mint, shredded
3 shallots, finely chopped
½ red onion, finely chopped
500g of minced chicken or turkey (if vegan, use quinoa mince (recipe in 'Mains')
½ cup of water
1 tablespoon of toasted rice powder
Method
Throw minced chicken, turkey or quinoa mince into a pan with a little sesame oil and water and start cooking, using a spatula to break up. Make sure it is in its natural juices. If it is drying out add more water. When cooked, transfer to a bowl with chopped shallots and red onion.
Mix fish sauce (or Bragg's if vegetarian), lime juice, natural sweetener and chopped chilli. Pour a little through the chicken mix and slowly add the toasted rice powder.
When the flavour is perfect, mix through coriander and mint leaves. Serve in lettuce cups or on a plate with torn coriander, chilli and lime. Larb Gai is a traditional Thai chicken salad dish. There are now many different variations made on this recipe including using turkey and vegan mince. Commercial fish sauce is very high in sodium, so I use a natural fish sauce that contains only anchovies and sea salt. If vegan, replace with Bragg's amino acids, tamari or a fermented bean paste. Mint, coriander and chilli can all improve digestion, wipe out fungus and bacteria, reduce inflammation and even help offer protection against colon, lung and skin cancer.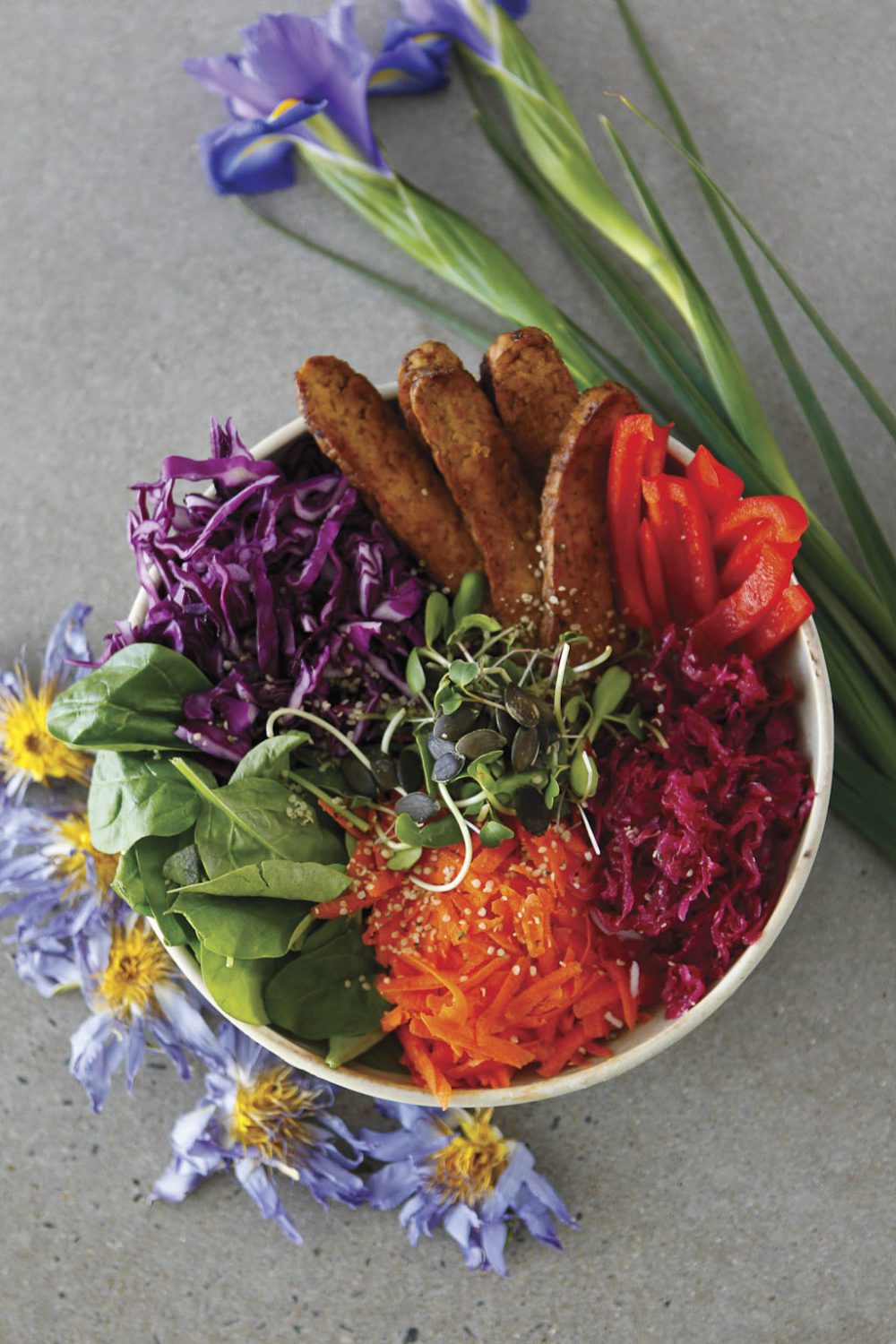 VEGAN TEMPEH TERIYAKI BOWL
Makes two bowls
Ingredients
500g organic soy or chickpea tempeh
TERIYAKI
4 garlic cloves, diced
1 lime juiced
4 tablespoons of rice vinegar
2 tablespoons of maple or monk fruit syrup or raw honey
⅓ cup of tamari or dark soy
2 tablespoons of sesame oil
1 teaspoon grated ginger or powder
2 teaspoon of kuzu or Agar Agar
SALAD
3 cups of rocket or purple/green cabbage
1 cup of Romaine lettuce or spinach leaves
1 purple or orange carrot, shredded or grated
1 red capsicum, diced
¼ cup of activated pumpkin seeds
¼ cup of hemp seeds
2 tablespoons of fermented vegetables or sauerkraut
Method
Blend the teriyaki marinade ingredients together in a food processor. Mix kuzu or Agar Agar in a little bit of cold water separately. Then heat marinade ingredients and add the kuzu or Agar Agar to thicken.
Place the thinly sliced tempeh into the teriyaki mix to marinate for at least 30 minutes. When ready, quickly cook tempeh in a pan with a little oil on both sides or bake or dehydrate at under 46 °C for 2 to 4 hours, if eating raw. Place greens, carrot, capsicum, sauerkraut and seeds in a bowl and add the sliced teriyaki tempeh. Pour the leftover teriyaki sauce over the top. Sprinkle with pumpkin and hemp seeds, torn coriander and extra lime juice.
Superfood powers
Tempeh is one of the healthiest, most beautifying foods on planet earth. It is an incredible source of isoflavones, B vitamins like B12, protein and antioxidants which help to protect against cancer, improve collagen production and hydrate dry and aged skin.