Home essentials AND ACCESIORIES FOR THE AUTUMN SEASON
WORDS: PHOTOGRAPHY
LOVE LAMP
Product name: Cockatoo Table Lamp
Description: Cockatoo with Yellow Crest Ceramic Lamp
Base is 37cm tall, plus shade, Australian standard fitting
Hand-painted and gloss glazed RRP $340
www.studioaustralia.net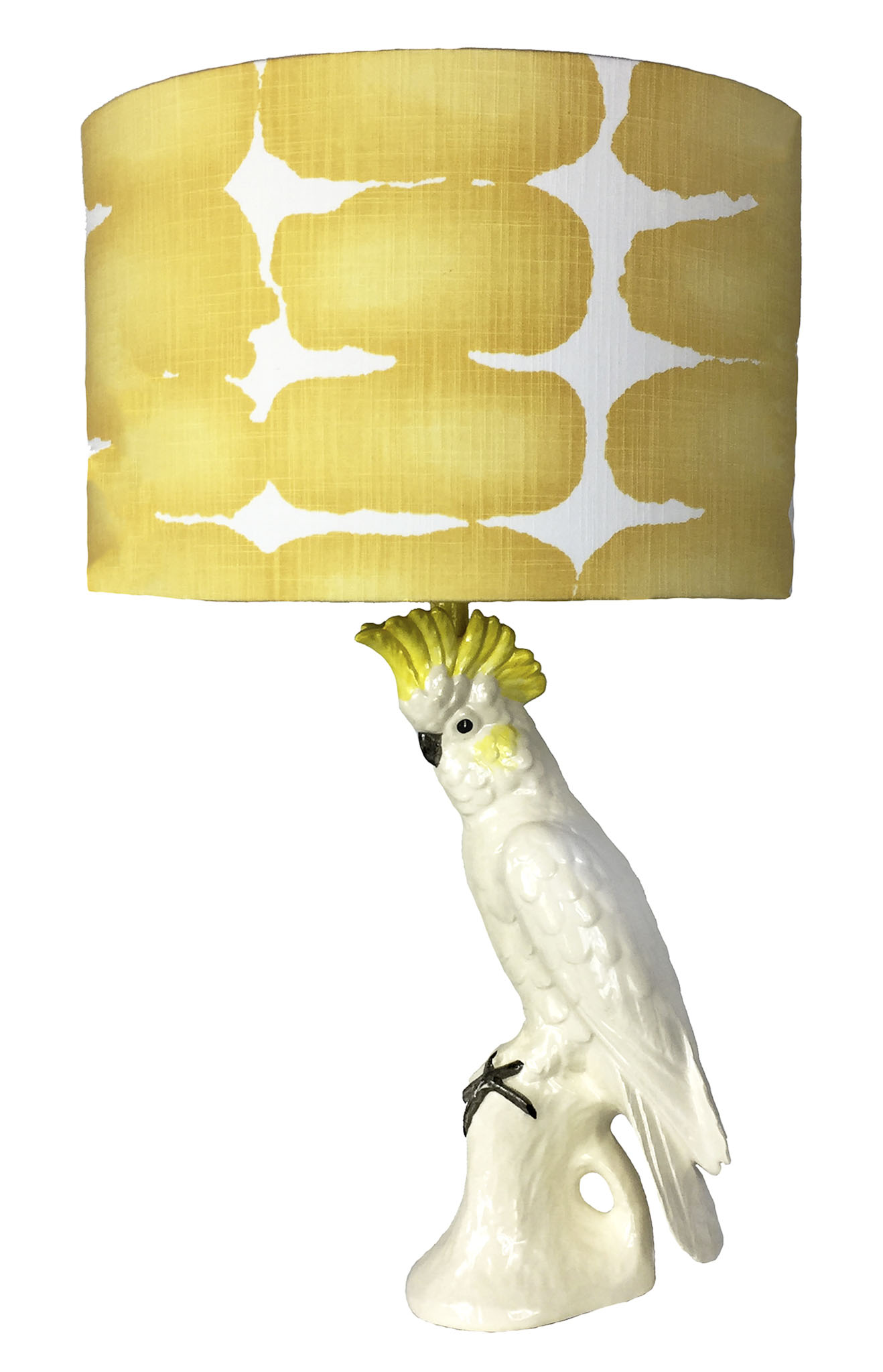 TIMELESS TIMBER
Product name: Mecca 2 Door Buffet
Description: Beautiful White Wash Solid
Timber Buffet. Matching Console, Side Tables ans Coffee Table.
RRP $560
www.ricefurniture.com.au
Product name: Cup Stump Timber Stools
Description: The 'Cup' is a versatile solid timber stool
which makes a great addition to any living space. It can be
used as seating, side table or as a sculptural object. RRP $775
www.satara.com.au
Product name: Miller Leather Modular Sofa and Georgie Wilson Art (as shown in Kira & Kira Store) GOLD COAST
Description: ** PLEASE CREDIT KIRA & KIRA STORE IF YOU INTEND TO USE THIS IMAGE // www.kiraandkira.com.au Photographer: Beck Smith
Featuring Miller Modular Sofa in Leather, 'Kinda California' original artwork by Australian artist Georgie Wilson, hanging planter by Life in May, Pony Rider cushions and Atlas Rug from Armadillo & Co all available through Kira & Kira store.
SALT & PEPPER PEFECTION
Product name: Orb Pair Salt & Pepper Mills Large
Description: These salt and pepper mills have a contemporary simplicity to their design. They come in a selection of Tasmanian timbers, namely Sassafras, Blackwood and Huon Pine. The larger size mills hold more salt and pepper while giving visual impact to your dining table. The grinding mechanisms are Danish with a 10 year guarantee and the mills are completed with a natural oil and wax finish.
RRP $235
www.australianwoodwork.com.au
Ceramics bowls
Product name: Handmade ceramic pebble bowls by Kim Wallace Ceramics
Description: Handmade ceramic pebble bowl, made from white porcelain clay and hand-brushed with our stunning Bluegum glaze. Each piece is shaped and glazed entirely by hand, creating a gorgeous organic feel with no two pieces exactly the same.
RRP $14 -$59
www.kwceramics.com.au
WOK IT
The newest addition to the Swiss Diamond wok family, this 14" wok is made from heavy duty cast aluminum, and is coated with our new and advanced XD formula. This oversized wok is perfect for cooking stir-fry, lo mein, sesame chicken or any of your favourite Asian dishes, all without oil to keep your meals healthy. Designed for healthier and lighter cooking, the Swiss Diamond XD non-stick coating on this pan allow you to cook without access oils or butters, making every meal a little easier on the waistline.
RRP $369.95
www.swissdiamond.com.au
TREAT YOUR MUM
There's no better way to pamper mum than with a lovely candle to help her take time out for self-care. The limited edition Palm Beach Collection Neroli Scented Soy
Candle is the perfect gift this Mother's Day.
RRP $39.95
www.palmbeachcollection.com.au