High Tea Experience – Chapter & Verse, JW Marriott Gold Coast Resort & Spa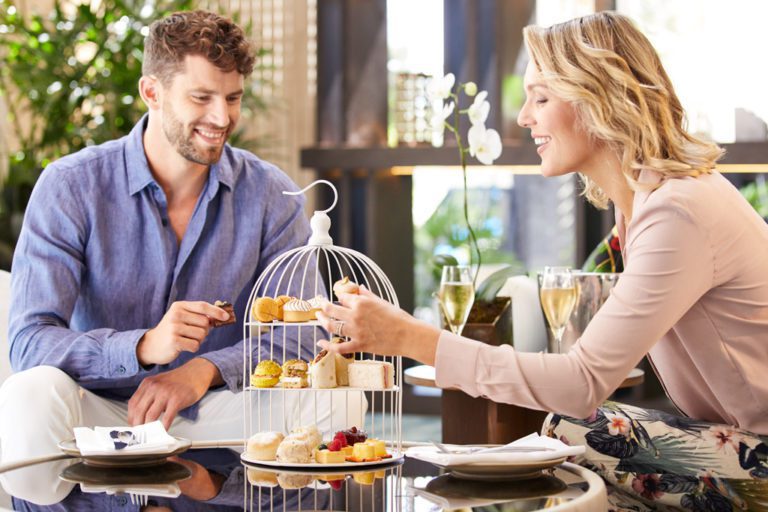 WORDS: Bronwen Hemmings PHOTOGRAPHY Supplied
Indulge in Chapter & Verse high tea served at JW Marriott Gold Coast Resort & Spa.
A resort tradition created by our culinary team using local ingredients sourced from the Gold Coast Hinterland. Each homemade product is inspired by the echo of birds in the peaceful and tranquil environment surroundings.
Fancy an exciting twist on a classic? JW Marriott Gold Coast introduces High Seas and High Cheese.
Enjoy a variety of seafood favourites or indulge in a high tea, crafted with all cheese!
Our little guests enjoy the playful creation of tiny teeny tea, a family friendly favourite.
Think coconut passionfruit slice, children character choux, chocolate candy lollipop, cheese and ham finger sandwich and childhood candy favourites.
High Tea Experience
TRADITIONAL HIGH TEA
Indulge in a variety of both sweet and savoury dishes, in addition to freshly baked scones with double cream and homemade jams. Crafted pastries include native finger lime meringue pies, hinterland wild mixed berry tart and
JW macaroon using seasonal fruits. Gourmet sandwiches filled with Bangalow pork, truffle Cheddar cheese,
Witches Chase brie and JW Garden basil pesto.
Including a glass of sparkling or Champagne,
freshly brewed coffee and a beautiful selection of teas.
$64 per guest with Chandon NV Brut
$79 per guest with Moet & Chandon Imperial Champagne
TEENY TINY TEA
Inspired by the beauty and charm of the resorts
signature high-tea, our teeny tiny tea is crafted with
a variety of both sweet and savoury dishes with kids
flavours in mind. Teeny tiny tea includes mini mango and
coconut passionfruit slice, children character choux,
chocolate candy lollipop, pate de fruit, candy favourites, freshly baked scones with double cream and homemade jams, ham & cheese finger sandwich and salami & cheese roll.
Served with a special sparkling mocktail,
hot chocolate or babycino.
$39 per little guest, 17 years and under
HIGH CHEESE
What's not to love about a high tea crafted with all cheese!
Decedent delights include brie, blue and cheddar cheese, served with quince paste, honey, dried fruit,
grilled sourdough, crisp bread and crackers.
A variety of desserts include local mix fruit cheese tarts, strawberry cheese profiteroles, honey thyme and cheese financier and JW Griffin chocolates.
In addition, freshly baked cheese scones with double cream and homemade jams.
Including a glass of sparkling or Champagne,
freshly brewed coffee and a beautiful selection of teas.
$64 per guest with Chandon NV Brut
$79 per guest with Moet & Chandon Imperial Champagne
HIGH SEAS
Showcasing locally harvested seafood for the ultimate sea to table experience. Ocean treasures include natural
oysters, tiger prawns, green lip mussels, Moreton Bay bugs, seared tuna open sandwich, smoked salmon tartine with capers & dill and spanner crab sandwich.
Artful desserts include Mango coconut passionfruit slice, macarons, strawberry choux, seasonal fruit tart, praline
financier, JW Griffin chocolates. in addition to freshly baked scones with double cream and homemade jams.
Including a glass of sparkling or Champagne,
freshly brewed coffee and a beautiful selection of teas.
$74 per guest with Chandon NV Brut
$89 per guest with Moet & Chandon Imperial Champagne
+61 7 5592 9800
jwmarriottgoldcoast.com
Bookings essential with 24 hours' notice