Hatch & Co. pursues a 
Sea Change in move to Gold Coast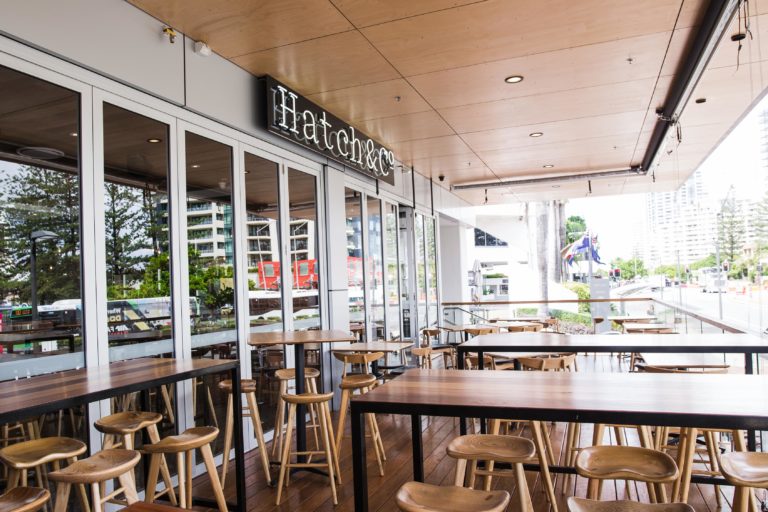 WORDS: PHOTOGRAPHY
Hatch & Co. have begun 2016 with a bang after successfully opening their third restaurant and bar in the heart of the Gold Coast, located at 75 Surf Parade, Broadbeach.
The exciting move will see Executive Chef, Craig Wright, who oversees the two Brisbane Hatch & Co. locations, heavily involved in all aspects of operations, from venue set-up to menu design and delivery.
He has promised to keep some old favourites on the menu, as well as introducing a range of new dishes that are exclusive to the Broadbeach location. Diners can expect to indulge in wood-fired pizzas, braised pork ragù pasta, slow roast lamb shoulder and delectable desserts, accompanied by a range of small plates and sides.
The Hatch & Co. philosophy revolves around a shared dining experience where the offering is rustic, nourishing, home-style food that encourages customers to delve into a spread of dishes.
The space itself has been transformed to cater for 170pax and includes all the signature Hatch & Co. touches. Timber furnishings and eco-friendly green walls create a warm and inviting atmosphere, which provides the perfect synergy with the coastal sunshine and sea breezes.
Moubment Group, the collective behind the Hatch & Co. brand are well renowned for their hospitality know-how and for delivering quality venues that cater to all occasions and tastes, including Gerard's Bistro, Gerard's Bar and The Defiant Duck.
After treating the diners of Brisbane to the high quality food that has become synonymous with the Hatch & Co. brand for the last three years, they saw the opportunity to take the brand coastal.
Katie Moubarak, co-owner, explains that opening a Hatch & Co. on the Gold Coast was inevitable, "It was just a matter of time before the right opportunity presented itself. There were a few different locations in the perimeter of the Gold Coast that we were interested in but as soon as the one in Broadbeach came up the decision was made."
"So many exciting things are happening in Broadbeach such as the Blues festival in August, the Jazz festival in May and of course the Commonwealth Games in 2018. We are so excited to be apart of the buzz!"
Hatch & Co. Broadbeach is open from 11:30am 'til late, seven days a week.
75 SURF PARADE BROADBEACH 4218
(07) 5526 2302
hatchandco.com.au