Halcyon Greens SWINGS INTO 2017 WITH STRONG SALES RUN
WORDS: PHOTOGRAPHY
LEADING over 50s developer Halcyon's $250 million Halcyon Greens community has struck a chord with buyers by recording sales of $23 million in the community's first stage well ahead of an official public launch.
Halcyon Greens, the largest project undertaken by the prolific lifestyle property company, has attracted more than 40 sales in the first stage comprising 24 golf course front homes.
Buyers have come predominantly from Halcyon's primary catchment area of Southeast Queensland with a smattering of purchasers from interstate.
Halcyon Greens, Australia's first over 50s golf and residential community, is set on 34ha of natural habitat overlooking the Gainsborough Greens golf course.
The lifestyle development comprises five residential precincts of approximately 100 homes each, surrounded by conservation zones and natural wetlands.
Halcyon joint managing director Dr Bevan Geissmann said buyers have flocked to the first stage knowing that the public launch is coming soon.
"Halcyon Greens is a project with enormous appeal to our target market, from the idyllic setting to the extensive on-site facilities available through the golf club and new clubhouse," said Dr Geissmann.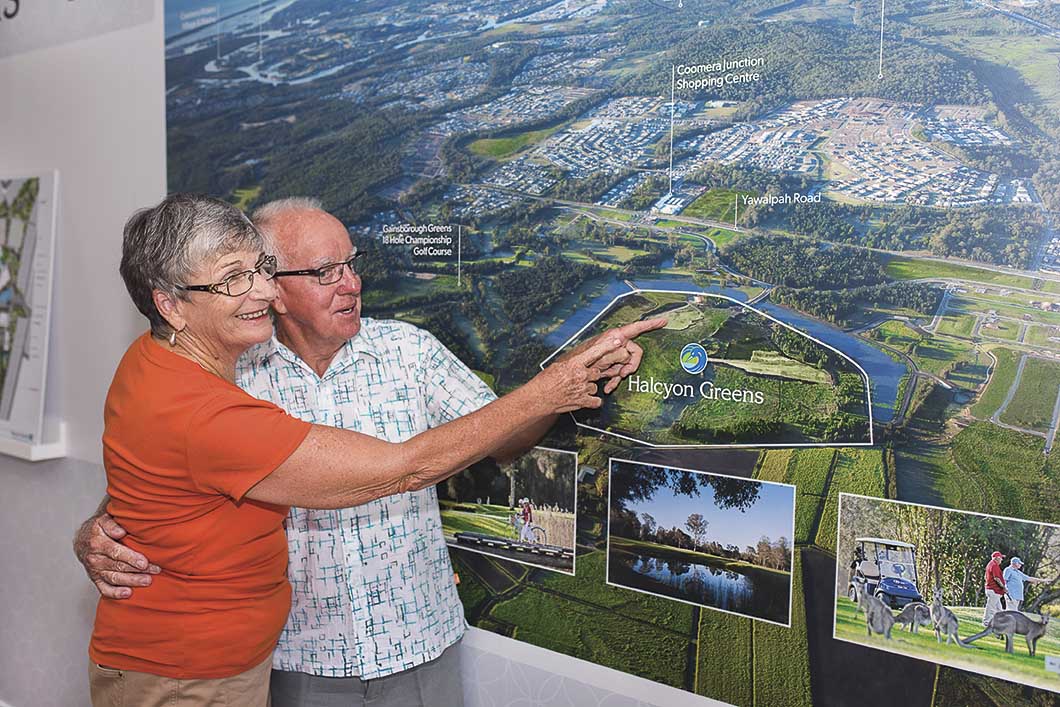 "We're seeing buyers jumping early into the first stage as property values inevitably rise in later stages for projects of this calibre."
Dr Geissmann said Halcyon Greens has all the hallmarks of a gated and safe community but with an expansive and unique recreational centrepiece.
A key part of this centrepiece is the free access for home owners to the 18-hole golf course and new clubhouse. Non-golfers won't miss out either with all Halcyon Greens home owners enjoying exclusive wine and dine packages at the golf clubhouse.
Aside from golf, the recreation offering includes 2.4ha of central parkland, clubhouse and lodge with fireplaces, outdoor and heated indoor pool, championship-size bowling green, floodlit tennis court, cinema, gym, dance studio, an outdoor amphitheatre, walking trails and pickleball courts.
Home owners will also have access to a work shed, herb and vegetable garden, rose garden and fruit orchard, as well as storage facilities for boats, golf buggy, caravans and CCTV security.
Halcyon Greens is the largest over 50s community to be undertaken by Halcyon, the developer of Vision by Halcyon and Halcyon Waters on Hope Island, Halcyon Lakeside, Halcyon Landing and Halcyon Parks on the Sunshine Coast and Halcyon Glades at Caboolture.
Dr Geissmann said buyer interest in Halcyon Greens had also been driven by unprecedented growth in the Gold Coast's northern corridor.
"It's our job to identify sites that possess the many fundamentals sought after by baby boomer buyers, such as proximity to retail, restaurants, health and transport," he said.
"Pimpama's surrounding lifestyle amenity and transport connectivity between Brisbane and Gold Coast has increased investment in the area."
The northern Gold Coast catchment accounts for $3.6 billion of the city's $11.4 billion in planned, existing and recently completed infrastructure projects. These include the upgrade of Exit 54 on the M1 and the proposed Coomera Town Centre, as well as the Coomera Indoor Sports Centre which has been completed for the 2018 Commonwealth Games.
"Halcyon Greens is positioned perfectly, parked right in the middle, surrounded by billions of dollars in infrastructure and development," Dr Geissmann said.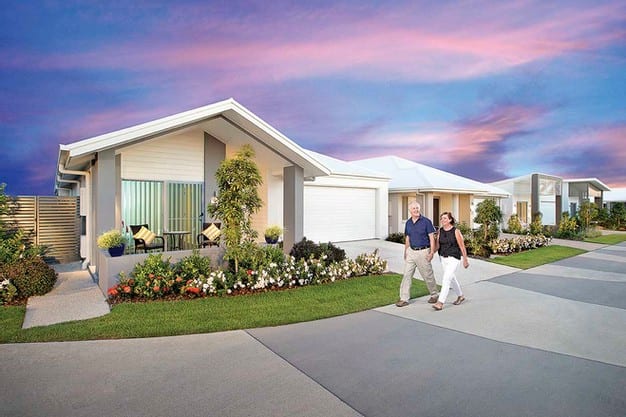 The Pimpama catchment is also gaining popularity among baby boomers, with the latest Urbis Market Outlook for the Pimpama catchment forecasting the population of 50 to 74-year-olds to jump by 16,000 by 2036, or 6.1 per cent per annum. This compares with the wider Gold Coast population in that age bracket growing at just 2.1 per cent per annum over the same period.
Halcyon Greens homes range from $450,000 to $750,000 and as with all Halcyon communities, Halcyon Greens homeowners do not pay any stamp duty on purchase nor exit fees on sales.
• For more details go to lifebeginsathalcyon.com.au or phone 1800 050 580 or visit the sales centre located opposite McDonalds on Gainsborough Drive, Pimpama.
BUYER TESTIMONIAL
Lloyd and Di Whitley have locked in their forever home at Halcyon Greens at Gainsborough Greens, Pimpama, after years of searching for the perfect over 50s lifestyle community.
The Whitley's recently purchased a two-bedroom plus multi-purpose room home, which is expected to be completed late this year, making for the perfect Christmas present.
"When we attended the Halcyon Greens presentation we felt right at home," said Lloyd, a former banker. "We loved the location and facilities, the concept of wetlands, parks, golf club and golf course – it's hard to explain, but it just felt right."
The Whitley's had been searching for a community on or near the Gold Coast or Brisbane to be close to family and friends and Halcyon Greens worked out to be the perfect balance.
"The location is ideal – we are 20 minutes closer to Brisbane where our daughter and grandchildren live, and only a short drive away from the Gold Coast, where we can visit our friends and take a dip in the ocean," he said.
"We are really looking forward to the social side of living within a community. We've already met numerous couples including our soon-to-be neighbours!"
The Whitley's were introduced to Halcyon through friends who are living at Halcyon Glades in Caboolture.
"Halcyon really differentiated themselves from other lifestyle communities in a way that is most important to us – there was no pressure whatsoever to make a decision. The friendliness and helpfulness of the staff at Halcyon made the entire process stress-free," Mr Whitley said.