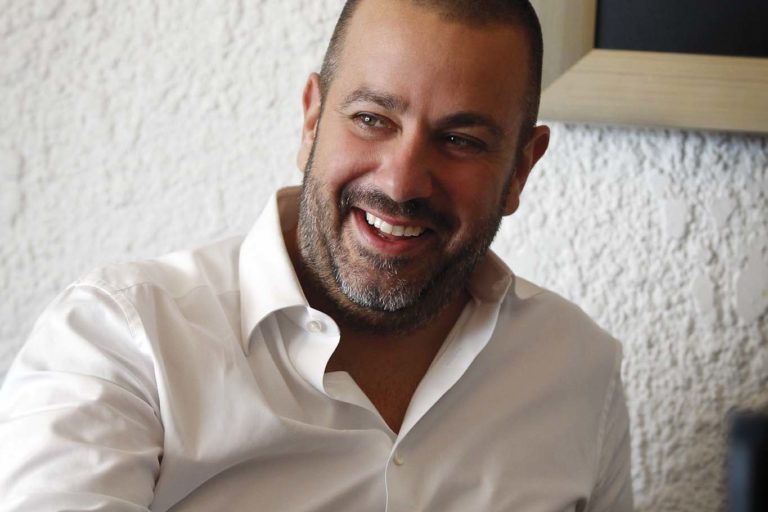 WORDS: PHOTOGRAPHY
THERE'S a certain symmetry to where Eva Milic is sitting here at Hellenika to join Simon Loftis. She has pulled up a chair beneath a portrait of Maria Callas, part of the striking 'Greek icon' series painted by Hellenika's 'artist-in-residence' Shannon Doyle, that adorn the walls of the acclaimed Nobby Beach eatery…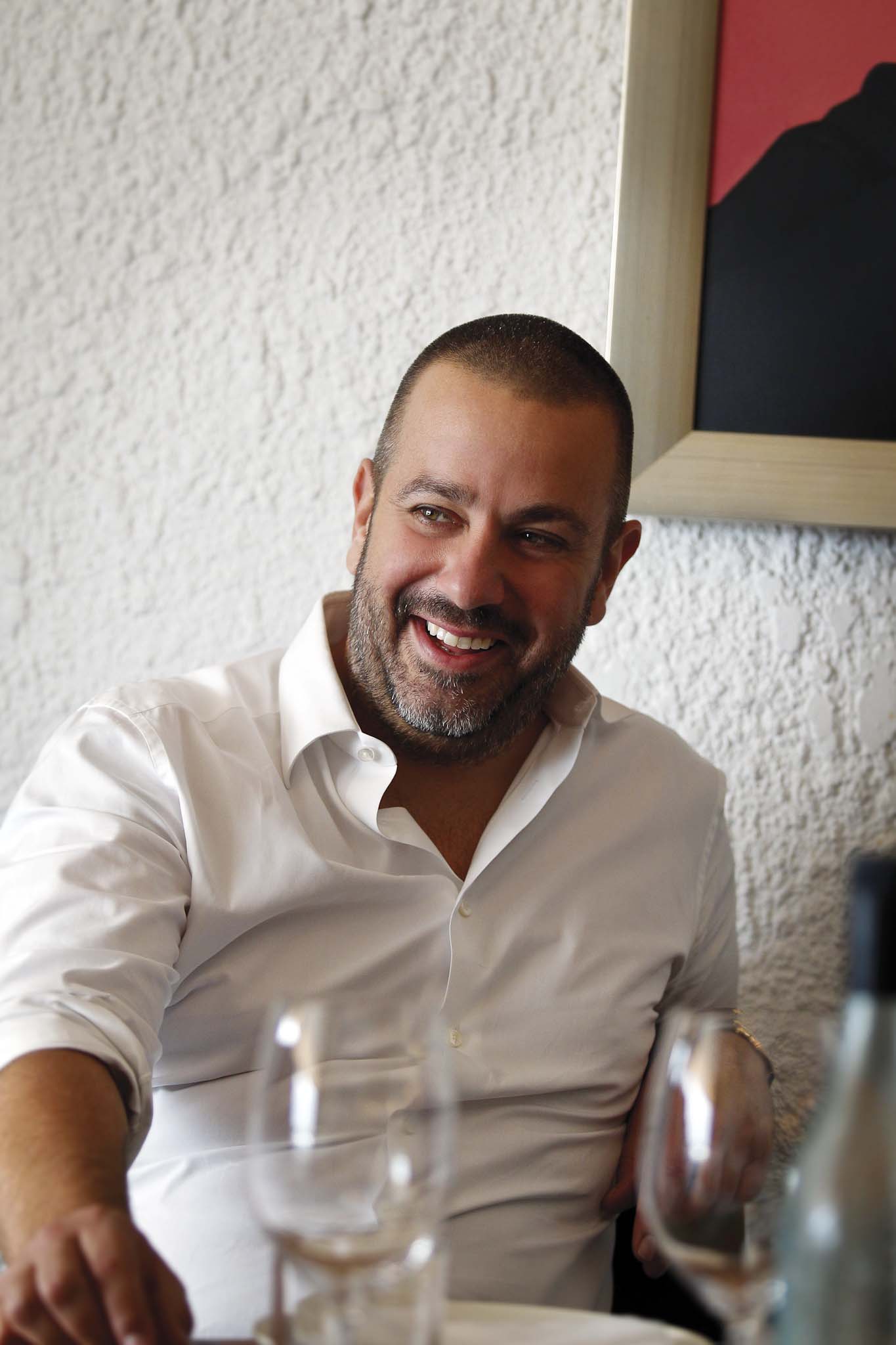 As well as the similarities between the portrait subject and Eva – the same brunette beauty and amber eyes – there's the fact that the Nine News Gold Coast presenter is herself a real-life picture of loveliness, beaming out from the studio each weeknight and into our lounge-rooms, framed by the LG, Panasonic or Samsung.
It's a Monday lunchtime and Eva has joined Hellenika owner Simon Gloftis for the latest in Ocean Road's series of sit-down chats with Gold Coast personalities.
She returned to Nine's Surfers Paradise newsroom – where her TV career began in 2004 – late last year to helm the local news bulletin with Bruce Paige after seven years reading the afternoon news for the network in Brisbane.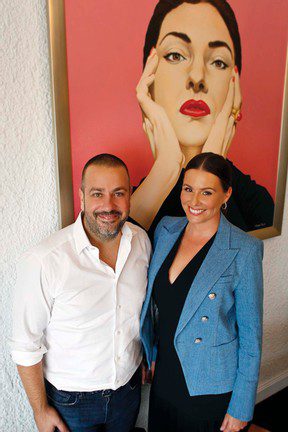 Eva and developer husband Marcus Dore were keen to move back to the Coast, where he is involved in high-end apartment projects at Palm Beach, for family and business reasons. In a happy coincidence, she was able to swap jobs with then-Gold Coast News anchorwoman Wendy Kingston.
"My husband's business partner is down here so it was a no-brainer for us once we worked through the job situation," Eva tells Simon.
"I actually didn't know the Gold Coast News job would pop up. We were moving down regardless and all the stars aligned. It was quite bizarre how it all happened.
"It was unexpected – I just didn't know how it was going to pan out for me career-wise – but we knew for our family we wanted to be based back down here. We were honestly just in so much shock when the Gold Coast job came my way. I haven't looked back. I love reading Gold Coast News. I know it sounds a little bit cliched but it's where I started."
Simon asks Eva about how she got into TV.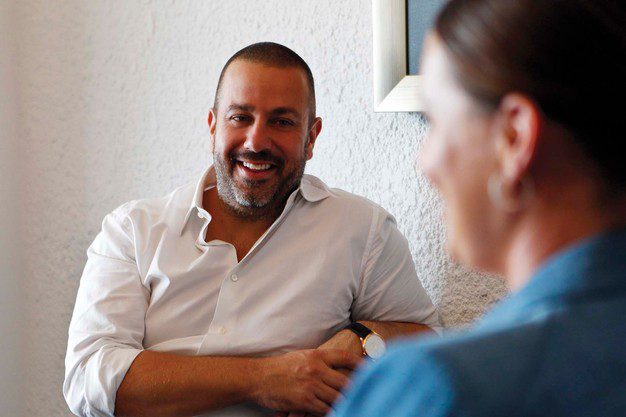 "I started at Nine Gold Coast 15 years ago, straight out of uni," she says.
"I was finishing off my masters (in journalism). I spent a lot of time at uni, I love that lifestyle. "When I was doing my work experience (at Nine Gold Coast) I was 25 and I really, I think, put myself out there. A lot of younger people come into the newsroom and just sort of sit there and think 'I'm pretty, do I get the job?'. But the bosses really want to see how hard you're going to work. So I put myself out there.
"They said, 'look we don't have anything available now but if you want to continue doing work experience, you can'. Then I started freelance reporting, weather and Gold Coast News about four years after that.''
Eva first came to public prominence when she was crowned Miss World Australia in 2001, the same year she earned a business degree.
"I think that kind of worked against me actually," she says of her beauty queen days.
"People tend to think you have no brains, (that) you're just going for a TV career because it's a good fit. But I think professionally, it did work against me and I had to work a lot harder."
Simon: "Personally, when I see you on TV, you've just got one of those very reassuring faces.
Eva: "I do?"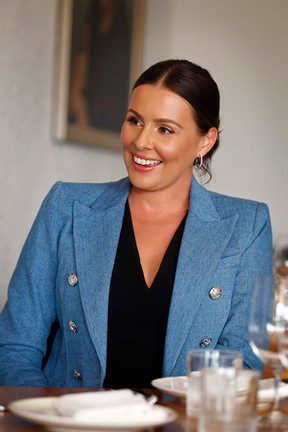 Simon: "Yeah, you sort of have like a nice presence where it's like … I don't know, reassuring."
Eva: "That's nice to know – maybe that's why they kept me around (laughs). But I do really love it, I love the work. So when we were thinking about moving (back) down here, that was a huge consideration for me. The content is really different because when you're working in Brisbane, you're covering all the big national and international stories. But it is lovely (at Nine Gold Coast) because a lot of the people behind the scenes are the same people as when I started. It's almost like no time has passed. It's really cool, a lovely place to work."
Simon asks Eva how she spends her work day.
"Well, we can't tell people this, but I don't do much," she responds with her trademark cheeky laugh. "I get my make-up done, I chat… sometimes I hand out corn chips, and then I chat some more (laughs). No, I do a little bit. If I've been out on something and I've pushed to get that story covered, I will take responsibility for it and write it. If Something I'm passionate about and have gone out and done, I'll write it because I know the content and I want to say it the way that I see it.
"When I was doing daytime news, you were a lot more involved because it was two bulletins a day. Two hours and 20 minutes of news a day, and it was just a producer and myself. So we were writing a lot of content. But Gold Coast News is a half an hour bulletin so a lot of it… Bruce and I have our opinions on how things are written but I don't do a lot of that background writing any more."
Simon: "Where do you think that the Gold Coast is at, compared to when you started off news-reading?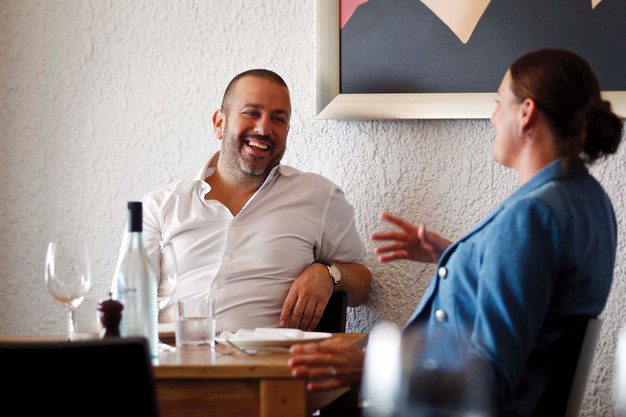 Eva: "I just think we've come a long way. I have some friends who live down south – they're former Gold Coast people – and whenever we catch up with them they're not overly supportive of the Coast. I just find that so bizarre. My husband and I are just absolute champions for this area. We love it. I think it's really coming of age, there's so much on offer. We've got a great cultural precinct, as you know the dining options here … it's just incredible to think what we have on offer. We're not a capital city but we are just forging ahead in leaps and bounds. I think we've got so much to be proud of here."
Eva is putting her money where her mouth is – she and Marcus are building a new home on the Coast for them and daughters Lucia, 9, and Gabriella, 5.
Simon: "I've been on Marine Pde (at Miami) now for nine years and I went through a stage where I was going to sell it, but I couldn't think of anywhere that would be better.
Eva: "We love this area. I love the fact that you can just leave your house … we don't drive anywhere on weekends. We just come down to the coffee shop, go to the bakery, get our fruit and veg, walk to the restaurants … it's all here!"
"It's a very nice area," agrees Simon.
Eva: "The other positive thing is that so many people come here when they're on holidays. And this is where we live. I think everyone has a very relaxed and happy vibe. I think we're so fortunate to be living here."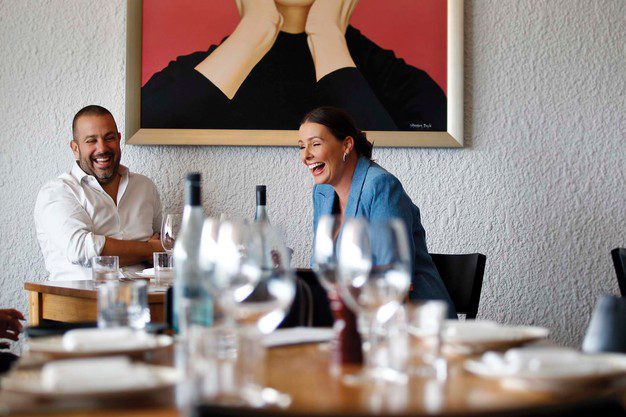 Eva is also a big fan of Palm Beach, where her father has lived for more than two decades and her husband is involved in a number of apartment projects.
"There's so much happening at Palm Beach and the food offerings are incredible," she says.
"My dad has lived in Palm Beach for something like 25 years and there was nothing there as far as a food destination even a few years ago. Now there's so much on offer."
Simon says he's always being asked about comparisons between the Gold Coast's burgeoning dining scene and that of Sydney and Melbourne.
"I say there's no way we're going to be like Melbourne and Sydney – it's an impossibility. The multicultural roots in these cities and the sheer population won't allow us to be like that," he says.
"But we're punching well above our weight. For what we are, for the town that we are, it's a pretty good offering. And our coffee – I don't care what anyone says – our coffee is up there (as some of the best) in Australia. People always go on about Melbourne's cafes. Yeah, there are great ones in Melbourne and Sydney, but we've got them here too."
Eva: "I love the cafe culture too, although I do drink decaf. I do a joke with my husband if we have a big night, "I'm stinging for a decaf!' (laughs)."
What is it like working with Bruce Paige, Simon asks Eva.
"He is a scream. He's a really funny guy," she says. "But at the same time, he's also so dedicated. He knows more about what's going on than a lot of other younger people, and about the industry. He keeps up with all the technology. In the afternoons, we need to turn on all the different lights and cameras in our studio. Bruce is all over that – he's still teaching me. He's great, he's lovely to work with.
"The best thing about Bruce is that whenever we get new reporters coming through, because it is a very fluid industry, he is there to help. He's so full of advice. You can bounce script ideas of both him and I. We're very encouraging of the the younger ones that are coming through.
"I look back on the time when I first started, and I had three or four people who really encouraged me and helped me with the scriptwriting and the voice. Bruce was one of those people. He was living in Brisbane and took me aside and met me for coffee a few times in Surfers Paradise to work on my voice. And that's something he did in his own time, and he still does it for others. I was just so thankful for the help I received from him early on. We both like to continue that on now. I am a bit taller than him though (laughs)."
Simon wonders whether newsreaders get emotionally involved in the stories they're reading, or whether they can detach themselves.
"It's something I've always wanted to know about newsreaders – if you're reading a story good, bad, ugly or whatever, do you get caught up in the emotion?" he asks.
Eva: "That's a really good question. I can think of a couple of times when I was so challenged professionally."
One was a story about a spate of domestic violence killings, with victims including Gold Coast women Tara Brown and Karina Lock and a young Brisbane girl who was suffocated by her mining executive father.
"I've never found it more difficult to get through the bulletins," Eva says.
"So in order to prepare myself, I try to watch the story before it goes to air so that there aren't too many surprises during it. I know the content but I like to try and keep myself busy and focused on what's coming ahead. Because I think in those times, the emotion is there – it's so raw, it's so real. When that little girl was killed by her dad, she was a similar age to my (eldest) daughter. It can't help but have an affect on you. I just think if you're prepared, that really helps you through."
There have also been lighter moments on the news desk when Eva's wicked sense of humour has gotten the better of her.
"There was a really bad blooper a few years ago when this young boy in China got his head stuck in a massage chair," she says, her eyes twinkling mischievously at the memory.
"The producer on the day said, 'Eva, I think you need to watch this. It's a bit funny and we just don't want you to get the giggles'. So I watched it and I'm like 'thank goodness I got to see that vision before, because I just would have totally lost it'.
"So we get ready to go live on the afternoon news and I just happened to peak down at the vision and I start giggling. And I actually can't stop. And I giggled all the way through the playout (where the newsreader previews the upcoming stories). The last one was something about Donald Trump but I'm laughing the whole way through and I'm like 'I think we need to take a break'. That was the worst I've ever lost my composure.
"I thought 'am I going to get in trouble for this?' Because I just really lost it. But my bosses were like 'you're human, you just showed Eva'. They loved it, so it was completely fine."
Simon asks Eva her nationality. When she says Croatian, he immediately asks: "Can you cook?"
Eva: "Look, I can, I am getting better. I used to be not very skilled in the kitchen. But I think as I get older, I'm finding a real passion for it. More now, it's not so much pressure to get it out there to feed the kids – they're a bit older now so we can be a bit more adventurous with our food. Food is all about love now."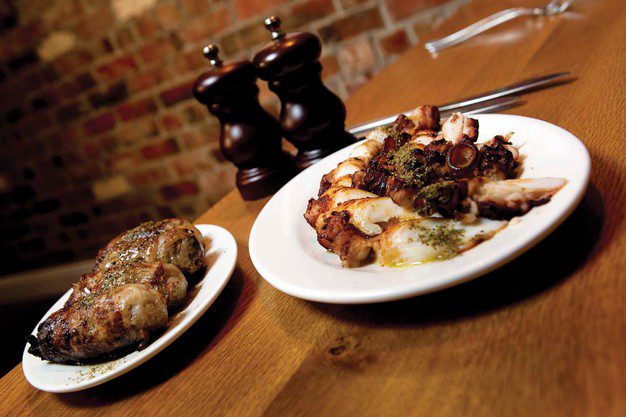 Eva and Simon discuss the delights of Croatian cuisine, including their mutual love for Sarma – stuffed cabbage rolls. They're Croatia's answer to Greek dolmades, one of Hellenika's specialties.
"My husband is 4th generation Australian and when he and I got together, it was his first experience of a European family," Eva says. "We went to my relatives for lunch or dinner and it was like 'eat, eat, eat!'. If you turn up and don't eat, they really take offence. He did adjust to that but he did say to me, what's the deal with potatoes? Everywhere you go, every meal has potatoes. I'm like, 'well we love them and and we grow them over there (in Croatia). My dad had bought me The Art of Croatian Cooking and there's a whole chapter dedicated to potatoes. I said to Marcus 'see, it's not just us … it's a thing. But I don't think I've tried better potatoes than with the lamb here (at Hellenika). Last time I was here, I think I ate all of them."
Eva, who has been married to Marcus for 12 years, mentions they spent a few 'date nights' at Hellenika in the early days of their relationship..
"I think it's really awesome to see the Coast's restaurant culture keep evolving, fresh and new and lots of offerings," she says.
Simon asks Eva if there's anything else she'd like to see on the Gold Coast as far as new offerings or attractions.
"A good friend of ours is (quadriplegic) Perry Cross," she says. "He's a remarkable Gold Coaster and Marcus is on his (spinal research foundation) fundraising board. Perry would love to see an iconic ocean pool here on the Coast and I think that'd be fabulous. You look down at Bondi Icebergs and that's a really iconic image of Sydney. I think, personally, that's something I'd love to see on the Gold Coast. That would be icing on the cake for our coastline."