Global Wave Conference created "A Wave in Motion!"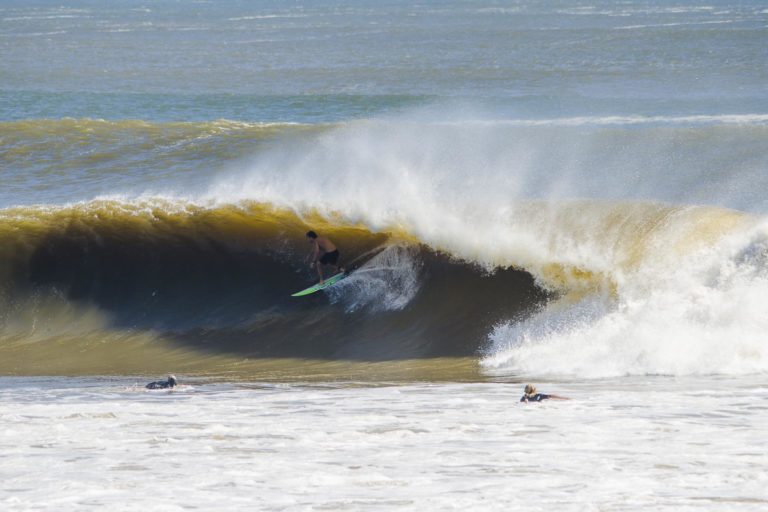 WORDS: PHOTOGRAPHY
Global Wave Conference 2020 was hosted by Gold Coast World Surfing Reserve Inc on behalf of the International Partners Save the Wave Coalition, Surfrider Foundation International, Wild Coast, and Surfers Against Sewage.
The 6th Biennial Global Wave Conference is an international gathering to advance the recognition of the value of waves and their protection around the world. It brings together the best international minds from surfing, conservation, and innovation communities to tackle the world's most challenging ocean issues. It's the first time that the Global Wave Conference has been hosted in Australia and the Gold Coast.
Please all take a collective bow, group hug and thank you to the kindred spirits and traditional owners of the land that we met on!!!
Thanks so much for all your support, we have made an incredible connection between our various groups to continue the work on Ocean Conservation on a global scale!
To Ben Roche Vice-Chancellor of Engagement Southern Cross University for supporting the idea to use GC Campus as the venue and Vice-Chancellor Adam Shoemaker for being there on the opening ceremony and throughout the week.
Global Wave Conference 2020 had over 400 delegates and visitors which came from the following countries:
Argentina

Australia

Brazil

Channel Islands, UK

China

Denmark

Fiji

France

Germany

India

Japan

Mexico

Nepal

New Zealand

Papua New Guinea

Peru

Portugal

United Kingdom

United States of America
We humbly believe we have made a significant impact and can keep the momentum moving in our various roles, we are on one big Global roll yew.
This would not have been possible without everyone below involved so a big thank you to all.
Sponsors
Huge mahalo and Muchos gracias to the Premier of the Qld State Government Ms Annastacia Palaszczuk and her Team to support from the Department of Tourism (Kate Jones), Tourism Events QLD (TEQ), Department of Sport (Mick de Brenni), Department of Environment (Leeanne Enoch).

Destination Gold Coast (Norma Swain & Jason Thomas).

City of Gold Coast Councillors for their gracious support Division 12 Pauline Young, Division 13 Daphne McDonald, Division 14 Gail O'Neil.

Massive thanks to Southern Cross University Gold Coast Campus Team Amy, Cameron, Veronika, and Jemma. SCU AV Team Brendan Waters, Jeremy & Danny, and the other guy (sorry), we could not have done this so professionally without your expertise and unflinching support and assistance. Jeremy & Danny are working on post mini doco! SCU Library Bruce, Steve, Lara, and staff for your patience from Exhibitions to impromptu media scrums.

Vissla – John Mossop amazing T-shirts.

The Surfboard Warehouse – Sean Kennedy, Karl & Team

Griffith University – Professor Rodger Tomlinson, Maggie, and Team.

Tony Eltherington Surf Yacht Charters – Doris.

Balter Brewery – Will and Team.

Robyn Walder

Surf Mud – Jason & Jason.

Wilson Haynes Lawyers

Shipley Crozier Accountants

Glowing Green

International Association of Surfing Research

Matanivusi Surf Resort – Brian & Donna McDonald

Nev Surfboards – Nev Hyman

ROLE Foundation

Richard Harvey Surfboards – Richard

Super Suck Hotel, West Sumbawa – Paul James

The Med Crescent Head – Robyn Harvey

Glass Xpressions Art Gallery – Lisa de Boer

Victoria Claxton Art
Patron
Wayne "Rabbit" Bartholomew
Conference & Speaker Organisers
Andrew McKinnon

Ed Atkin

Sally Porteous

Daniel Long
Facilitators
Jim Wilson

Zac Plopper

Ed Atkin

Chad Nelsen

Nik Strong-Cvetich
Media Team
Suzanne Simonot, I have attached Suzanne's super impressive media releases

Peter Sturm/My perspectives photography for taking photos throughout the 3-day conference and he took some sick photos of Kirra on Friday. These photos will be up on the GWC website by next week and Peter has given free permission to use. Please credit Peter Sturm.

Geoff Charters for video production.

Larisa Cevallos for her social media and work on the Ocean Surf photo exhibition.
GCWSR Volunteers
Kath Down

Rob Boyton

Leigh Webb

Robyn Harvey

Natalie Wain

Ashley Wain

Aaron Crozier

Mal Chalmers

Vanessa Firkin

Ros Dunn

Terri Dempsey-Ceh

Lillie Mourad

Noah Snelgrove

Blas Ignacio Zlatar Reyes
Cultural team
Juraki Surf Culture from Fingal for their wonderful welcome to Country at the opening ceremony.

Budjerah – "The Voice"emerging talent for entertaining the upstairs eco/industry/ info market stalls on the 6th floor.

John Fonmosa – for all the Indigenous artwork displayed during the conference.
Waste Management STOKE Team
Larissa Rose

Nichelle Lyster

Greg Howell
Speakers
· Sophie Taylor-Price
· Nick Carroll
· Shalise Leesfield
· Jason Old
· Robbi Newman
· Melissa Fagan
· Tory Jones
· Lois Levy
· Stacey Panozzo
· Kim Crane & Bede Durbidge
· Donna Weeks
· Ralph Buckley
· Rebecca Olive
· Catherine Kerr
· Mardi Frost
· Thomas Murray
· Ana Paula Da Silva
· Lorena Garcia Woortmann
· Guilherme Vieira da Silva
· Kaine Johnson
· David Revell
· Nik Strong-Cvetich
· Mark Mono Stewart
· Tim Silverwood
· Nicole Godwin
· Phoebe Kane
· Karl Goodsell
· Pete Ceglinski
· Amanda Morglund
· Kahi Pacarro
· Annie Bermingham
· Trent Hodges
· Shaw Mead
· Shane Orchard
· Mara Orroyo
· Mauricio Dos Santos
· Jesse Reiblich
· Nicky Wood
· Rachael Tilly & Beau Young
· Simon Brandi Mortensen
· Troy Bottegal
· Johnathon Clark
· Jean Nativel
· Holly Richmond
· Zac Plopper
· Kate McMahon
· Lin Sutherland
· Vera Azevedo
· Javier Leon
· Hannah Bennett
· Mauro Figueiredo
· Greg Borne
· Rob Hales
· Nichelle Lyster
· Larissa Rose
· Nev Hyman
· Ian McNicol
· Tom Wilson
· Richard Harvey
· Michael Stewart
· Danny O'Brien
· Tor Hundloe & Tom Marr
· Edward Atkin
· Andrew McKinnon
· Chad Nelsen
· Susie Crick
City of Gold Coast – Beaches, City Assets
Paul Prenzler – Coordinator

James Fyvie

Alana Vought
Ambassadors
Pacha Light

Ellie J Brooks

Cheyne Horan
Media Partners
Surfing Life Magazine – Ray Bisschop

Blank GC Magazine – Natalie

Coastalwatch – Nick Carroll

ABC Radio 91.7

Surfline
Surfing Reserves
World Surfing Reserves

National Surfing Reserves

Bell's Beach
Venues
Baskk – Donna & Steve Archdeacon

The Collective – Jeremy & Chloe Davidson
Event Stalls
Surf Lakes – Wayne Dart

Nev House – Nev Hyman

Surfboard Warehouse – Sean Kennedy and Karl

Department of Environment and Science – Shan

Surfrider Foundation – Asha & Nick

Gold Coast World Surfing Reserve Inc. – Rob

Surf Mud – Jason & Jason

Dick Hoole & Mexican

Indij-Art – John Fonmosa

Victoria Claxton Artwork – Victoria

Glass Xpressions – Lisa

TRESP – Catherine

SPS – Paul

Glowing Green – Larissa
Artistic Team
Kai Wilder (Cundith) for his amazing live art within the auditorium.

Daniel Long – for all event posters and display work.

John Robin for logo and certificates

Jarrad Bell from Sodapop Agency
Photographers
· Travis Johnson
· Adrian Bort
· Shayne Nienaber
· Simon "Swilly" Williams
· Peter "Joli" Wilson
· Juan Medina
· Fran Miller
· Alison Gowland
· Blaze Parsons
· Mitch Gilmore
· Tony Harrington
· Larisa Cevallos
· Sean Scott
· Stephen Gleeson
· Robbi Newman
· Luke Workman
· Konrad Brewski
· Hannah Jessupp
· Willos Callaghan
· Peter Sturm
Schools
Palm Beach Currumbin State High School

Elanora State High School

Lindisfarne Anglican School

Currumbin Primary School

Tweed River High School

Miami State High School

All Saints Anglican School
Catering
Chris & Taylor from the Green Room Cafe for making sure everyone got fed including those who didn't pay lol but seriously thanks Green Room for looking after all

Southern Cross University Catering Department.
Lastly but certainly not least my amazing wife Megan without her support, this would not have been possible!
It was really great to see that some of our key speakers joined the early morning dawn patrollers scoring epic Kirra kegs courtesy of TC Uesi before attending each day which made it so special that they were rewarded with the first epic swell of the year on the Gold Coast. Totally blessed by wave god Huey. The delegates will go home with great memories of one of the greatest weeks ever on the Gold Coast.
We covered the following relevant topics outlining sustainable outcomes:
Legislation to protect surfing amenity was warmly received when unexpectedly announced by the QLD Premier Annastacia Palaszczuk on Tuesday prior to commencement of the conference. This, in turn, boosted GWC.

The impact of climate change was discussed in a special panel on Wednesday afternoon with Dave Revell – Wild Coast, Chad Nelsen – Surfrider International, Rebecca Olive – QLD University and moderated by Zac Plopper – Wild Coast. This was timely considering the impact of climate change in the recent Australian bushfires and subsequent flooding that occurred in the week of GWC.

There was an incredible mood of optimism that was presented by our opening keynote speaker Sophie Taylor-Price that followed over the course of the three days.

There were many topics covering all sorts of issues and concerns addressed at GWC2020 with many sustainable solutions offered.

Artificial Reef at 19th Avenue Palm Beach, the World's first successful artificially constructed reef which stood the test of the tropical cyclone swell Uesi producing epic waves.

Live Streaming of key speakers available on www.globalconference2020.com.au

Surfing Australia National Coaching Directors Bede Durbidge and Kim Crane spoke on Australia's preparation for the 2020 Olympics in Japan.

Health & positive well being, camaraderie and compassion in abundance, renewed sense of purpose and willingness to make a difference.

Therefore preserving and protecting beach and surf amenity is foremost and as a global movement, we can achieve so much and inspire so many with our next generation carrying the baton to combat these many challenges. Together we can achieve anything.
Successful fundraiser at The Collective on Thursday night which has raised funds for the Currumbin Wildlife Sanctuary.
Global Wave Conference created "A Wave in Motion!" – Daniel Long
For further information, photos or to view speakers go to www.globalwaveconference.com.au
Please find press releases from Suzanne Simonot and photos from Peter Sturm/My Perspective Photography
Photos are:
1. "Classic Kirra Chocolates on St Valentines Day" – Friday 14th February 2020.
2. Wayne "Rabbit" Bartholomew Patron of Gold Coast World Surfing Reserve final wrap up of Global Wave Conference 2020.
3. Lifetime friends and brothers in arms – Andrew McKinnon Organiser of GWC2020 and Wayne "Rabbit" Bartholomew Patron.
Links:
Channel 7 – Gold Coast News: https://www.facebook.com/watch/?v=488122852139294

Channel 9 – Gold Coast News: https://www.facebook.com/watch/?v=180144049922519

Queensland Premier Announcement: https://www.facebook.com/watch/?v=179799063274314

The Artificial Reef 19th Palm Beach Gold Coast – World's first successfully constructed artificial surf reef by City of Gold Coast Council – thanks to reef designer Simon Brandi-Mortensen for the vision: https://www.facebook.com/simon.b.mortensen/videos/10157052995085544/