WORDS: PHOTOGRAPHY
We may all be familiar with the term "waste not, want not" but how many of us really manage our weekly shopping list to eliminate waste? Here, sustainable food specialist Simon Grigalius explains how the local chapter of OzHarvest is helping charities and the needy who would otherwise go hungry on a regular basis.
Australians discard one in every five bags of groceries brought home and this not only creates a massive social problem, it's also creating irreversible environmental impacts. However, there's a group of Gold Coasters working to make a difference.
The new 4217 precinct in Surfers Paradise recently hosted a community-inspired event for the Think.Eat.Save campaign driven by the Gold Coast chapter of OzHarvest and its local manager, Lee Danahay.
With food surplus donated from local farms and time and effort donated by GCCEC and Goldstein's, as well as many OzHarvest volunteers, the public was treated to a long lunch which fed and inspired all who tasted it.
Originally founded in 2004 by Australia's 2010 Local Hero of the Year, Ronni Kahn, OzHarvest's main goal is to deliver surplus food to charitable organisations, enabling them to provide a broad range of high quality food that was not available previously.
Community worker Lee Danahay established the Gold Coast chapter almost two years ago in her desire to help feed the needy and contribute to the solution of the burgeoning food waste problem.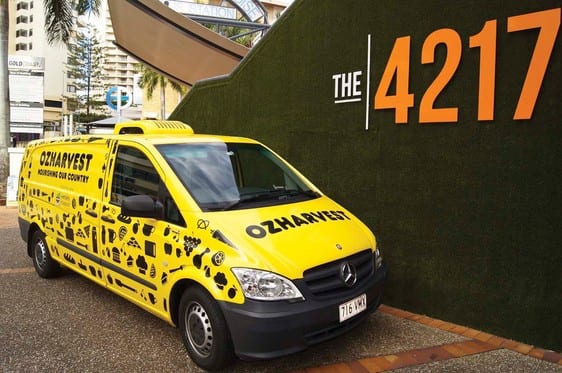 Some of the many volunteers on-hand to serve a delicious curry, carrot cake and pumpkin soup spoke of the satisfaction they themselves receive from helping those less fortunate.
'Craig' from Burleigh works in the corporate world but finds time to donate as he believes it's his community responsibility … and he likes to help people.
Goldstein's Bakery was represented by the third-generation owner Martin Goldstein who figured, before OzHarvest, their business threw out $1 million worth of food each year. This is partially due to the food safety labels ensuring safety and quality, although many would agree some of this out-of-date food is still safe to eat.
On pressing Marty on the reason a busy business owner would volunteer his valuable time to feed the needy he stated: "It gives you a good feeling to be able to give back to society".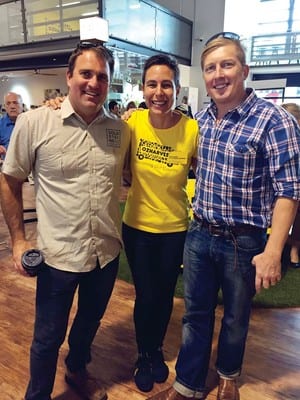 Another of the volunteers who assists in sorting meals for homeless shelters and women's refuges expressed: "Everyone needs to know somebody cares – and even a cupcake can turn around someone's fortunes".
OzHarvest is the only food rescue organisation in Australia collecting surplus food from all types of food providers including supermarkets, stadiums, shopping centres, restaurants and cafés. Originally created as a platform to donate excess food to charities, the environmental benefits of the program are a welcome by-product when you consider over 60 per cent of the world's fresh water is used for agriculture.
Although getting a second use out of the food is a great solution to a common problem, there are some people who feel another solution is to monitor food outlets and enforce a wastage penalty. This may help relieve impacts on the environment as well as strain placed on farmers.
OzHarvest has finally got a second van on the Gold Coast roads but requires donations to assist with operational costs. If you would like to donate to this very worthy cause, please do so by visiting www.ozharvest.org/give-a-little-love.