Getting back on the horse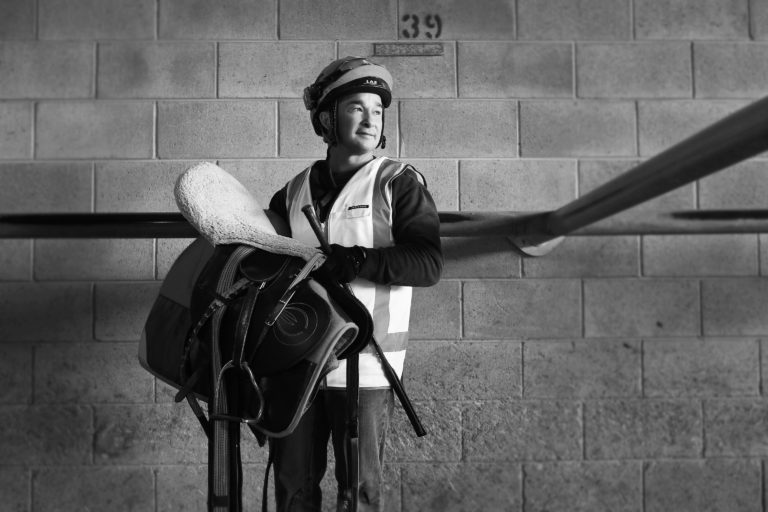 WORDS: PHOTOGRAPHY
"If there's one lesson I want to teach my daughter, it's to look for the positives in every situation. Bad things happen in life but I think you can always find something good to focus on. Even if it's only a small thing, it will make a big difference to how you feel.
"I've found that really helps me deal with whatever comes along so I can get over it and move on."
Jason Taylor's words of wisdom for five-year-old Jess perfectly describe his own approach to the challenges he says have helped him become one of Queensland's leading jockeys. And those challenges started from the day he was born.
"I was a tiny baby and, in those days, that was considered a big issue," he says. "My parents took me to a growth specialist and I was eventually injecting myself every day with hormones that never really worked.
"Of course that meant I had a tough time with the bullies at school. I remember being held by my legs, upside-down over the side of a building and being dumped in a rubbish bin. I guess I was an easy target.
"But my parents were really supportive. I could talk to them about what was going on and they helped me to deal with it.
"I did a lot of boxing and karate, and while I would never get into a fight, I felt more confident knowing that if anything happened I could handle myself."
Sports-mad young Jason was also into surfing, soccer and just about anything else that didn't involve school work but that all came to an abrupt halt when he contracted Perthes' disease – a childhood condition that affects the blood supply to the hip joint.
"From the age of about 11 or 12, I was in and out of surgery and on crutches for two years. I couldn't do any sport at all and it crushed the top part of my hip so it still causes me problems.
"When I eventually got rid of the crutches, I was into everything. Sometimes it's not until you can't do the things you love that you realise how important they are to you. So once the Perthes had run its course, there was no stopping me."
It was not long after this that Jason's growth specialist finally decided to give up on the hormone treatments.
"He just looked at me one day and said, 'Jason, it is what it is. Your parents are short; you're short. You just have to accept it. You could always become a jockey!'
"I'm pretty sure he meant it as a joke. We were definitely not a horse-y family. The closest I'd ever come to a horse was patting one at a circus and I don't remember even watching the Melbourne Cup as a kid."
But the doctor's throw-away line would come back to Jason just a few years later.
Leaving school partway through Year 11 and struggling with the tough physical labour of working for his father's concreting business, Jason answered a job vacancy for a strapper.
"I had no idea what a strapper was but the ad said 'no experience required' so I was sure I could give it a go."
Horse trainer Robert James wasn't quite so convinced but saw straight away that Jason had the perfect make-up to become a jockey… except for the fact that he couldn't actually ride a horse.
"Robert really took me under his wing," says Jason. "Every morning I'd go out to the stables and he'd put me on a pony. It would bounce around the arena and I'd just slip right off the side. There were many, many, many falls but I kept getting back on and eventually got the hang of it.
"When Robert finally decided I was ready, he put me in touch with Gold Coast trainer Kaye Tinsley who signed me on as an apprentice."
With well over 1000 winning rides to his credit and a 20+ year career that has taken him all over Australia and to Singapore and Mauritius, Jason now says 'thank God' he didn't get the tall genes that saw his brother grow to six foot.
"There are a lot of tall jockeys out there but they really struggle to keep their weight down so my size and stature have been a huge advantage," he says.
It was this weight advantage that gave Jason his first Group One win on Star Covet in the 2001 Brisbane Cup.
"My wife Alana had just given up her real estate career to manage my rides and she had her eye on Star Covet. It had been a good horse but it hadn't been running well so the handicappers brought the weight down to 49kgs.
"There weren't many jockeys who could make that weight so trainer Pam Webber agreed to take a chance on me even though I'd never won a Group One race."
At barely a quarter of the way through the 3200m race, Jason felt the 50-1 long shot almost pulling him out of the saddle.
"I let him go and he didn't just win; he absolutely bolted in, five lengths ahead of his nearest rival.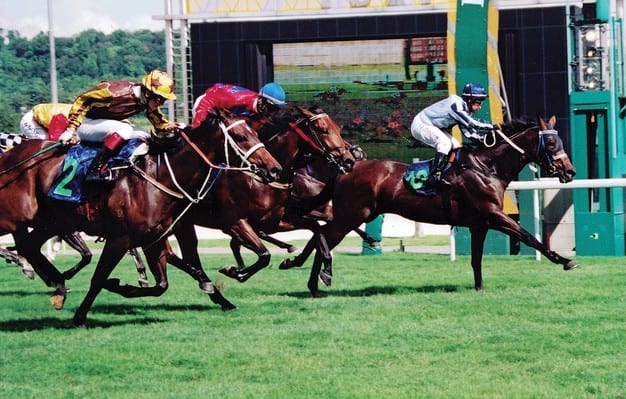 "Hearing the crowds roar and seeing the joy on people's faces… it was the best buzz I've ever experienced.
"There was so much riding on that race for us. It was a big risk for Alana to give up her job and I now had that first Group One win under my belt so it all paid off."
It also looked like Star Covet would be Jason's ticket to the Melbourne Cup.
"Straight after the race, the owner took Star Covet out for a spell and we were then going to map out a course for the Melbourne Cup. Winning the Brisbane Cup meant he qualified for the field and I reckon he had a big chance of winning.
"A week before the horse was due to come back into track work, the owner rang me in tears – Star Covet had come down with colic and died in the paddock. I was gutted."
Setbacks like this are all part and parcel of the racing game. You can be riding high one minute and flat on your back – literally – the next.
"I've broken just about every bone in my body," says Jason. "I've had two shoulder reconstructions, two knee reconstructions and crushed a couple of vertebrae in my back.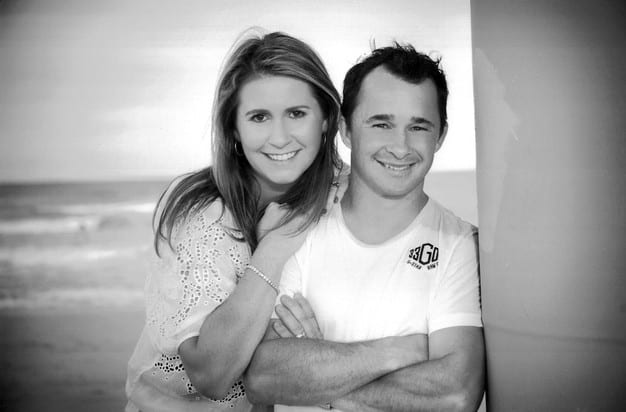 "My shoulder came out of its socket completely when I was coming down the straight at Grafton last year and I had to finish the race with my arm dangling. That put me out for seven months and I've just come back from a three month spell after I ripped all the ligaments in my ankle.
"When I was younger, I'd be a bit filthy about being off the track but now I look at is as an excuse to spend more time with my family (although I think I drive Alana crazy!)"
One of Jason's biggest life challenges, however, had nothing to do with his career.
"Alana and I struggled for years to have children. We must have gone through about ten rounds of IVF. It took its toll emotionally and nearly tore us apart.
"We were finally recommended to Dr Kee Ong here on the Coast and after just a few more rounds, we had our little miracle girl."
Jason admits his job takes its toll on fatherhood; having to be at the track from 4am each morning and away racing most weekends.
"Every so often Jess will sit down with Alana and say 'We need to look at the diary. I haven't seen Dad for three days.' It's hard when that happens so I really make the most of those times when I'm not riding.
"All in all, I reckon I'm not doing too bad a job as a dad!"