Get ready for… A DAY AT THE BEACH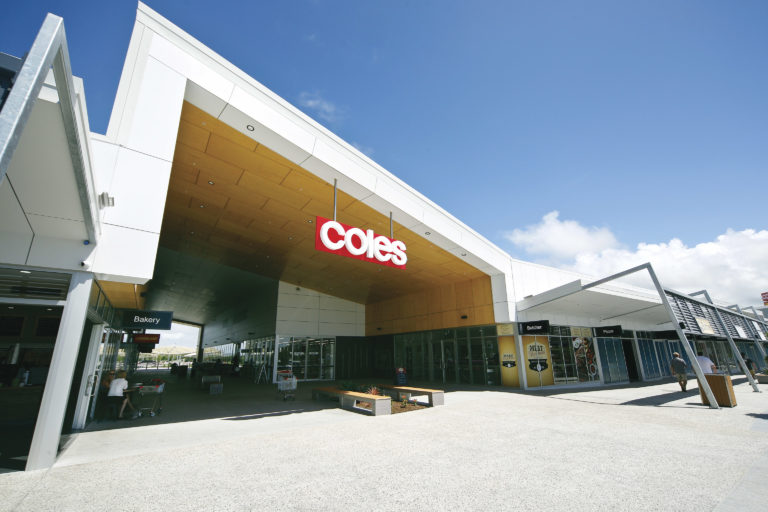 WORDS: PHOTOGRAPHY
It is said that staying true to your core brand values is the key to business success – this certainly explains Rip Curl's ongoing dominance on the surf scene.
The surf retail giant, with a global reputation for high performance and quality, lives, breathes and radiates the brilliant beach lifestyle from every store. Rip Curl's been the market leader in surfing wetsuits for over 40 years. Their suits are built for riding and with Mick Fanning as an ambassador; you know you're in safe hands if you're looking for the standout best in surf.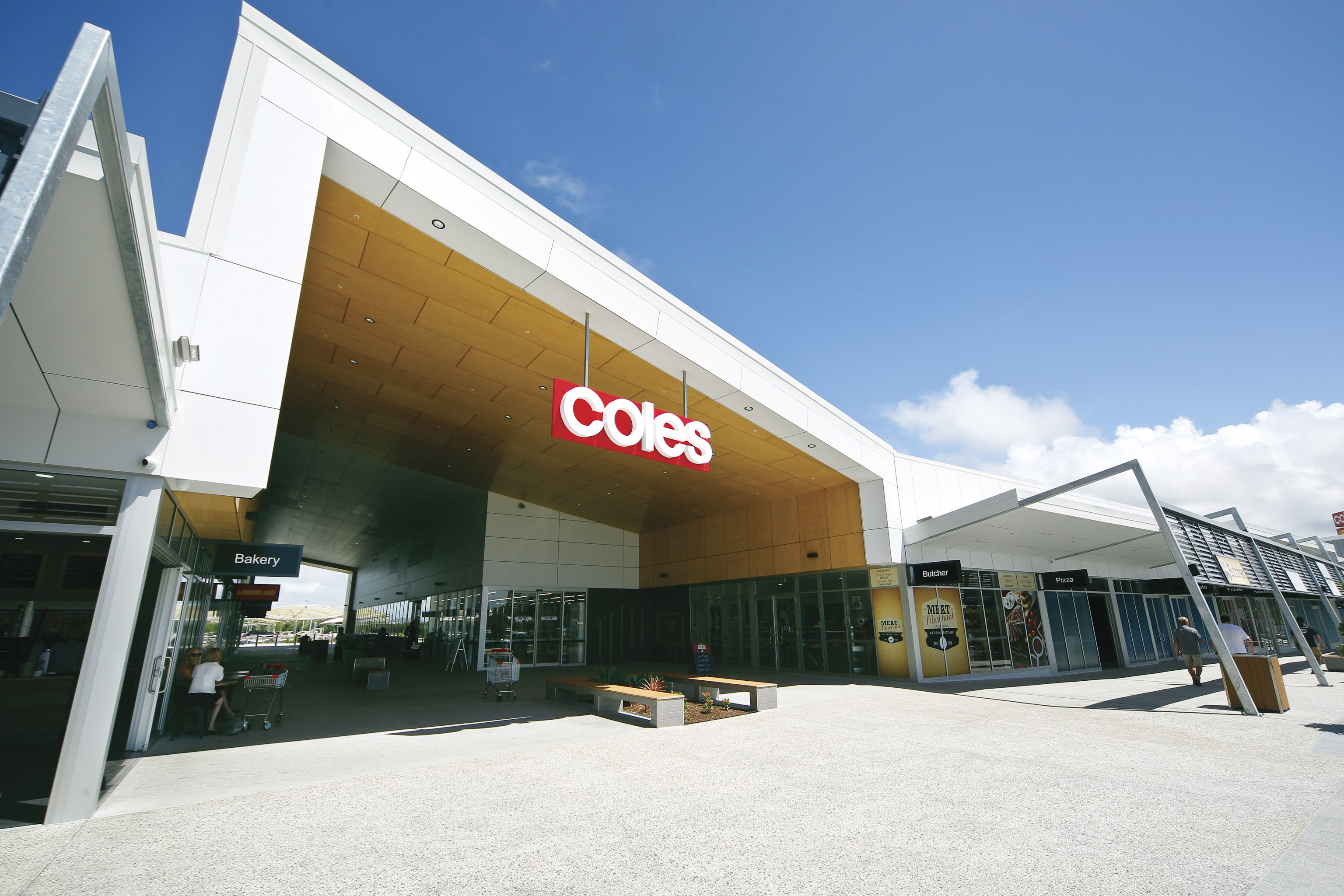 Step inside the new Rip Curl store at Casuarina Village Shopping Centre and the first three things that strike you are the impressive bikini display, extensive board short options and stunning wetsuit feature that's eye-catchingly lit up at the back.
"The whole store theme is 'A day at the beach'", Scott Taylor, Regional Manager, South East Queensland tells ORM when we swing by to check out the shop which opened in June. It's the ninth Rip Curl store on the Gold Coast, which stretch from Ballina to Harbour Town.
The new store is perfectly placed to capture the passion for surfing which prevails here. The Hurley Surfing Australia High Performance Centre (HPC) is situated nearby; the world's first facility dedicated to the development of surfers. Coaching here caters for all ages and levels of skill.
"People here love the beach, it's a surfing hub," says Scott, who's worked at Rip Curl for nine years and worked his way up to overseeing all of the regions stores and recruiting a first-class team right across the Gold Coast. "Surfing and the beach are at the heart of the community, everyone here is absorbed in that lifestyle.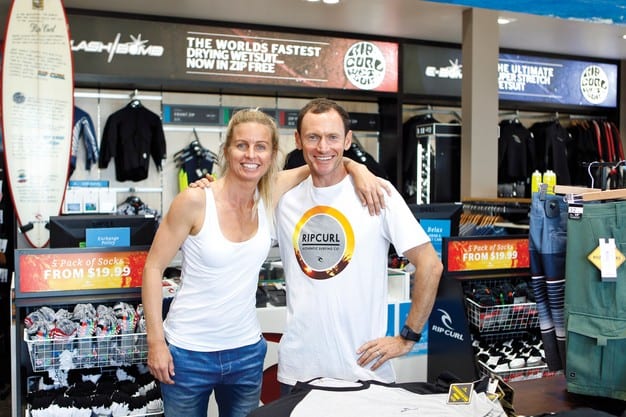 "Rip Curl provides people with all the products they need to enjoy a day at the beach, whether they're here on holiday or they live here and need to pop in for some new board wax or a new pair of thongs. Mum, dad, the kids, everyone can get kitted out here. Our kids range starts from zero to 16 year olds."
The extremely successful $25 million Casuarina Village is proving a dream come true for tourists and locals alike. Here, you'll find a range of speciality retailers including a café/bakery, doctor's surgery, hairdresser, butcher, chemist, barber and pizza shop – to name but a few! The extremely successful $25 million centre also includes a 2500 sq m Coles.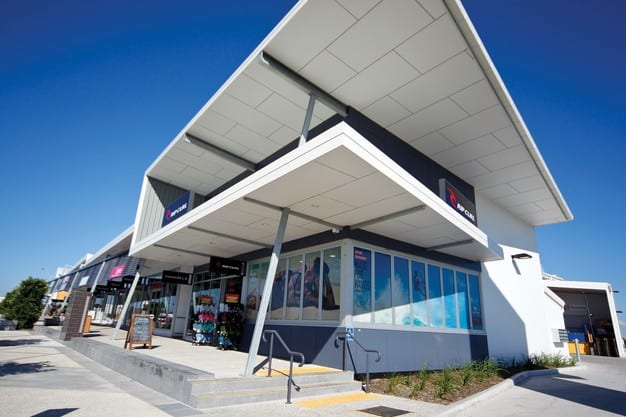 "The feedback we're getting is how much everyone loves the convenience. We've had a really positive reception from local surfers who love being able to quickly get what they need so close to home rather than having to drive around to hunt it down. If you surf, you'll find everything you need at the Rip Curl store, we have an extensive range of wetsuits, boards, through to fins and leg ropes. Plus we have the extras like sun block – or, for tourists, a bag to carry it all in!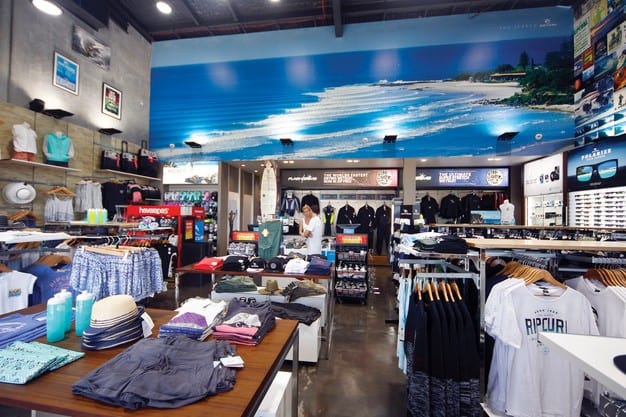 "The key to the success of the Rip Curl brand, is staying true to what we are, which is surf. On any day of the year you can come into store and buy a bikini. We have something for everyone, with a wide range of mix and match separates in plain, stripes and patterns. We stock high performance surf bikinis through to fashion styles in a range of difference cuts, also tankinis and one-pieces."
Of course, with such a strong surfing community and keen surfers coming into town to train at HPC, it's important that all Rip Curl staff are extremely knowledgeable. Regular training days are essential and surfboard stockists do demo days so the whole team gets to try boards out to understand what conditions they suit and people they're ideal for.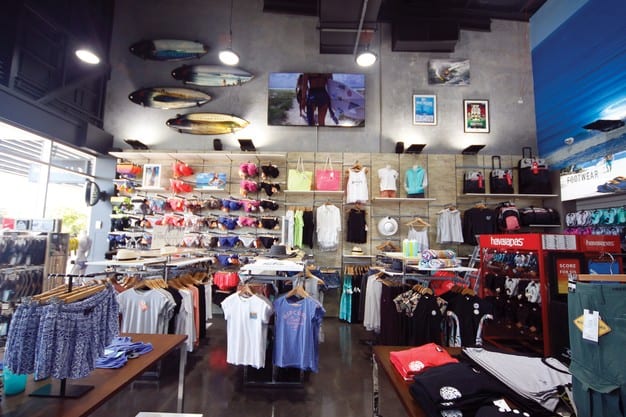 "It makes a difference buying products off someone who surfs themselves," says Scott. "For instance, Jess and Luke here in our Casuarina store, are both avid surfers. They understand the products because they use them day-to-day."
In addition to proving first-class customer service, Rip Curl is also focused on giving back to the local Casuarina community. "We're working with a local surf school to offer discount offers; The Tweed Coast surf school has a one use 15 per cent discount card for their customers and Cabarita board riders also receive 15 per cent off in store. The Salt Surf Life Saving nippers will be getting a one use 15 per cent at the start of the new season. It's important to us that we develop a relationship with the local community."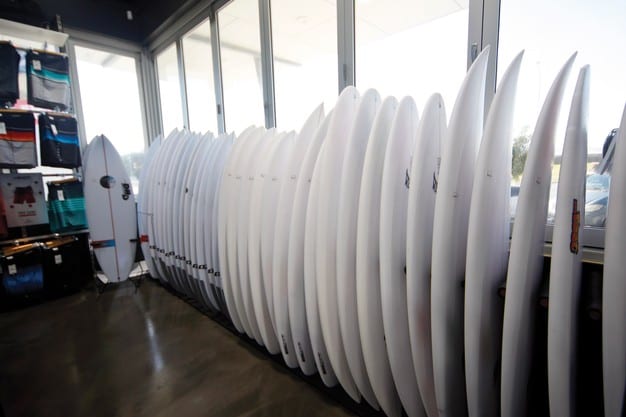 * Rip Curl, level 1, Casuarina Village Shopping Centre is open 9-5:30pm Mon-Thurs. 9am-9pm Fri, 9am-5pm Sat, 10am-3pm Sun. Tel: 08 8927 9511. http://www.casuarinasquare.com.au/stores-services/rip-curl