GC Comm Games Coffee Tour
WORDS: PHOTOGRAPHY
The Gold Coast is in the spotlight with the Commonwealth Games on our doorstep. It's an exciting opportunity to showcase the best of the best on the coast, and show travellers what's on offer in our beautiful home. ORM takes you on a coffee tour – but this time, off the beaten café trail to highlight hidden gems and cafes with something unique and special to showcase. We'll highlight local cafes in and around Games venues, and show you what the locals get up to around the coast. Work up an appetite and check each one off your list!
JOY Organic Coffee Roasters, Burleigh Heads
Tucked away in the Burleigh Industrial estate, JOY Organic Coffee Roasters is a hidden gem. With their minimalist design, simplified menu, and award winning organic coffee, you will fall in love. The staff, ambiance, and energy of JOY is contagious. With gluten free, vegan and raw options, you'll love JOY for it's healthy food options, amazing organic coffee, and relaxed, chilled atmosphere.
Since 2013, JOY has sourced and roasted the best organic coffee from across the world, and last year they expanded to include their signature café in Burleigh. You'll love the fact that the café is off the beaten track, has loads of free parking, and is easily accessible to the Gold Coast Highway, M1 and connections to Commonwealth Games locations.
Eat:
Beetroot and Sauerkraut Fancy Toast. An open faced organic spelt toast with half an avocado, beetroot and basil puree, Wildly Fermented pink sauerkraut, vegan mayonnaise and baby spinach.
Drink:
Lime Cold Brew. JOY has steeped their house blend over 18 hours to create an incredibly smooth, flavourful iced coffee with low acidity and virtually no bitterness.Topped with Tonic Water and half a fresh squeezed lime, you'll think this is a sneaky mid-day cocktail 😉
To-do in the area:
Grab your brunch and then set off to local Burleigh beach. Take a walk around Burleigh Headland and enjoy breathtaking views from Surfers Paradise to Snapper Rocks. Take lots of water, running shoes and your sunscreen – you'll want to be out here for hours!
Local Games Locations:
Under 10km to Robina Stadium, where you can watch the Rugby Sevens in action!Minutes to the M1 where you can access all Games locations.
Find it:
18/109 West Burleigh Rd
FB/Insta @joybeanscoffee
Nude Sisters, Mermaid Waters
If healthy, nutritiousfood and mouth-watering raw cakes are on your radar, you will absolutely love Nude Sisters in Mermaid Waters! Friends Bec and Georgia started making raw desserts while studying, and soon grew a loyal following for their gorgeous treats and raw cakes. The demand kept growing as they started selling at night markets, leading them to take the plunge and open their beautiful café in 2017.
Their customers keep coming back for the fresh, homemade vegetarian and vegan whole food options, but Nude Sisters won't sacrifice taste and quality. You won't know what you're eating is actually healthy, full of nutrition and good for you! Nourish your body, fuel up and enjoy the trendy, beautiful space with your friends before heading out to enjoy the Gold Coast and the Commonwealth Games.
Eat:
Green Breakky Bowl.Spinach, kale, broccolini, roasted almonds, avocado, quinoa,
lemon, olive oil, beetroot labneh + a poached egg (swap for scrambled tofu for a Vegan option).
Drink:
Vegan Iced Chocolate. Drinking chocolate served with a scoop of vegan coconut ice cream and milk of choice. Absolutely delicious!
To-do in the Area:
Once you've fuelled up with wholefoods and a smoothie from Nude Sisters, check out the local Putt Putt – you are guaranteed a laugh and a good time! "The Lanes" night markets in Mermaid are a must, too.
Local Games Locations:
Nude Sisters is only 4km from the Gold Coast Convention and Exhibition Centre, which will host preliminary rounds of netball and the basketball finals.
Find it:
3/90 Markeri Street, Mermaid Waters
Insta @nudesisterskitchen
FB: @nsisterswholefoodkitchen
Little Mali, Coolangatta
A local favourite, Little Mali will soon be yours, too. Karl grew up watching his dad in the local Rainbow Bay butcher shop, which he opened in the 80's. As Karl got older, he saw an opportunity to convert a little corner space into a café, and Little Mali was born. Years later, the café has now grown and taken over the butchery and Karl's never looked back.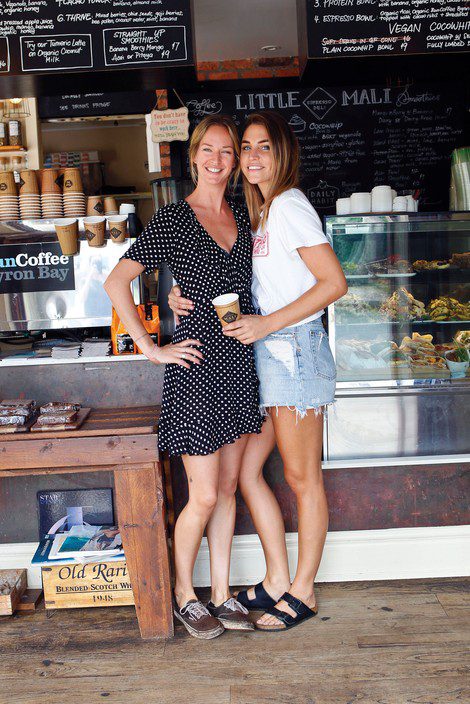 With amazing support from Rainbow Bay locals, the café has grown to a bustling hub of quick grab and go options – made fresh to order so you can get yourself back to the beautiful beaches on Little Mali's doorstep.
Eat:
Acai Bowl. Little Mali is known for delivering the goods – Acai bowls are a perfect way to cool down and enjoy a healthy treat. Topped with fresh fruit and muesli – grab your bowl and head down to the beach for a picture-perfect afternoon.
Drink:
Grab your morning coffee or fresh juice before you do your surf check. Summer is a perfect time to try their iced coffee on coconut milk topped with Coco Whip – a perfect way to start your day!
To-do in the Area:
You don't need to go far to find some of the best beaches in the world. Little Mali is on the doorstep of the Gold Coast World Surfing Reserve (which includes beaches from Burleigh Heads to Snapper Rocks). So, grab your surfboard and get some of the best waves of your life!
Local Games Locations:
Coolangatta Beachfront will host Beach Volleyball – grab an Acai bowl from Little Mali and stroll or take the longboard along the boardwalk to get in on the action.
Find it:
237 Boundary St, Coolangatta
FB: littlemalicafe
Insta: little_mali
Percy's Corner
If rich, local history and a creative vibe is what you're after, Percy's Corner delivers in spades. Nestled within Gold Coast's original ambulance station, Percy's Corner is a bustling little coffee shop. The shop is named after the first superintendent Percy Raby who ran the station from the early 1920's to 1940's.
Owners Liam and Sarah saw an amazing opportunity to turn this historical building into a local meeting place for good coffee. With a strong local following, Percy's Corner has become a hub for community with a simple menu that complement's their specialty coffee.
Eat:
Ham and Cheese Toastie. You must try this little gem! An honest toastie, grilled until golden with oozing cheese.
Drink:
Speciality coffee is what they do well here, so pull up a chair and sip on a few brews.ry a rotating single origin or ask what they have on the batch brew.
To-do in the Area:
With a tram stop right out front, you can easily explore the northern Gold Coast. Start with a stroll through China Town, and end up for picnic at Broadwater parklands.
Local Games Locations:
The Triathlon takes place at the Southport Broadwater Parklands – a beautiful location, you'll want to make a day of it!
Find it:
45 Nerang St, Southport
FB: percyscorner
Insta: percys_corner
The Little Baker
Owners Brendan and Sharon shared a common desire to own and run their own café, to create a meeting place for their customers, and share great quality food. For years they carried this dream, and finally that dream was realised with The Little Baker café in Mudgeeraba, QLD.
Their focus is on high quality, home-made food, created by their fully qualified and very talented chef. With locally sourced produce and supplies, you will feel like a local the minute you walk through their doors. With friendly staff and a beautiful atmosphere, you'll see why everyone falls in love with this little gem!
Eat:
Definitely worth a visit on your cheat day –indulgent French Toast or Sticky Toffee Cake, need we say more?!
Drink:
Pair your baked delight with a gorgeous selection of teas or coffees – you'll want to spend the afternoon indulging!
To-do in the Area:
You'll be spoiled for choice, as Mudgeeraba is set amongst beautiful scenic drives, rainforest walks, and spectacular hinterland vistas. Drive along Mount Tamborine or Springbrook, enjoying breathtaking views of the Gold Coast skyline surrounded by a pristine natural backdrop.
Local Games Locations:
Mudgeeraba is a perfect location to access any Commonwealth Games venue – take the M1 north to Oxenford and watch the Boxing or Squash, head to Robina Stadium to watch the Rugby Sevens, or head to Nerang and watch the Cycling (Mountain Biking) Events.
Find it:
Shop C4/50, corner of Railway and Swan lane, Mudgeeraba
FB: thelittlebakercafee
Insta: thelittlebakercafe