WORDS: PHOTOGRAPHY
One of the stars of Sofitel Broadbeach's esteemed Room81's menu is Witches Chase Cheese. With Sofitel's Chef de Cuisine on the hunt for the perfect cheese for their summer menu, we took the opportunity to head to Mount Tamborine and visit the quality local supplier to find out more.
From the lilting 'bonjour' that greets every guest at reception to the nightly candle-lighting ceremony that pays homage to Paris as the City of Light, every aspect of life at the Sofitel Gold Coast Broadbeach reflects the French origins of the global brand. Every Sofitel hotel in every corner of the globe follows the same French rituals which were established in 1964 at the very first hotel in Strasbourg.
At their flagship Gold Coast property, the Francophile flavour naturally extends to room81, where the French tradition of dégustation defines their new nine, seven, five and two-course menu journeys.
Room81 is now the only hatted restaurant on the Gold Coast that specialises exclusively in dégustation offerings, providing an opportunity for Chef de Cuisine Sam Moore to push the boundaries of non-traditional ingredients and molecular gastronomy.
Amidst the coffee-infused carrots, grapefruit soda pop and kurobuta pork jowl created in his kitchen laboratory, nothing says 'France' quite like a good cheese.
For Sam Moore, though, it was the memories of his Scottish homeland that drew him to Mt Tamborine's Witches Chase cheeses. "I first came up here about eight months ago – it was my day off and I wanted to sample some local produce," he tells us on a scenic drive through the Gold Coast hinterland in a $180,000 Range Rover TDV6 that we've snaffled from Bruce Lynton Land Rover's Southport dealership.
"When I bit into the Witches Chase Cheddar, it took me back home. There's something about their recipe that's totally unique – it tastes just like the Cheddars we ate in the Scottish Borders where I grew up."
Cheesemaker Adam Papprill says they get that feedback a lot. "People from Leicester say our Red Leicester is exactly like it is at home and even people from France rave about our Triple Cream Brie," says Adam.
"It's probably because we've developed our own recipes over the years and that we use local ingredients – like our milk that comes from Holstein cows grazing at the bottom of the mountain.
"We also use vegetarian rennet rather than calf rennet and salt is the only preservative that goes into our cheeses."
Today, Sam is moving past his favourite Cheddar to sample the full Witches Chase range in search of the perfect cheese to create a new dish for room81's dégustation menu.
"The Sofitel experience is all about blending that French heritage with local journeys," he says. "So we have a kangaroo prosciutto that we make ourselves, teamed with a native berry chutney and dried saltbush; or the O'Connor dry aged striploin that we serve with our own mustard and kale chips.
"This is how we give the French origins of dégustation a modern Australian twist, sharing with our guests the experience of sampling unique local produce and flavours."
For room81's summer menu, Sam ultimately chooses Witches' Chase creamy goat's curd which he uses as the centrepiece of a bewitchingly sweet garden of deep dark chocolate-covered pebbles oozing with raspberry puree nestled in a pistachio moss.
The look, the flavours, the texture promise to transport you to the mystical rainforests of Mt Tamborine even faster than our Range Rover TDV6.
[SIDE PANEL – all of below, separated into sections]
Subhead
The Witches Chase Cheese Company story
The landmark headquarters at the end of Mt Tamborine's Gallery Walk is one of the Gold Coast hinterland's stand-out success stories.

What started in 2004 as a small cheese processing shed on a quiet rural street is now a big, breezy complex housing a pristine, glass-fronted cheese factory, the Fortitude Brewing Company, Long Road Bistro and a gift shop selling the full range of Witches Chase cheese and other locally made gourmet goodies.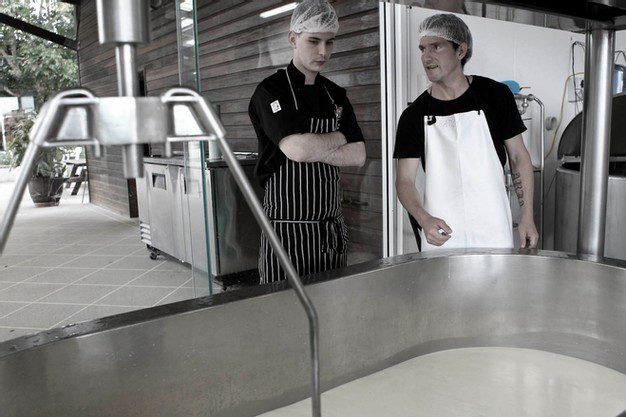 Co-founder Meredith Morris brought a wealth of business experience to what was initially a cottage industry. The petite Canadian was part of the team that took Lush Cosmetics from a small London shop to a chain of stores across North America, establishing the blueprint for what became a global enterprise. However, she is the first to admit that she knew nothing about country life when she and her ex-husband moved to Australia.
"We bought a huge cattle property in Kilcoy – it was the first time I'd ever set foot on a farm," says Meredith. "And it absolutely didn't work for me; I felt like I was stuck out in the middle of nowhere and eventually did a 'runner', taking off to the Gold Coast. But then we found the little property on Beacons Road at North Tamborine with the factory next door and I learned how to make cheese."
Despite the responsibility of running what is now one of Mt Tamborine's biggest tourist attractions, Meredith still rolls up her sleeves to help cheesemaker Adam stir the whey, cut the curds and wash the rinds.
"Our cheeses are all handmade. We don't use stabilizers or preservatives so it's a very authentic artisanal product," she says.
The range includes a variety of hard Cheddars, Gouda and Romano, and soft creamy Bries, goat and cow Fetas, Fromage Frais and the popular Tamembert.
They take pride in supporting local farmers like the Dennis family at Scenic Rim 4Real Milk.
Subhead
What's their secret?
Cheesemaker Adam Papprill says the secret winning ingredient is the love they put into their product. "I've been making cheese since I was a teenager," he says. "It's all I've ever done and I've learnt from a lot of great cheesemakers along the way. We're all about having fun here. I just love what I do and I reckon you can taste that in every cheese we make."