WORDS: PHOTOGRAPHY
Welcome to the sunshine state. Sun, surf, sand and blue water, combined with rural towns, outback stations and mining developments. The character of the place is emblazoned on the brows of the locals – once a Queenslander, always a Queenslander. Stories passed down through several generations make Queensland special to me.
My great grandfather arrived on a boat from Scotland with big dreams of a new start. He started up a carrying business while they were building the train line from Rockhamption to Longreach. His hard work paid off and he managed to buy three properties outside Isisford, becoming a rural pastoralist. My other great grandfather arrived from England at the age of three, when his father was searching for his new start in the gold mines in Gympie. With such a strong foothold in this land to the north, it was such an exciting journey to discover the cuisine that is making the state shine on the world stage.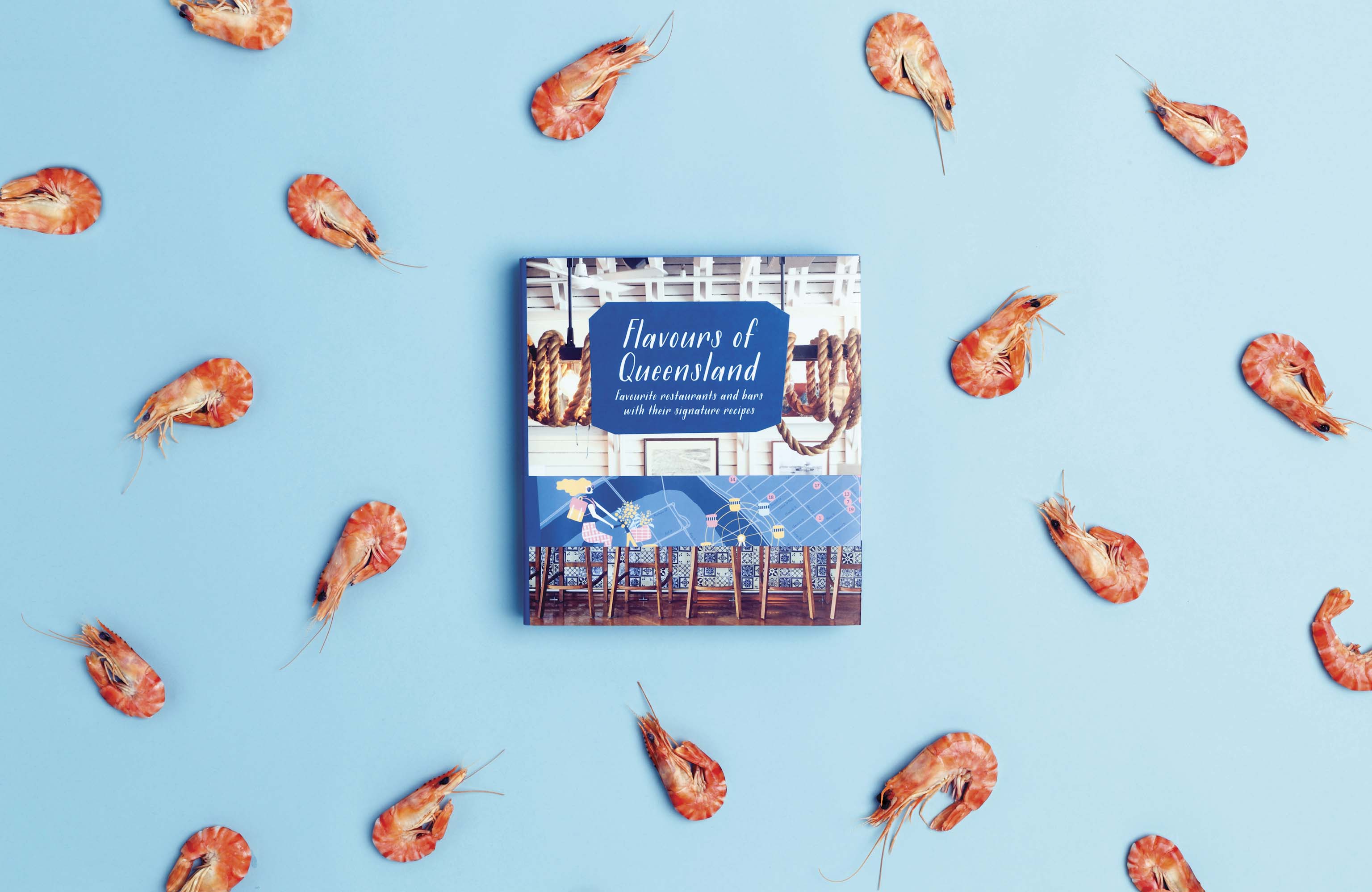 It has long been a destination for tourists, with its beaches, islands and the Great Barrier Reef. And now its food offerings have caught up, with chefs using local produce to showcase their skill. The cuisine in Queensland can stand tall, and alone, as the reason why people should visit this state.
Jonette George
The books is $80 and is available from www.smudgeeats.com.au/bookshop.
From Ocean to Plate
Queensland is a treasure trove of coastal waters that are home to some
of Australia's best seafood. We're taking a microscope to the produce
you may have heard of before, but know nothing about.
Moreton Bay Bugs
What are they? These little critters are found all the way down Queensland's coastal waters, but they're best fished just outside of Brisbane at Moreton Bay. Boasting a medium to strong flavour, they contain sweet and juicy meat that contain little sinew. Best prepared by poaching, steaming, barbecuing or grilling, they can be cooked whole or the flesh can be removed from the tail to be prepared separately.
Why do Aussies love them so? Their unique flavour is hard to match elsewhere. With a larger yield than lobsters, the bugs are a high-protein, low-fat option for every seafood lover.
While most of the flesh comes from the tail, cook it whole for extra visual value – the sight of a bug, shell and all, on your plate is hard to forget! Perfectly paired with any number of aiolis or vinaigrettes, dish it up by itself or with a warm salad.
Recipe Moreton Bay Bug with Clams and Seaweed Chowder, page 362
Mooloolaba Prawns
What are they? If you've ever eaten a fresh and juicy prawn, chances are it came from Mooloolaba. The large and succulent crustaceans are caught off the Sunshine Coast by large trawlers, who collectively net $100 million worth of prawns every year. Their main features are a nice bright orange colour, a firm shell and firm flesh.
Why do Aussies love them so? The people have spoken: the Eastern Ocean King prawn is the one we love the most. As an excellent source of omega 3 fatty acids, iron, zinc and Vitamin E and containing less than 4g of fat per kilo, they're a tasty treat that your body thanks you for. Coming straight off the boat and onto your plate, these prawns are a versatile addition to any dining occasion.
Recipe Prawn & Green Mango Salad, page 386
Noosa Spanner Crab
What are they? These bright red molluscs hail from the waters off the Sunshine Coast and boast a delicate, pure white meat that looks pretty on your plate. They have an elongated shell, and spanner-shaped front legs, yielding 25% meat from the body, claws and legs. Hanging out in sandy areas, they are caught with netted frames (dillies) everywhere from Bundaberg to Tweed Heads.
Why do Aussies love them so? Presenting a more delicate alternative to the darker meat of mud crab, spanner crabs not only look great on your plate – they're also super versatile. Steam them whole and pair with a dipping sauce or use the meat to make a range of dishes, including stir-frys, pancakes and salads. Available both live and cooked; they are also good sources of Vitamin B6, folic acid, magnesium and selenium.
Recipe Linguine Al Granchio, page 166
Hervey Bay scallops
What are they? These heroes of the half-shell are a staple of restaurant menus across Australia, coming from the 40-kilometre stretch of coastline right near heritage-listed Fraser Island. The creamy white shellfish have sweet, rich meat that's medium to firm in texture. Also called a saucer scallop, it's usually served without roe, and has a lightly coloured shell.
Why do Aussies love them so? Hervey Bay scallops are one of the most versatile shellfish – they can be steamed, poached, deep-fried, pan-fried, stir-fried, baked, grilled, barbecued or even eaten raw. They're succulent and sweet, and don't need anything more than a little garlic, lemon and butter. Simple, but sophisticated – just like the place they come from.
Recipe Hervey Bay Scallop Ceviche with Avocado, Sweetcorn and Bacon, page 358