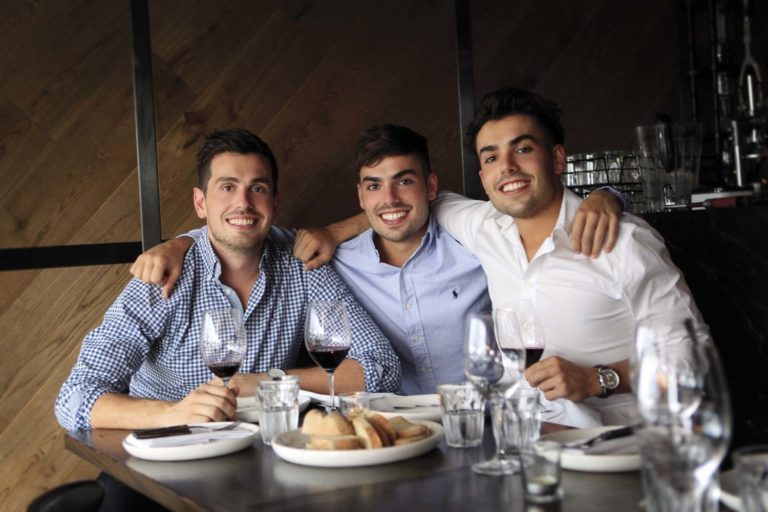 WORDS: PHOTOGRAPHY
Following the fantastic success of Gemelli Italian Restaurant, the three Carney brothers opened their second venue in January. ORM headed to Gemellini in Nobby Beach to find out why they picked that location, what makes this one different and most importantly, what's on the menu!
With Gemelli's Italian going from strength to strength in Broadbeach two years down the track, it wasn't a matter of if but when and where the Carney brothers would bring their culinary vision, expertise and passione ardente (fiery passion) to their next venture.
Second generation Italians Paul, 27, and twin brothers James and Alec, 23, have brought tasty, approachable, traditional Italian cuisine to the Gold Coast, whetted the appetites of regular locals and that same quality wafts out of the impressive three and a half ton wood-fired pizza oven in Gemellini's.
The oven, which was imported from Italy, is also used to add authentic depth to the menu including Monetpulciano d'Abruzzo olives and king prawns which are carefully wood-fired. Desserts are as mouth-wateringly delicious as the pizzas; house made Tiramisu, Ricotta and Lemon Tart and even the donuts are filled with Marscapone.
At Gemellini there is a paralleled focus on fresh produce and Italian flavours. Even the twist on a bloody mary, Bloody Mario, uses imported San Marzano tomatoes from Italy. Gemellini Mojito features Limoncello while classic Italian Negroni is barrel-aged.
"Gemelli Broadbeach is going so well and always so busy, we've wanted to expand for a while," Paul tells ORM. "We had offers to go to Brisbane and other developments around the Coast but that wasn't what we wanted to do for our second venue. We wanted to do a smaller concept this time. I live in Mermaid, James and Alec are in Miami; we're locals here and when you're going to be in the restaurant every day it has to be manageable. Alec is currently prepping at both venues, keeping the quality of our food across both restaurants is crucial. Consistency of quality is what encourages people to come back."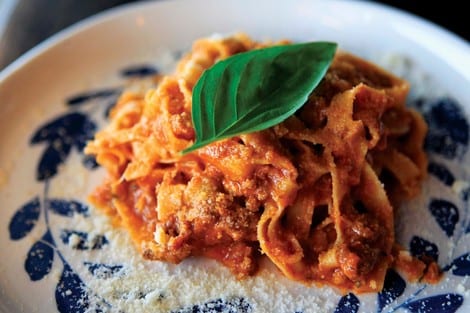 Having ruled out Brisbane or heading further south than Burleigh, Nobby Beach made sense and when they spotted a vacant venue just a couple of doors down from Hellinika, they recognised the potential, measured up to make sure the focal point oven would fit and snapped up the opportunity.
"Nobby Beach has a fantastic dining precinct. Hellinika is an awesome restaurant, we know Simon [Gloftis] pretty well and talk shop sometimes, which is always good!"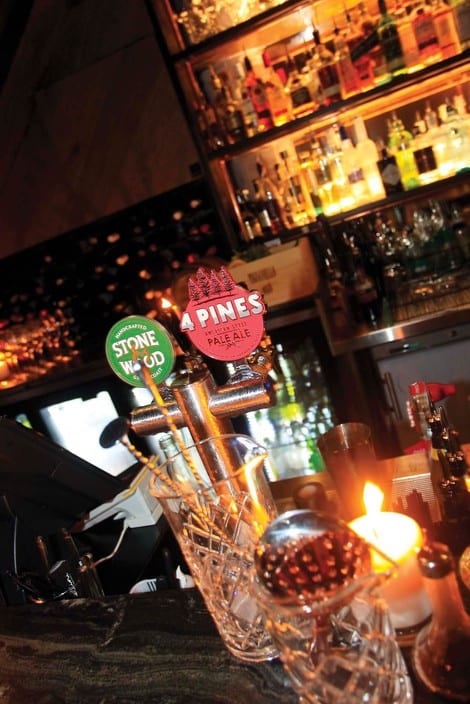 The new venue, which seats 55 plus a handful more at the bar, was a white shell when they took it over. Four months later, their vision was realised with the help of a local architect. They've created a warm, welcoming space with a friendly, vibrant atmosphere. "We all like approachable food," says Paul. "We like inviting people in and everyone having a good time."
A large fridge hangs over the pizza bar edging the kitchen and is home to prosciutto legs, salami and a whole wheel of parmigiana reggiano.
"The key difference between our new restaurant and Gemelli's Broadbeach is this has more of a bar scene. Lots of bars don't have great kitchens, lots of restaurants don't have amazing bars; this is a cool bar with a fired oven in it! It would be awesome if people are drinking and eating pizza at 11:30 at night. We're here for that wind down after work – and we want people to enjoy the wine. We have a small but interesting wine list, everything's been carefully chosen, I wouldn't put anything on if it wasn't amazing!"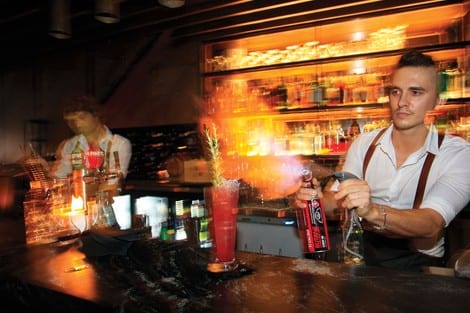 Wine is Paul's passion which he says he could talk about all day, and you'll find him masterminding the bar at the front of the restaurant. James managed successful restaurants in Sydney before they all made the move to the Coast and Alec is the driving force of perfection in the kitchen. "Yes, we see each other every day," laughs Paul. "We work well together. Obviously we clash sometimes but its constructive clashing and we take that fiery passion to the kitchen!"
* Gemellini, 2247 Gold Coast Highway, Nobby Beach. Tel: 07 5575 1418
Now doing home deliveries!