WORDS: PHOTOGRAPHY
On a recent visit home, eleven-time windsurfing champion Steve Allen caught up with ORM to talk about his life, his goals and Dancing With The Stars.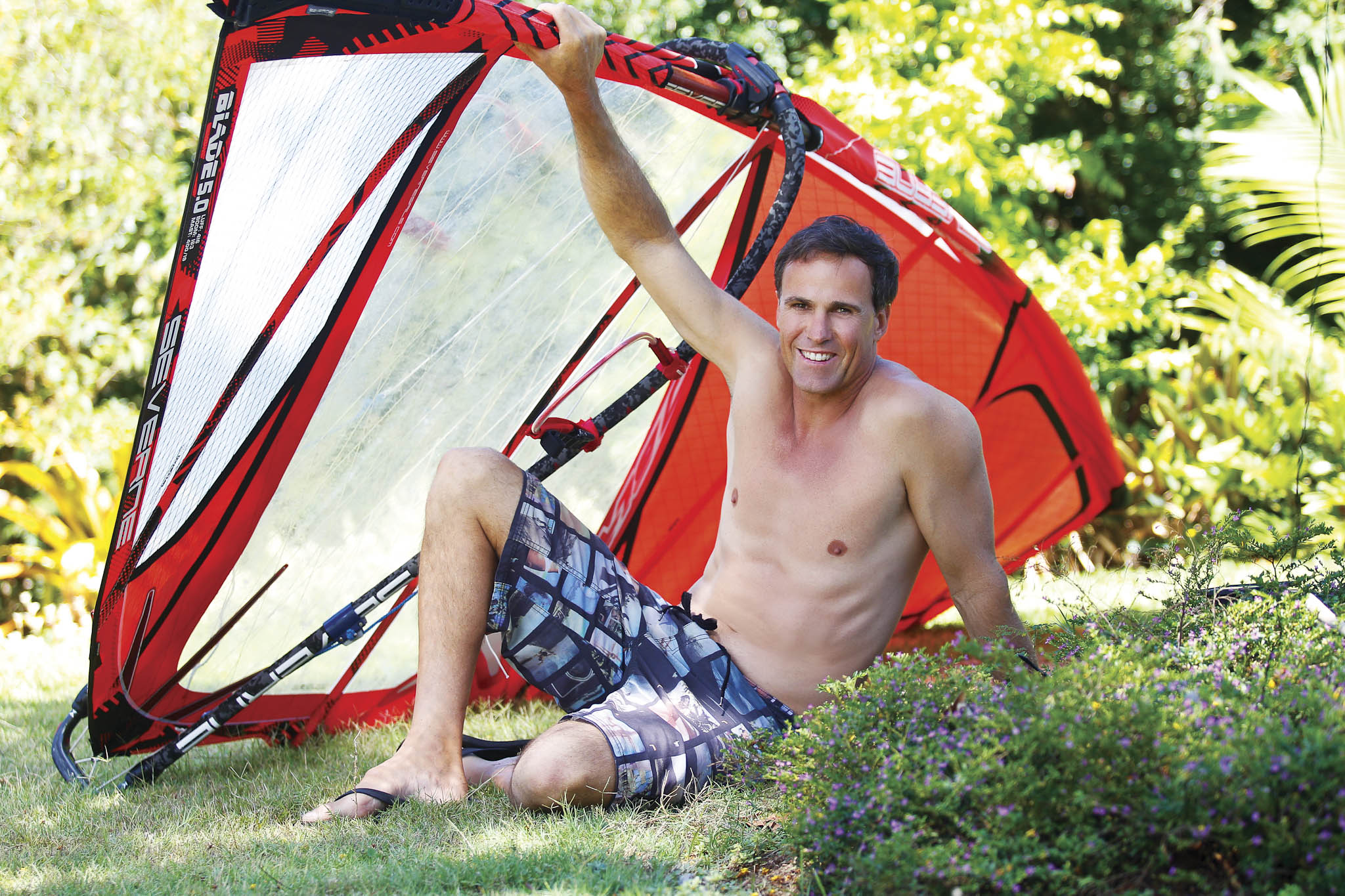 Steve Allen was born and raised in southeast Queensland and northern NSW, but google his Wikipedia entry and you discover it's in… Polish?!
It's an irony of the sport in which he is an 11-time world champion, windsurfing, that he's far better known in Europe than he is in his native Australia. So well-known, in fact, that he has appeared on Poland's version of hit international TV show Dancing With The Stars in front of an audience of 8 million viewers.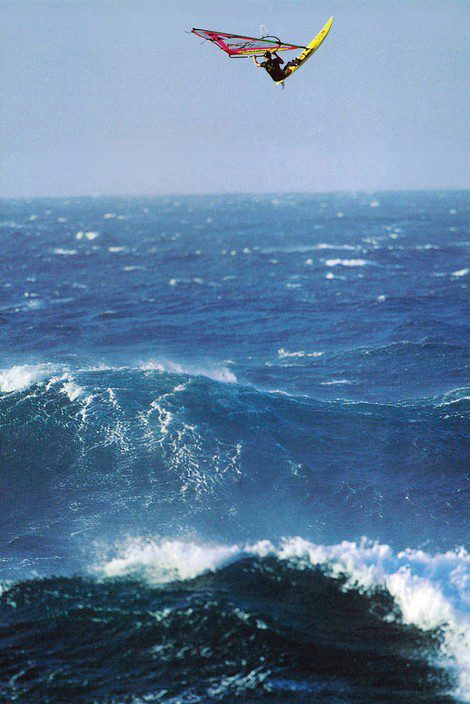 A sporting celebrity in Europe, where he has been based for more than two decades, Allen is barely known in Australia except amongst the windsurfing fraternity.
Not that he minds the lack of recognition in his own country – he's just happy 'having fun and doing what I love'.
Now 45, Allen was born into a sport-loving family in Brisbane. His father, popular Kingscliff medico Dr Weston Allen, encouraged all four of his children – sons Steve, Marty (now 50) and daughters Loanne (49) and Sharon (40) – to try their hands at a variety of sports.
It was Steve's ill-fated crack at sailing at the age of 9 that whetted his appetite for windsurfing.
Flying across Moreton Bay on his dad's new catamaran, the vessel pitch-poled (somersaulted) in the big swell and it's mast became stuck in the mud. As they tried to right the overturned cat, they suddenly found themselves surrounded by a pack of large tiger sharks.
"After that incident with the sharks, I didn't want to go on the catamaran ever again," Steve recalls with a chuckle, sipping coffee in a Kingscliff cafe during a recent visit home to the Tweed Coast.
"Other friends suggested windsurfing, because it's a lot easier to get the sail up out of the water when it falls down. We kind of all got hooked on windsurfing – the whole family took it up, even Mum (Lois)."
Steve began windsurfing during family camping holidays to Lake Cootharaba near Noosa. It was on one of these holidays that he met a fellow future champion windsurfer, Leo Sharpe, who was already competing and would become his best mate.
"Leo had all the latest gear and I was so jealous – I was like 'f…k, mate, how do you afford all this stuff, windsurfing is so expensive'," Steve remembers. "He goes, 'oh I do competitions. I get most of it for free, some of it highly discounted'. I was like 's…t', so I've got to compete!"
Big brother Marty had already had a crack at competition, and finished only half a race before quitting.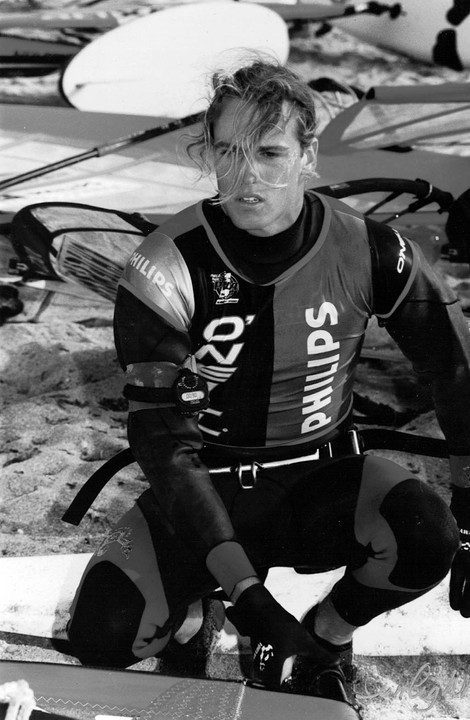 "So by the time I wanted to race, my parents weren't about to just buy me equipment like they did for Marty," Steve says. "They said 'ok you have to work for it'. I had a motorbike at the time and my parents told me I had to make some choices because windsurfing is not a cheap sport.
"So I sold my motorbike and with a little bit of money I got for my birthday and Christmas and some savings, I bought my first race board. In my first race, I came dead last. I don't know if it was the fact that I'd invested in the equipment myself but I was determined to get better, because I really loved windsurfing. I improved very quickly."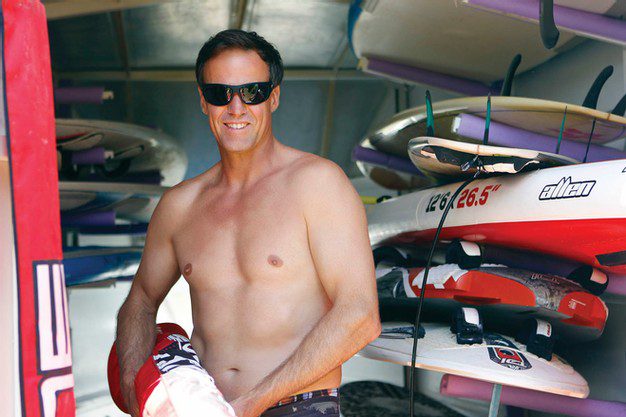 Ocean Road publisher Brian Usher, who windsurfed with the Allens on Lake Cootharaba as kids, remembers seeing Steve 'just going like a bat out of hell'. "I was like 'look at this kid go – he's bloody good at this!," says Brian.
Steve says: "I remember I was always fast and my brother didn't believe me, because we had to share the same equipment in the beginning. But I was quick, with a good technique from early on. It's being able to feel the wind and make fine adjustments constantly to get maximum speed."
After about a year of competition, Steve was going head to head with his mate Leo Sharpe, by then Australia's top windsurfer.
"He was No.1 at the time and I started winning against him," Steve recalls.
"Then I started winning everything in Australia. Even at 16 and still a junior, I won the open Australian title for race board. I was always a little bit better at the course racing (than slalom) which involves a lot of strategy and catching the wind shifts. I think that's due to my really good feel for the wind."
On his 18th birthday, Steve won his first world championship, in Singapore, where he also finished second in the opens. It was there he also met his future wife, fellow windsurfing competitor Agata 'Gucia' Brygola (from whom he is now separated). The couple has two children, Eva, 15, and Andy, 14, who live in Gucia's native Poland where Steve is also based.
After the championships, Steve threw in his plumbing apprenticeship on the Gold Coast to turn professional windsurfer.
"My boss was pretty happy with me and when I told him I was quitting to go professional, he was well disappointed," he remembers with a laugh. "I still came back (to the Gold Coast) to work with (builder brother) Marty to get some extra money because you don't get paid the big dollars when you're fighting to get to the top."
Steve moved to Hawaii to compete. With most of the top pros tipping the scales at 90-plus kilos, he hit the gym hard to bulk up his 72kg frame, as well as putting his body through gruelling daily training sessions on the water.
He won the Hawaiian slalom title to qualify for the Aloha Classic, the last pro event of the season, only to miss the start of his race after another competitor was disqualified.
"I was flying, I swear I would have been in the final," he says ruefully.
"That was my fast learning experience to study the rules."
Steve won his first world professional title in 1997.He won his 11th last year, in Portimao, Portugal, at the age of 45.
"I was really stoked to win that because the last one before that was in 2009," he says.
That was the same year he appeared on Poland's Dancing With the Stars, where for one dance he even 'windsurfed' onto the stage with a skateboard beneath his sailboard.
"I always used to need a few beers before I got up on the dance floor and I wasn't that keen, but the producer kept begging me to go on the show," he says. "It turned out to be a really good experience. I've had some really great adrenalin rushes from windsurfing over the years – hard conditions, huge waves – but this adrenalin rush that I felt from my first dance was something completely different.
"There were over 8 million viewers and I was so completely nervous. I stuffed up in the last rehearsal and stood on my partner's dress, and that just added to my nerves."
"My partner had told me that if you look nervous, the audience will feel it, so the No.1 thing is look like you're having fun, That's a good thing for me because the more nervous I get, the bigger my smile.
"Luckily, because I'm strong from windsurfing, we also made some really nice lifts. But I was so nervous on the pauses, my legs were like jelly.
"But it was a real rush and we had a lot of fun."
Despite its popularity in Europe, windsurfing is not as high-profile as it once was, with the rise of other extreme sports. As a result, the prizemoney and sponsorship is not nearly as lucrative as it once was.
Steve, though, continues to carve out a career in the sport he loves. But with age and injuries catching up with him, he is looking to the future.
With his technical expertise, he's working with his major sponsor, Patrik, on developing new and improved sailboards. He also has his own line of inflatable standup paddle boards that are 'the best on the market by far'.
Steve has also bought a house at Kingscliff, and hopes to move back one day.
But for now, he has the wind in his sails.
"My goal is winning world titles, travel the world and have fun," he says.