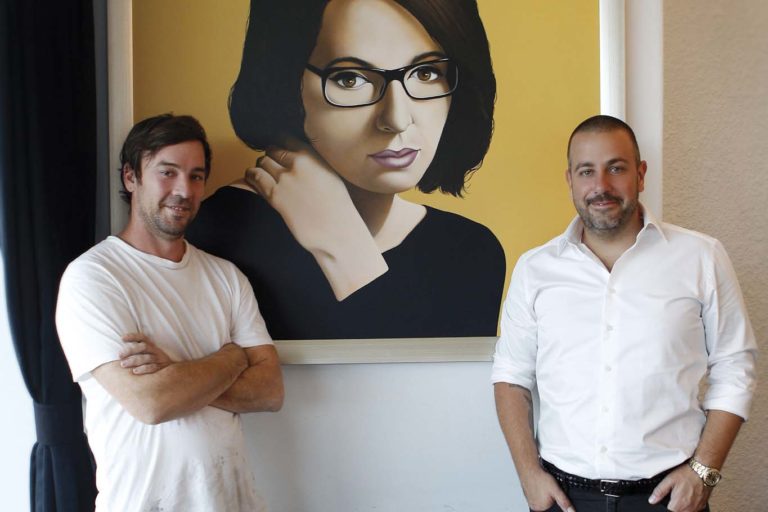 WORDS: PHOTOGRAPHY
ORM caught up with acclaimed local artist Shannon Doyle when he sat down with Simon Gloftis for one of the regular lunchtime chats that he hosts at Hellenika.
Walking into Simon Gloftis's iconic Nobby Beach eatery Hellenika is a sensory sensation.
As well as the tantalising aroma of slow-baked lamb and other Greek delicacies, you're immediately struck by the vibrant artworks that pop from the crisp white walls.
Dubbed the 'Greek Icon' series, the colourful, striking portraits of some of the greats of Simon's spiritual homeland — from tycoon Aristotle Onassis through to heart-throb actor John Stamos and current NBA star Giannis 'The Greek Freak' Antetokounmpo (try saying that with a mouthful of calamari!) — are the work of acclaimed local artist Shannon Doyle.
Ocean Road caught up with Shannon recently when he sat down with Simon for one of the regular lunchtime chats with Gold Coast identities that he hosts at Hellenika.
Born in Grafton in 1978, Shannon took up painting at 15, later completing a visual arts degree at the University of Southern Queensland. In 1999, he relocated to the Gold Coast where he's been based ever since.
His talent and versatility have seen him make a name for himself not just as a collected artist (with commissioned works held nationally and internationally), but also as a movie set painter and in-demand brushman for the construction industry, creating decorative finishes for everything from high-end restaurants such as Hellenika to waterfront mansions.
He has been selected as a finalist in numerous prestigious art prizes, been a guest artist at Splendour in the Grass, participated in major street art exhibitions, and worked with the Gold Coast Arts Centre (now known as the Home of the Arts, or HOTA) to helped inspire local high school students to pursue artistic careers.
Shannon and Simon have been artistic collaborators/mates for the best part of a decade. They met through Simon's builder brother, Jason, on a construction project at Tugun on which Shannon was also working.
In 2008, Simon commissioned Shannon to decorate the first incarnation of Hellenika. The artist called on his movie set painting skills to create moss-like features on the walls, as well as the Greek alphabet and other touches that have given the restaurant, along with its fabulous food and superb service, its distinctive character.
Shannon later painted more bespoke artworks for Hellenika, including an olive tree mural that took pride of place on the main wall, as well as a lifelike lamb that paid homage to the restaurant's signature dish.
When he opened The Fish House at Burleigh Heads in 2010, Simon again called in Shannon to help give that restaurant its special ambience, with paintings including a King George whiting and crayfish adorning the exposed brick walls.
In 2017, when he embarked on a multimillion-dollar renovation of Hellenika that saw the addition of an upstairs bar, it was also Shannon that Simon turned to for decorative flair, this time with the Greek Icon series.
As well as Onassis, Stamos, and the 'Greek Freak', there are charismatic Greek singers George Michael, Yannis Philippakis, Demis Roussos, Nana Mouskouri, and Maria Callas and actors Tzeni Karezi, Tina Fey, and Zac Galifianakis (of The Hangover fame).
"I see myself as quite creative, but when it comes to actually making art, the truth is I wouldn't know where to start," Simon chuckles over dolmades, lamb ribs, and Greek salad.
"I got kicked out of every class at school and it was only my art teacher who rang my parents to stick up for me.
"That's why Shannon and I work really well together. I have a pretty clear direction of what I want, but I know I couldn't create it. Shannon just gets it and understands exactly what I want."
Shannon nods. "For people trying to negotiate commission work, it can be quite intimidating, but Simon has the confidence," he says.
"From the start, Simon has been rock-solid with his ideas. He has not compromised anything. He'll come to me with an idea and it can be quite outlandish, like artificial moss [at the early Hellenika]."
"Yeah, I said to him, 'I want moss on the wall'," Simon says, "and he went 'What?'"
"That was literally sawdust with some paint mixed in it and I threw it on the wall," Shannon says.
"The beautiful thing about what Simon offers is the chance of allowing me to be an artist, and that's a pretty rare thing these days — to actually get someone who is willing to invest in it.
"I'm a massive believer in the power of art and Simon has an understanding of that. He just gets it.
"There's also a lot of trust in our relationship, too. Simon will instigate a series of work and I guess I just confirm his idea and give a bit of reassurance that the more art there is on the walls, the more it's going to complement the restaurant."
Simon agrees: "I like art. I like the character that it can bring a space. Like I said, I don't know how to do it; I wouldn't know where to start."
Gazing around the restaurant, he adds, "It's like a mini gallery now, isn't it?"
The opportunity to showcase his paintings to punters in a restaurant as popular as Hellenika is incomparable, Shannon says.
"It's not just the restaurant, but it's having it on permanent display," he says.
"With exhibitions, you have an allocated amount of time and if your work doesn't sell, it usually goes into the secondary market after the fact.
"Displaying my paintings here at Hellenika, the art is not only in a prime position, but it also has longevity — as an artist, you really can't want for much more than that.
"For every artist, the whole idea is to put their art on a wall for a viewer to appreciate. So when you concentrate that in a restaurant that's always full and very popular — not only that it's renowned as one of the best restaurants in Australia — I can only honour that with putting in hard work and producing quality work. I know Simon appreciates that."
Ocean Road asks Shannon how long each painting takes.
"Don't lie and tell him a f***n' week to get more money out of me!" Simon interjects with a laugh.
Shannon shoots back: "About seven months — I work for $2 an hour!"
But seriously, he says, they average "anywhere between 80 and 120 hours".
"But a painting's finished when it's finished," he says.
"In particular, I wanted to create a style for the restaurant. It's different to my own original work.
"I really want to do a custom style for this [Greek] series. I've never painted anything like this style before. I guess I wanted it to sit somewhere between realism and pop art.
"To walk in and have such a clean palette of the restaurant, being neutral colours, gave me the opportunity to really go to town and be bold with the colour. This is all stuff that was discussed with Simon, and that's the beautiful thing about it. Simon will ring me with an idea and I'll be honest."
"We've got a good relationship," Simon says. "We've become mates out of it."
Shannon concurs, pointing out that it was "three or four years between drinks" since their previous artistic collaboration before the Greek Icon series.
"I remember the last phone call was like, 'Shan, what are ya doing, mate? We're going again [with more artwork]!'"
Fortunately, Shannon has plenty to keep him going between jobs for Simon or he might just be the archetypal starving artist.
"At the moment I'm working on a big construction job, a Moroccan mansion … hand-stencilled wallpapers, polished plasters, murals … you name it," he says.
"I'm also doing a baroque mansion at the Sovereign Islands that has baroque ceiling paintings. One day I'll be working on something baroque, the next day I'll be working on something quite contemporary. It's about [artistic] compromise."
Simon reckons there wouldn't be too many artists, especially on the Gold Coast, making a decent living.
"You're right, not many at all," Shannon agrees.
"You have to be versatile, hence my foray into the construction field. I know artists who will not take on commissions because they want to stay within their box. They only want to push their own stuff.
"The gallery system's failing; they're not offering what they used to offer. Galleries took a commission and the artists deliver the work. But that's no longer viable for an artist because you can go months between sales. The galleries are closing at a ridiculous rate and that means there are a lot more artists out there looking for galleries."
Simon says that despite being an amazingly talented artist, he respects Shannon because he is down-to-earth and is just as comfortable working alongside tradies on a construction site as he is discussing artistic abstracts and philosophies.
"I grew up in Yamba; I'm not precious," Shannon says.
"I learnt from a young age that I don't want to be a poor artist. I want to be a successful artist who can afford what everyone else can afford.
"You've got to be as accessible as an artist, as accessible as any other trade. I trust my instincts and my instincts told me to adapt."
"That's what I love about him," Simon says.
"He's an artist who's not precious. I've seen plenty of precious chefs over the years.
"I like that we got along from day one. He kept his word on everything, business-wise. I paid him what he deserved, but he didn't take the piss.
"By the same token, I'm not going to screw down a local guy who I'm mates with. I like that he's on the Gold Coast. I wouldn't even think about calling anyone else. It's Shannon and that's it."
Simon asks Shannon his impression of the HOTA, the Gold Coast's new Home of the Arts.
"It was a long time coming," Shannon says. "It was talked about for many, many years before.
"Internally, there's a very motivated group of people inside that building who are constantly pushing outward, under the leadership of
"HOTA is very contemporary, very proactive in getting local artists involved. The old gallery couldn't accommodate international exhibitions. It belonged in a small country town."
Shannon says he's had many people contacting him wanting him to recreate the Greek icons for their own homes or businesses, but the answer is always a polite 'no'.
"A lot of people want prints, because it's a cheap alternative to the real thing, but the integrity of the art is very important," he says. "It's original; it's bespoke for Simon."
Simon concurs: "I just hate copying anyone; I can't stand it."
"People say the art is a crucial element to what Simon's created here," Shannon says. "I do get a lot of people contacting me saying, 'I've seen what you've done in Hellenika'. To me, that's a pretty big indication that you're doing something pretty special.
"It's why Hellenika is what it is — it's a reflection of Simon and his confidence. And his family too — he's a very family-oriented person. It feels like a homely place, as well as being a high-end restaurant.
"For me, there was no compromising the quality that I wanted to produce. There are usually a lot of people between the artist and the client. To be able to work with someone directly, the communication lines are open, and that means a lot of freedom for me."
Simon and Shannon have no doubt they will work together in the future, possibly on even some more Greek icons for Hellenika.
"It's a fine line between overdoing it and creating something iconic," Simon says.
Conscious of the desire for Hellenika to retain its unique character, its Brisbane namesake (which opened in September) will not have any Shannon Doyles hanging on the walls.
"Sometimes, you've got to make that call — that it's best left as is," Shannon says.
"It all starts and ends with Simon and his vision. The beautiful thing about Simon is his ideas are great ideas. The work's done.
"The hard thing is when you've got to negotiate through a terrible idea. He's a creative person who probably just chose food rather than painting."
Simon chuckles: "That's 'cause I can't paint."