Everything's Looking SWELL
WORDS: PHOTOGRAPHY
When extraordinary sculptures appear in a day and grace the full length of Currumbin Beach, it's SWELL time.
Thanks to the enthusiasm, tenacity and creativity of its people, what started as a ripple in the ocean 15 years ago, has emerged into a passionate and inspiring experience that allows you to enjoy thought provoking large scale sculptures against the beautiful backdrop of one of Queensland's most beloved beachfronts.
The exhibition is embraced by an audience with a desire to wander the beachside, to plunge their feet in the sand, and to join others celebrating the ideas that unfold among the works. Artists enjoy successes and joys in creating and presenting works as well as overcome capricious challenges to present works for people who have come to expect rich engagement with the art, and with each other.
Those who visit SWELL feel a sense of belonging to this place. They sense the freedom from artworks made by artists whose imaginations are as open as the setting in which they take place. They recognise the importance of a free public art platform. They share in the storytelling as each sculpture informs on issues close to the artist's heart and resonates with our shared concerns. While SWELL brings significant economic benefits to the region, these shared feelings and sense of place far outweigh economic gain as a measure of success.
With the support of a board who are committed to the unquestionable importance of free public art in community spaces, SWELL has evolved strategically. The unwavering commitment of volunteers and visitors to SWELL each year reinforces SWELL's place in the cultural landscape. The invaluable financial support from partners and sponsors recognises that both private and public investment in public art is of inherent value to our cultural identity and imperative to nurture, grow and build a creative community for generations to come.
For SWELL, it's important boundaries are pushed continually and that the exhibition provides a voice for artists to be heard. For SWELL, we remain true to our original vision of connecting people, art and place through thought-provoking public art in a stunning environment.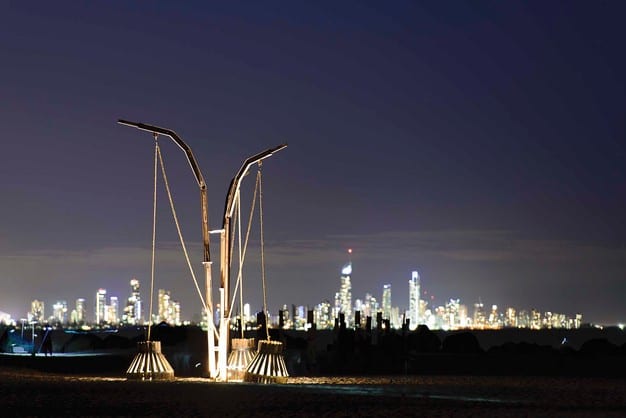 Founding Director and Curator Natasha Edwards says, "There is strength in SWELL's temporary approach to public art. While its presence is short-lived, it leaves a lasting impression through the reverberations of the artists' voices and the echoes of memories and shared conversations."
Ms Edwards alongside Creative Director Ruth Della are at the heart of the exhibition and lead a passionate team of local creatives who are committed to supporting new artists while continuing to attract established Australian talent and high profile, international artists.
Philip Follent, SWELL board chairperson says, "SWELL is unique not only as an outstanding showcase of an eclectic genre of artworks that are suitable for external exhibition but also for enabling every onlooker the right to comment and know that their opinion is equally valued."
This September we invite you to come and visit SWELL.
View first-hand how an artist can combine the skills of an engineer, an architect, a philosopher and a poet to reveal works of art that speak to our soul. Revel in how their skillful hands give new life and meaning to stone, timber and steel. Embrace their stories. Create your own memories – and be part of it.
Breakout
SWELL Sculpture Festival
Date: September 8 -17, 2017
Location: Pacific Parade, Currumbin Beach
Cost: FREE
www.swellsculpture.com.au