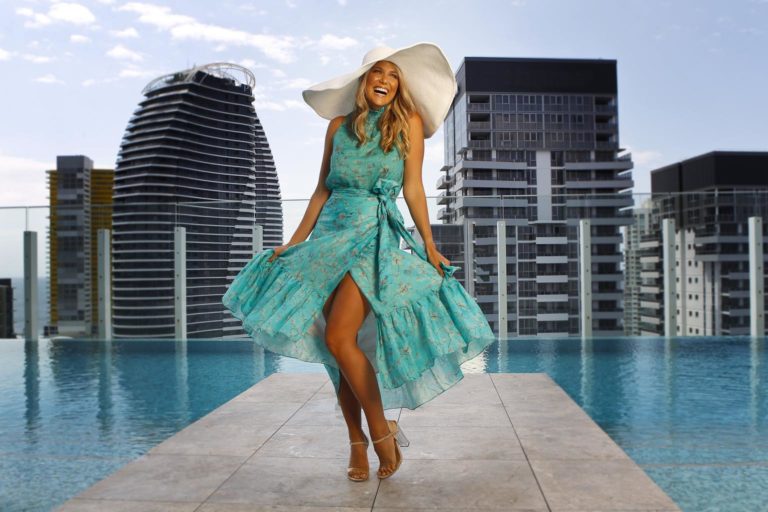 WORDS: PHOTOGRAPHY
Much-loved TV host Amber Wyatt is living the life many of us can only daydream about. Her show Private Islands is an Emmy award-winning series and she spends her life jetting around the world on exciting adventures. When ORM heard she was heading back to the Gold Coast, we were quick to pick up the phone and book in some time with her to catch up.
The Darling at The Star in Broadbeach was the perfect location for ORM to shoot Amber Wyatt's cover story while she was back on the Gold Coast.
As she gracefully floats in the rooftop infinity-edge pool on the 19th floor, she is a vision of elegance, with a view over the edge of the luxurious pool to the beautiful coastline.
Fittingly, Edge & Elegance Entertainment is also the name of Amber and her stuntman husband Karl Van Moorsel's production company. Amber has had a series of hosting roles on Emmy award-winning action and travel-based television shows. The couple travel the world to film all things lifestyle, action, and adventure.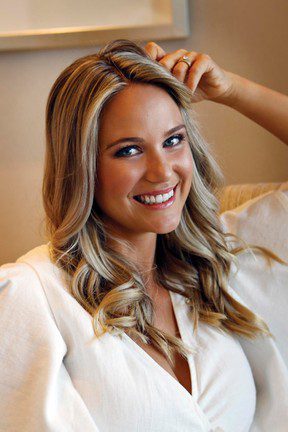 Comfortably sat in the impressive and uber-luxurious suite at The Darling, she starts to share her story…
"It's always funny telling the story of when we first met," Amber says.
"People say, 'Did you two meet at Movie World or something?' We have to laugh and say, 'Yes, actually, we did!'
"I was just 18 and at university at Griffith. I took a job as a host at Movie World because I thought it would suit me perfectly: I would get to do public speaking and be in front of people. Karl was 20 and a stuntman in a show there.
"The job wasn't quite what I imagined, but Karl now says it was the universe's way of aligning us! Now we've been together for more than 10 years."
As Amber starts talking about their wedding, her eyes light up. Three things make her eyes light up: talking about her husband Karl, her son Kai, and being home in Queensland. It's clear this really is home to her.
"We got married on Hamilton Island where I grew up," she says. "We had a small, intimate wedding, which wasn't about the napkins or tablecloths or anything like that. We could only have 50 people — which was really hard — but it was about having our closest people around us to celebrate all that we love.
"We actually got married on the same street where I grew up, by the water. We hired a house, ate delicious seafood — it was a day about our favourite things, with our favourite people."
Amber says she was "incredibly fortunate" to grow up on Hamilton Island, which is the largest inhabited island of the Whitsunday Islands in Queensland. In 1975, Hamilton Island was purchased by Keith Williams and Amber's grandfather. Sadly, he died just three years later, in 1978, and the island changed hands to Amber's mother. She met her partner there on the island, married, and had three children — Amber and her two siblings.
"My brother is 11 years older than me; my sister is nine years older," Amber says. "Most of the time when I was growing up, they were away at boarding school."
Her family has always been close.
"My father was actually my principal at school — and also my teacher!" she laughs.
"People ask if that meant he was soft on me, but it was actually the opposite. He pushed me because he wanted me to excel, to achieve, and to go on to do great things. Honestly? I was a bit of a nerd at school! I loved learning and I enjoyed sports as much as maths and English.
"I always loved public speaking, even when I was a little girl. I guess I always enjoyed performing. But I've never been much of an actress; I'm much better at being myself. I think that's why I've always gravitated to hosting rather than acting. I can remember lines, but I enjoy being in my own shoes rather than pretending to be in someone else's!"
Having finished year 12 at age 17, Amber headed straight to Griffith University to study journalism.
"I loved studying for my Bachelor of Journalism," she says. "While I was at Griffith I actually started at Channel 9 on the Gold Coast. I then did radio news at Gold FM and Sea FM.
"While I was doing work experience at Channel 9, Paul Burt, who was doing the weather at that time, went away and they asked if I'd be interested in covering.
"Of course I said yes, so I was live to air at the age of 19. Up top where you could see me on screen I was fine, but my legs were trembling!"
While much of the current conversation questions the value of degrees, Amber is in no doubt of the benefits hers has brought to her career.
"My journalism degree has been at the foundation of everything I've ever done," she says.
"I enjoyed doing the weather, because you can bring a bit of banter to it. I pursued the lifestyle avenue because I can bring a bit of my personality to my work.
"I didn't want to have to step into a TV persona in the same way I didn't want to have to step into a character. I enjoy being me."
In many ways, her journalistic foundation is what Amber has successfully built her whole career on. She writes her own scripts, produces, finds her own locations, hires the crew, directs on set, writes her own questions and does all her own interviewing.
"Journalism is at the core of my achievements," she says. "Without it, I wouldn't be where I am. Every time I talk to camera I feel I need to tell the audience something.
"In a news package, you're delivering bits of information that you can't show in pictures. I bring those principles to my travel. I have a kind of sense of duty to deliver on that."
Actually, there's a fourth topic of conversation that makes Amber light up: travel. It's just as well. As she talks about her endless adventures, it's clear she could only live this lifestyle if she truly loved it.
"Last year I was so fortunate; I went to 30 countries!" she smiles. "That did include stopovers, but not many. It was full on!
"There was one time I went from LA where I was living to South Africa; the next shoot was Hawaii, and then a shoot in Dubai, which was almost back to the same time zone as South Africa. The whole trip was a shock to the system!"
What has all this travel taught her?
"I got really good at living out of a suitcase!" she laughs. "It's actually crazy what you don't need. I learnt how to work with jet lag, to work with different time zones, how to pack. On a bigger scale, I learnt how simple life really is.
"What you really need is very simple. You don't need a big house, lots of possessions, to be happy. One thing I really love about travelling is the time it gives you to self-reflect. I could happily live out of a suitcase for a year. Happiness is more about who you're with and the experiences you're having."
If your image of a happy marriage is living under the same roof, Amber and her husband can challenge that!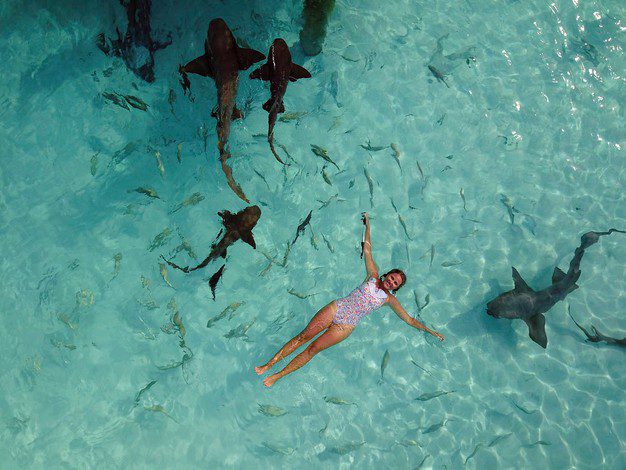 "My husband Karl is a stuntman," she says. "He works on feature films across the United States and his work takes him to all of the corners of the world. Our schedules don't always crossover, but because I own the production company, I try to align where we can. Often when he's finished a job he'll come and join where I am working with the crew and then we work together."
Amusingly, having such action-packed schedules led many of the couple's friends to ask how they even managed to conceive.
"My son Kai is four months now," she says. "We did take a month off last year and went to Italy. It was just as we got home that I fell pregnant. I did a test and initially it came up as negative. My husband went away and then I did another. So I didn't then see him until I was 16 weeks along!
"When I found out I was definitely pregnant, I called him and said, 'Can we get a puppy?' I knew he'd say no because he says we travel too much to look after one. So then I said, 'How about a baby?'
"He was as over the moon as I was! I felt like I was on cloud nine when I found out I was pregnant. It was such a joyous moment, which is so strange because you can't tell anyone, so you're having this most incredible experience but in private!"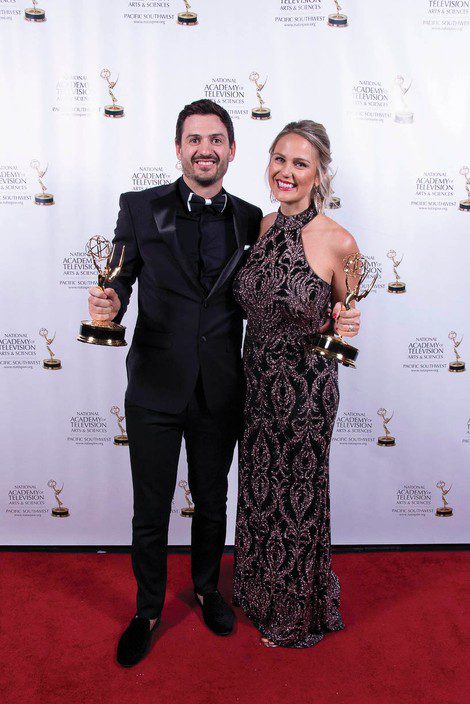 Thankfully, Amber's pregnancy was trouble-free.
"I was never sick — never, not once — during my whole pregnancy," she says. "It was just as well, because if there's one phrase that sums up my pregnancy it's 'well-travelled'!
"My first trimester was in Africa as we were filming Private Islands. My second trimester was in Australia and third back in the States. I was truly blessed during this pregnancy.
"I love the ocean, and there's nothing that feels better to me than diving in. That's what my days consisted of! I got to travel to experience all of these magnificent places, and I was so well-looked-after. I got extra massages and all sorts; I was really lucky."
Kai was born in LA.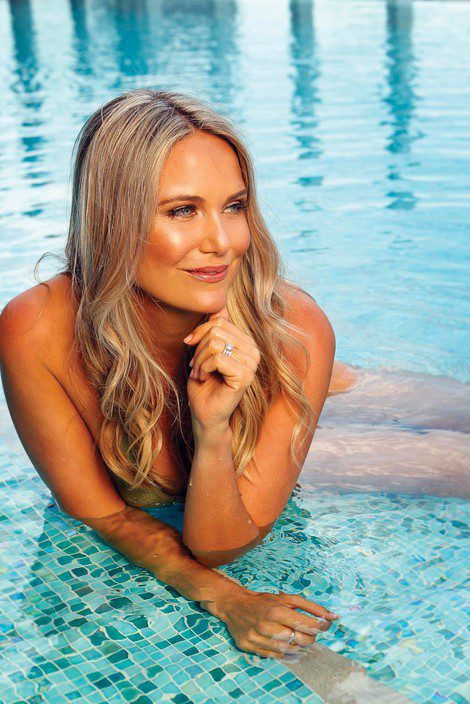 "Yes, he has an American passport!" she laughs. "It's funny because I was born in country Queensland, my husband was born in country South Australia. Now Kai is American!"
The couple first went to LA for her husband's 21st birthday, shortly after they got together. He comes from a family of stunt performers and was already a stunt performer. Amber says that initially she didn't love LA and definitely didn't think they'd end up living there, but work opportunities continued to draw them Stateside.
She was 25 when they made the move and now they have a house there — even if they don't live in it much of the time!
"I didn't love LA at all the first time we went," she says. "It's such a massive place. But it's different when you find friends — locals — and find favourite restaurants.
"Now we can walk down the street and recognise people, so it feels like a home away from home. We're just 15 minutes from LAX airport, so we can travel anywhere, fly back into the international airport and we're 15 minutes from the airport. Plus, we're close to the beach — so, for us, that's the two necessities."
As both Amber and Karl  are very career-driven, they didn't overthink starting a family.
"We both knew we wanted children, and we've been together nearly 10 years," Amber says. "We didn't know when would be a 'good time' to have children. But we're both still quite young. It just happened naturally. There's never going to be a perfectly 'good time', is there? We're both still climbing in our careers, but we just make it work!"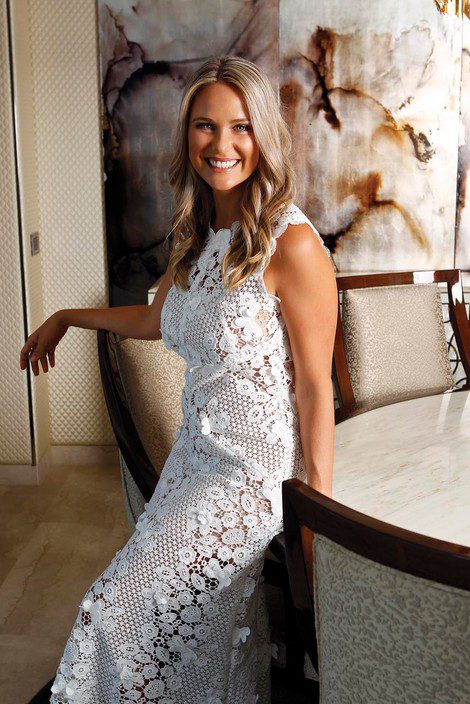 As anyone with a newborn will tell you, the juggle struggle is real.
"It's changed the landscape of how I film," she says. "Kai is my first priority and I now juggle around his feeding schedule. At the moment, that's every three hours.
"I'm incredibly lucky as my parents are travelling with us at the moment. It's a win-win as I get to do the work commitments I have lined up and they get to spend some precious time with their grandson, so it works. They're over the moon to be able to enjoy this time with him."
Lots of mums say they struggle to juggle career with raising a young family.
"Yes, I do struggle with mum guilt," she says. "Last year, my shoot schedule was crazy. I actually don't think I could have sustained it to be honest. Now, I'm filming at a slower pace. I'm happy with that.
"I'm lucky that Kai is an amazing sleeper. On the flight over here he slept the whole second half. He's such a good boy!
"So I feel fulfilled. I'm fulfilled with him and I'm fulfilled with work. I want to be a great mum and give him the childhood he deserves."