Drew's the new essence of Salt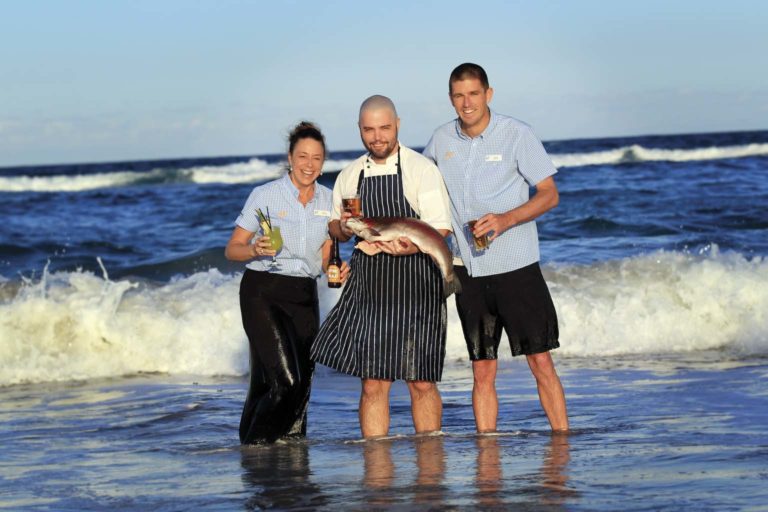 WORDS: PHOTOGRAPHY
Ten years ago, young Gold Coast apprentice chef Drew Barr could not have foreseen his future success in the hospitality industry unfolding at the iconic Tweed Coast Salt Bar Beachbar & Bistro.
Drew was just starting out, eager to learn and make his mark in a highly competitive industry. At the same time, the Beachbar & Bistro was a vision just coming to life at Salt Village for Gold Coast-based property developers, Ray Group.
Yet as fate would have it, today Drew (36) and Salt Bar have joined forces to usher in a new era of exceptional food and service that signifies a legacy still in the making at Salt Village.
It's all food for thought for Drew, who has now been appointed Executive Chef at the award-winning bistro.
Drew's diverse experience as a chef over the past 10 years has provided him with a solid grounding for the rigours of running the Salt Bar's two large kitchens and managing a team of individuals who are just as passionate as he is about creating quality meals suited to an ever-evolving clientele of tourists and locals.
During his apprenticeship, Drew admits, he made it a point of moving around to work in both large and small kitchens, even having a go at film catering to gain valuable experience.
"I would move to a new place about every six months just so I could learn something new and experience different things," says Drew. "I eventually moved up to Cairns and stayed put there for seven years before moving back down to the Gold Coast with my family.
"My first job when I came back three years ago was at Salt Bar … and with the recent retirement of my predecessor, I am now Executive Chef."
Drew says the success of Salt Bar Beachbar & Bistro is about keeping food simple, tasty and consistent … as well as offering a broad spectrum of beverages including craft beers, choice wine and bespoke cocktails that blend with the nuance of a colourful palate.
A major challenge in this new role has been to freshen up the menu, putting a twist on favoured pub-style fare and introducing new dishes incorporating superfoods.
"Patrons will now see quinoa and lentils, and vegetarian-style dishes that create interest on the menu such as our half-avocado stuffed with chickpeas, cashews topped with Camembert cheese and baked and served with a sweet capsicum coulis," says Drew.
The intent is to carry forward the popular dishes that have become staples, including the bistro's pulled pork with Asian-inspired salad, and Salt Bar's sumptuous 'surf and turf' renditions that grace the specials board.
"I've been fortunate in maintaining a good relationship with local farmers and seafood suppliers in the region which allows the bistro to serve up some of the freshest ingredients to ensure we offer that something extra special for patrons daily," adds Drew.
Salt Bar embraces an artisan approach to food that extends to enticing patrons to experience the latest in craft beers, which Drew says enhances the bistro's dining experience.
"The essence of Salt Bar is 'casual sophistication' in a beachside environment for a pleasurable and relaxing dining experience any time of day or evening, inside or out on the sweeping terrace, catering for couples, a group of friends, families and large and small corporate or celebratory functions … especially weddings," he says. "This is why I love my job at Salt Bar: it's the diversity whether I'm preparing the daily specials, tweaking the kids menu, or creating canapés for a cocktail party, or a buffet for a wedding.
"And being a Dad myself, I can't think of another place that so seamlessly allows parents to sit back, relax and enjoy a drink and meal while the children entertain themselves in our expansive kids space here at Salt Bar."
Although it may be a bit clichéd, the phrase 'something for everyone' rings true at Salt Bar.
Bistro upholds legacy as envisaged meeting place
Pivotal in putting Salt Village's star on the map of the vibrant Tweed Coast, Salt Bar Beachbar & Bistro has earned its well-deserved iconic status.
Tom Ray, Executive Director of the Ray Group and son of renowned and respected property developer, the late Brian Ray, says the bistro has exceeded its original blueprint for becoming and maintaining its status as 'the meeting place' for the Salt Village's resort and residential community.
"From the beginning, when we met with the architect for Salt Village, the bistro was proposed specifically for this purpose," says Tom proudly. "A decade later and not only has Salt Bar surpassed this brief, it has become a legacy for Salt Village and for the Ray family that envisaged the bigger picture of what the project was to achieve all those year ago.
"Today Salt Bar is a popular go-to destination for visiting tourists, day-trippers from around the region, including Brisbane and the Gold Coast, as well as locals who all want to experience its characteristic beachside ambience and great food.
"The surf memorabilia on the walls is reflective of our close relationship with the Salt Surf Lifesaving Club here at Salt Village, and that really sets the tone for the relaxed, casual dining environment of our beachside location – you could say Salt Bar is an unofficial part of the Salt Surf Club and its distinct identity."
Tom says location, diversity and service are essential to Salt Bar's success.
"Our point of difference, which contributes to that success, is being a family-owned and operated business employing a fully qualified team in every area – from the bar, kitchen and wait staff – it's all hands-on," he says.
"We welcome Drew Barr as Salt Bar's new Executive Chef, and his ingenuity for the bistro's revitalised menu. This initiative represents Salt Bar's flexibility and dedication to continue to evolve and consistently enhance our patron's dining experience."
……………………………………………………………………………………………….
Salt Bar Beachbar and Bistro is located on the beachfront at Salt Village in Bells Boulevard, South Kingscliff New South Wales.

Fully licensed, Salt Bar is open from 10am – late every day, serving lunch from 12pm-3pm, dinner from 5.30pm-9pm and coffee and cake from 10am-10pm.

Salt Bar hosts a wide variety of free entertainment including live music, weekly trivia, comedy evenings, special events and more. Salt Bar is also available for weddings, corporate and private functions.