Diving in and slugging it out for science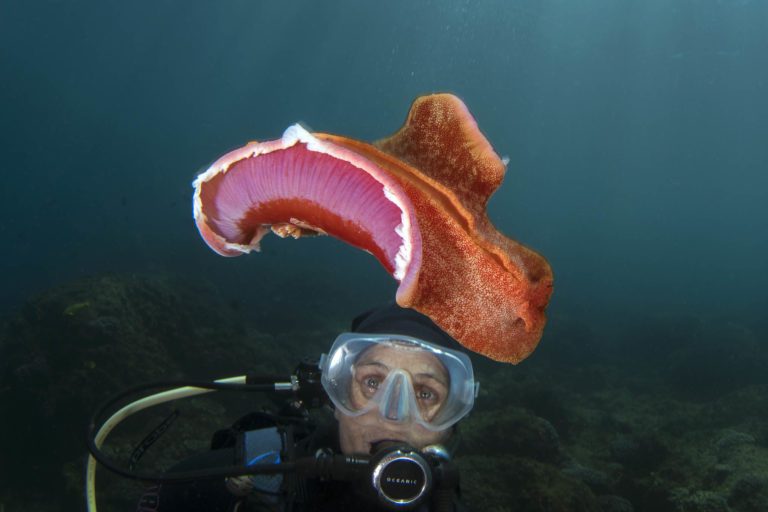 WORDS: PHOTOGRAPHY
The Gold Coast Sea Slug Census is back! Hundreds of divers, snorkelers and rockpool explorers will take to the water to photograph as many of the colourful creatures as they can.
Photo Credit : Diver Sonia Squires, photo by Andrew Wingate
Hosted by Southern Cross University and a local group of organisers, the fourth annual Sea Slug Census will be held over on the weekend of September 28-29, with volunteers diving in from South Stradbroke Island all the way down to Cook Island off Fingal Headland.
Southern Cross University Professor Steve Smith described the volunteers as 'incredibly valuable citizen scientists' who photograph as many of the mesmerising marine molluscs as possible, adding to scientific knowledge with the added incentive of winning prizes.
"Sea Slugs – which includes the nudibranchs – are little creatures that dance under water showing off their amazing splashes of colour, which makes them an underwater photographer's dream," Professor Smith said.
"Last year our volunteer divers photographed 94 different species and this time we hope to crack 100, with the incentive of prizes for rare and unusual species as well as the most species found. Changes in the distribution of sea slug species helps us understand how the environmental is changing – so the more eyes in the water the better!"
Professor Smith founded the globally-unique Sea Slug Census in 2013, with Southern Cross University now partnering with groups in eight Australian locations and Indonesia to run events.
"More than 1500 volunteers have taken part in six years and we are now getting worldwide interest with groups in the USA and Vanuatu wanting to host events with us," Professor Smith said.
"Not only do people love the colours of these 'butterflies of the ocean' but also their curious behaviour and the way they move – some sea slugs flap their 'skirt' through the water, others move along in jerking fashion and others glide gracefully.
"The beautiful photos these divers take could end up in a science publication as we always acknowledge the people who contribute."
This event is made possible through the generous support of local businesses and dedicated Gold Coast Sea Slug Census organising committee.
To sign up for the Gold Coast Sea Slug Census visit scu.edu.au/seaslugcensus