The 16th d'Arcy Doyle Art Awards and Exhibition in Mudgeeraba 23rd June – 4th July and is bound to impress and surprise friends, art lovers and Gold Coast residents.
The Landscape Art Awards were established to honour artist d'Arcy Doyle who passed away in 2001.
Committed to sport and renown for his murals, d'Arcy is a famous Australian artist who's works included The Cricket Game, Hockey Players and Taking it Serious. All depicting typical and "quintessential" Aussie back yard sport which is the back bone of all Australian sport today. To read more and see his art works click here.
After a successful life as an artist in Sydney, d'Arcy and his wife moved Mudgeeraba in the 1970s calling the Gold Coast home.
The d'Arcy Doyle Awards is considered to be one of Australia's premier art awards with the main landscape category offering a $10,000 first prize.
It is supported by emerging artists, professional artists and those wanting a challenge. Other categories include Portraiture and Still Life.
Judges for the main prize, include Anthea Polson, Joel Rea and Sam Cretyon. All established and well revered for their contributions to Australian art. More on the judges here.
The awards also offer junior artists an opportunity to display their works.
The talent is outstanding. This is the People's Choice winner from 2019.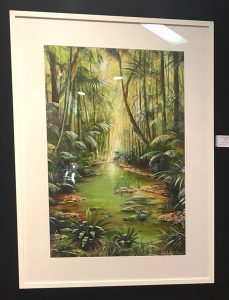 Selected artists, including the author of this piece, Samantha Beau, will be holding residencies over the 12 days. A residency gives the artist an opportunity to show case their works, talk with people and demonstrate their techniques.
With over 500 works hung every year and $20,000 in the prize pool, this is an art show to explore and enjoy.
Opens 23rd June and finishes 4th July.
Details on the d'Arcy Doyle website here.
Follow on facebook and instagram here.