CWS have successfully bred the highly endangered Kroombit Tinkerfrog in captivity !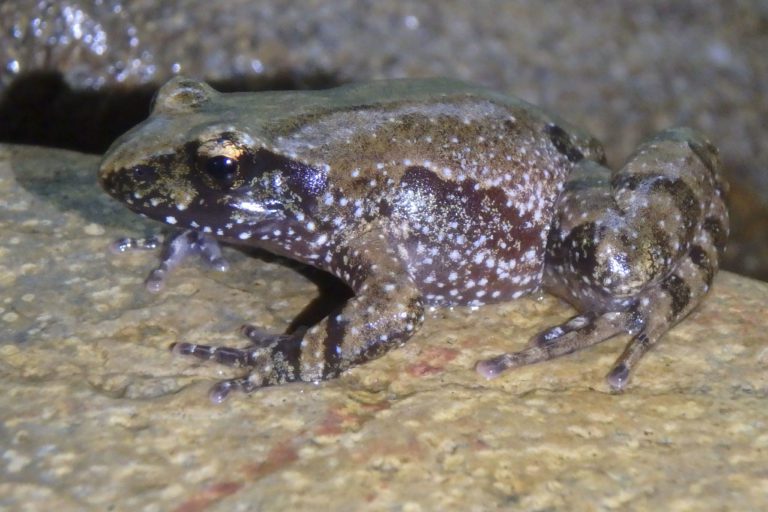 WORDS: Nancy Ruscitti - Currumbin Wildlife Sanctuary PHOTOGRAPHY Currumbin Wildlife Sanctuary
Since 2018, staff at Currumbin Wildlife Sanctuary have been working in collaboration with Queensland Park and Wildlife Service on breeding the critically endangered Kroombit Tinkerfrog in captivity.
In early 2020, Kroombit Tinkerfrogs housed at Currumbin Wildlife Sanctuary's Amphibian Conservation and Research Facility bred successfully in captivity for the first time. In the past few weeks, we have witnessed the first of the tadpoles from this breeding event transform into a tiny froglet, making history for the species.
The Kroombit Tinkerfrog is a highly endangered species restricted to a handful of narrow rainforest gullies within Kroombit Tops National Park, 80 km south-west of Gladstone. Despite many years searching, the spawn and tadpoles of this highly cryptic species have never been found.
The successful breeding of animals at Currumbin Wildlife Sanctuary has therefore allowed us to observe eggs and tadpoles of the Kroombit Tinkerfrog for the first time Currumbin Wildlife Sanctuary and Queensland Parks and Wildlife Services intend to continue breeding and raising Kroombit Tinkerfrogs for release to the wild, where numbers of this species are now critically low. Captive breeding of Kroombit Tinkerfrogs is one of a number of actions being undertaken to help save this unique and ancient species from extinction.
SOCIAL TAGS:
About Currumbin Wildlife Sanctuary
Currumbin Wildlife Sanctuary was founded by beekeeper and flower grower Dr Alex Griffiths in 1947 initially as a lorikeet feeding display. Over 70 years on, the wild lorikeets are still fed twice daily. The Sanctuary is a heritage listed property set on 27 hectares of bushland and rainforest on the Gold Coast.
Iconic Currumbin Wildlife Sanctuary is owned by the National Trust of Australia (Queensland). As a not-for-profit organisation, the National Trust reinvests proceeds back to fulfil its mission to protect, conserve and celebrate Queensland's environmental, built and cultural heritage, funding both the wildlife hospital and conservation programs state wide.