Cru Collective launches exclusive new Kirra beach boutique tower offering full-floor ocean front living.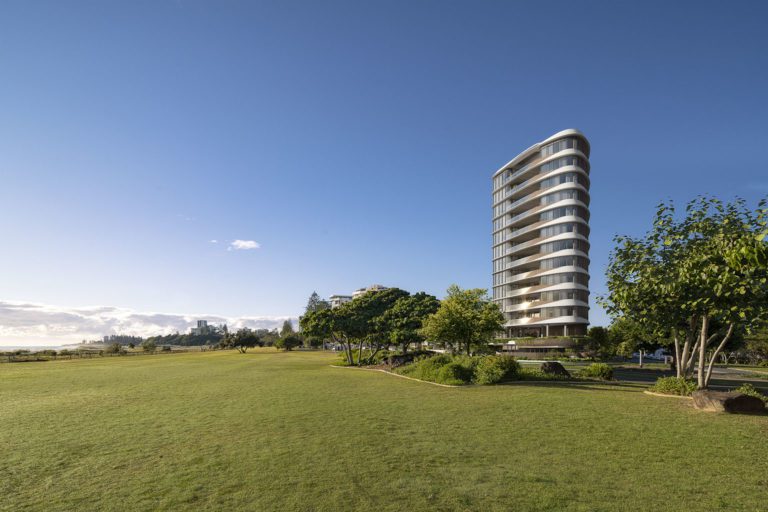 WORDS: Tegan Morris-Collie PHOTOGRAPHY Supplied
Gold Coast developer Cru Collective is launching an ultra-boutique collection of luxury residences fronting one of the city's most coveted beaches where generations of surfers have carved up the waves, creating a sought-after coastal lifestyle.
Its latest development Sur Kirra Beach comes as Australia's most famous strip of sand and surf continues to ride a surge of demand for luxury sky homes.
With only 10 spacious sky homes including a jaw dropping two-storey penthouse, Sur will offer the exclusivity and contemporary coastal vibe and sophistication that is synonymous with Cru Collective's design and development philosophy.
The elliptical 13-storey tower — featuring design elements inspired by the longboards that established the Kirra surfing culture in the 1960s — will rise at the northern apex of Musgrave and Winston streets.
The unique site pocket allows for a distinct floor plan that is fin like in shape, capturing views from every angle of the property.
It will create a new entry statement to the Kirra esplanade with BDA Architecture's design taking full advantage of the spectacular gateway position and magnificent beachfront location.
Acquired with an existing development approval in place, the original plans for the 635sq m site have been refined — including a reduction in the building's number of storeys and apartments — by Cru Collective to better enhance and blend seamlessly with Kirra's coastal village ambience.
The full-floor apartments will boast 300sqm of space, with 3-ensuited bedrooms including a glorious master wing, two living areas, butler's pantry, wine cellar and dry bar with built in ice maker, ample storage space and secure lift access leading to each residence's private foyer.
North-facing balconies will add to Sur's boutique but boldly abundant offering with sweeping views from Rainbow Bay to Stradbroke Island and the city's hinterland backdrop that can never be built out.
Tailored towards an ultra-sophisticated standard of living, the exclusive collection of residences range in price from $4 million with the inspiring two storey penthouse still pending.
"At the heart of Cru Collective's design approach is the desire to create exceptional living spaces in extraordinary locations that meet the expectation of the sophisticated buyer," said Cru Collective Managing Director Chris Bolger.
"By reducing the volume of apartments and raising ceiling heights of the original plans for the Kirra site we will deliver spaciousness and opulence that is typically reserved for high-end standalone houses.
"Sur Kirra Beach is our latest commitment to always producing premium quality homes that substitute the conventional high density apartment trope for a boutique approach to vertical living."
An entire floor of the beachfront tower will provide a recreational oasis for residents with a high level of lifestyle amenities, including an oceanfront pool, fully equipped beachfront fitness centre and sauna.
The appeal of Kirra's newest premiere Gold Coast address for unrivalled coastal living is also bolstered by its 30 metres of beach frontage.
"Over the past few months since we acquired the site, we have already received an astounding amount of local and national interest in what will be a striking addition to the Kirra beachfront," Mr Bolger said. "It's such a unique and iconic location."
Cru Collective is launching Sur Kirra Beach with a view to commencing construction in early 2022 — 60 years after the establishment of the Kirra Surfriders Club, home of the original "Cooly 3" and surfing greats, Michael Peterson, Peter Townend and Wayne "Rabbit" Bartholomew.
The local Gold Coast-based development team have a proven track record of understanding the community environment to enhance the location and beachfront liveability, which is evident in Cru's latest profile of projects across the coastline including the sold-out Acqua in Palm Beach and sold-out Arcadia Rise in Currumbin.
The award-winning developer has more than a decade of experience in residential and commercial property across south-east Queensland and is currently delivering a development pipeline totalling $150 million in projects.
Sur Kirra Beach follows the sell-out and completion of Cru Collective's $40 million Siarn Palm Beach North apartment project.
Exclusive pre-launch previews for SUR are underway and REGISTER interest at surkirrabeach.com.au or by phone 1800 636 999.