Creative cooking… with a professional edge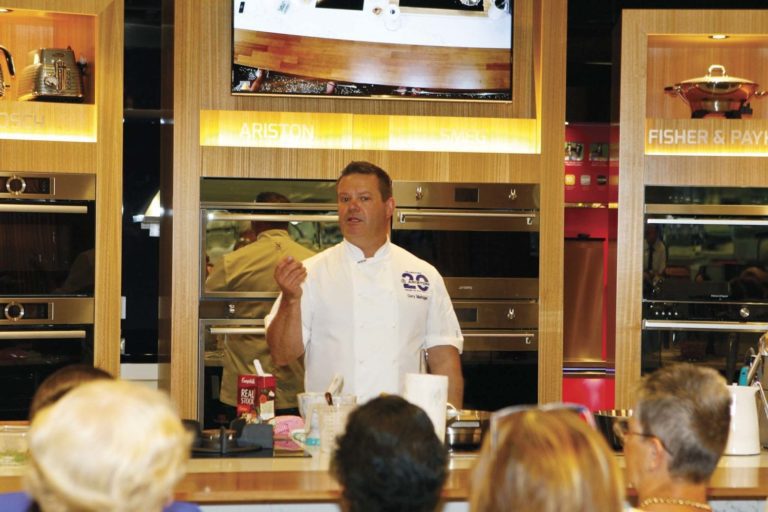 WORDS: PHOTOGRAPHY
Gary Mehigan, Ariston
"The set up at Harvey Norman is fantastic, I haven't seen a store like it in Australia. Spoilt for choice and demonstration theatre was super easy to use with everything at hand.
I love the Gold Coast and have holidayed along the coast for many years. Let's be honest the past Gold Coast never had a stellar reputation for food, but things have changed dramatically in the last few years in particular. There are lots of great coffee shops, cafes, bars and restaurants running down the coast to Burley Heads.
Recently I've been to Hellenika, Jupiters kitchen Restaurant & Bar and stopped for coffee at Street Corner Espresso. I hear that Little Truffle, Social Eating House and Etsu are all worth a try… so next time I'm up on the 'Goldie' I have a few bookings to make!
For me the choice of Ariston is simple, great value for money, easy to use and a brand you can trust. Ariston have been in Australia 20 years and I've been using their cooking range now for over 15 years. There are some exciting additions to the range coming very soon too, which I can't wait to use.
It takes more than a cooking range to create a Master Chef, passion and a burning curiosity for food is a start!
Cooking at home isn't supposed to be hard and Ariston make great appliances that are easy to use and clean. I love my Open Space oven for example, great features like the bread proving function or the self-cleaning system saves me time and getting my hands dirty. It has one of the largest oven spaces in the market 81 litres, so for a small oven it takes all my big roasting trays no problem!
These days we want to "set and forget". We want to know that when we set the temperature to 140C for example, it's accurate and it will sit there all day if we needed it too. Sounds simple but there are many brands that fall over on the simplest of things. I trust the range; it looks smart, durable and fits into any kitchen. Most of us cook very simply on a day to day basis but when we want to show off, cook for friends and family we want to know that the range has got us covered, different functions and settings that allow us to explore a recipe and cook delicious dishes.
Cooking should be fun, I'll admit even for me it's not always sunshine and rainbows… especially when I've had a busy week at work, everyone is on a different schedule but still want to be fed! But I like to feel comfortable and confident with the kitchen equipment I'm using. Some of my best dishes are made when I'm having fun, being mindful about some of the simplest of processes, allowing myself to play a little and cook intuitively.
I hate terms like "mediocre' in home cooking; you should never feel you have to live up to anyone else's expectations. Cooking for family and friends is one of the most personal things you can do for them, taking fresh ingredients and creating and making something however simple. If you want to shine as a cook once in a while become an expert in the thing you love to cook the most, the thing that you really enjoy… you could be the omelette, curry or roast chook expert and every one will love you for it! Having the right cooking range just makes the whole experience just that little easier an a little bit more special."
Teresa Cutter – Smeg
"The Harvey Norman showroom looks amazing; a great environment for passionate cooks and food lovers to select their appliances and see them in action.
Speaking of action, I was excited to cook a few of my favourite healthy holiday entertaining recipes in the Smeg kitchen in November – lots of fresh ingredients, minimal preparation and deliciously impressive!
I love the Gold Coast – as well as the glorious weather and great people, I do love the food scene. I've been to a few lovely restaurants and some great farmers' markets.
I've had Smeg products at home for about 3-4 years and when I opened my Healthy Chef headquarters in Sydney's Surry Hills last year, I knew I wanted Smeg there too. I have Classic ovens and compacts and gorgeous panna (cream) small appliances. Of course they look beautiful, but I love cooking with them too.
I've just finished writing a new baking book and used the Thermoseal oven and stand mixer endlessly with great results. And for the everyday, my roast chicken cooked in the Smeg oven is next level amazing!
I've loved the Smeg brand and products for a long time, in fact I first met the team from Smeg a couple of years ago. Since then I've been a passionate supporter, using Smeg products at my own studio events.
I love my Smeg Classic Thermoseal oven. Although not really into technology, I do know that the perfectly controlled cooking environment unique to Smeg's Thermoseal ovens produces amazing results – from the best Sunday roasts to mid-week healthy dinners and, most recently all the healthy baking recipes I've been developing for my new book.
I'm a relatively new convert to Smeg's compact steam oven – it is easy to use and so versatile. So far I've had great results with fish, vegetables and whole grains, with more experimentation to come!
The professional edge for me is the impressive results that are so easy to achieve. Plus I love that the Smeg products are robust yet beautifully stylish; they look as good as they perform. Along with the multitude of cooking functions available for all types of recipes, the pyrolytic function brings a professional edge to my kitchen too, via a very, very clean oven!
I'm dedicated to getting people cooking their own food and eating healthier to live a better life and I really believe Smeg's range of products makes it easier for me to promote this ethos."
Gaggenau
A leading brand isn't created overnight, it takes repeated innovation, leading technology, exceptional expertise and a glowing reputation for outstanding products. Gaggenau has been a pioneering brand for home appliances for more than 300 years. The German manufacturer has become the go-to for high-end home appliances.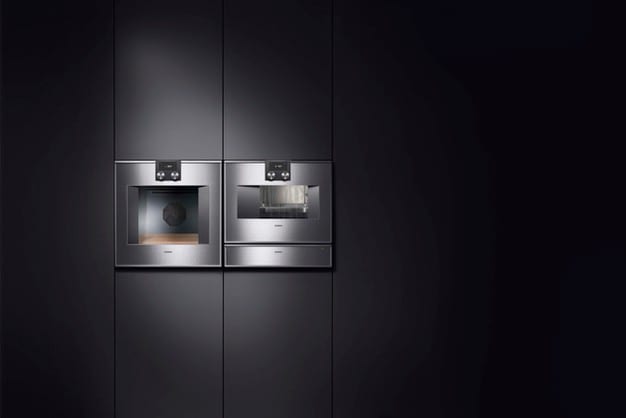 Top chefs love the Gaggenau classics and timeless designs that still set standards. From wall-mounted convection ovens to warming drawers, ventilation hoods to cooktops, Gaggenau continues to impress professionals worldwide and is the only appliance brand ranked in Germany's top 30 "Luxury brands".
Today, the trademark blue Gaggenau enamel is an established brand mark of quality. Come in store to the Harvey Norman Cooking Inspiration Gallery and find out more.
Neff
Neff is a German manufacturer of high-end kitchen appliances. Notably it introduced the first microwave oven in 1957 before branching out into a full range.
Today, there are plenty of standout features in the Neff range. The slide and hide oven door, which you'll find in store, has an easier to access oven cavity which is totally unique on the market.
Leading technology is central to the Neff range. For instance, Circotherm is a unique fan forced setting which gives perfectly even results – every time. Essentially, hot air circulates around the oven to allow distribution of cooking with more regularity.
You'll also find zoneless induction technology on selected cooktops.
Such leading technology is combined with easy to use practicality throughout the Neff range. Check out the twist fire induction; a removable magnetic controller which is easier to grip than touch control cooktops.
Are you renovating and looking for inspiration? The dedicated team at Harvey Norman are regularly trained and can answer your questions.
Come and talk to us: Harvey Norman Cooking Inspiration Gallery, 29-45 Ashmore Road, Bundall. Tel: 7 5584 3111. http://www.harveynorman.com.au