WORDS: PHOTOGRAPHY
I was recently invited to tour designer homewares and lifestyle collective, Newrybar Merchants, located in the quaint, scenic and historic Northern New South Wales township of Newrybar in Byron shire. I, of course, accepted because I've been looking for an excuse to visit and there seemed no better one that this. I am pleased to report that I was not disappointed.
Newrybar Merchants is the result of a shared vision by Zane Grier and Todd Miller to open a collaborative concept store bringing together a handpicked group of creatives in a way that compliments the old world charm of the village and I've got to say, mission accomplished.
Newrybar Merchants is an honest and fitting extension of the already thriving village of Newrybar, home to the renowned Harvest Café & Deli, which offers the same country charm and with a menu worth travelling for. Allow me introduce you to the merchants of Newrybar Merchants…
The Society Inc.
I've long followed internationally renowned interior stylist, product designer and author, Sibella Court. I even own one of her books so I was delighted to see and touch, in person, Sibella's carefully curated collection of curiosities known as The Society Inc. The space can also be described as a hardware & haberdashery shop made up of items found whilst adventuring off the beaten track and currently it is Sibella's only bricks and mortar retail destination, making Newrybar Merchants even more worth the visit.
Shannon Fricke – Heart and Home
Respected interior designer and stylist, Shannon Fricke's homewares and bedding range, Heart and Home, is a showcase of diverse pattern, textures and natural fibres. All are designed to be mixed and matched, promoting individuality and originality in the home. Shannon's mantra is, 'a life lived with love, sensuality and an open-heart is a life better lived' which drives the aesthetic and ethos of her brand.
Jai Vasicek & Paterson & Steele
Artist and retailer, Jai Vasicek has long been revered for his art and homewares offerings. His latest venture with Nicole Steele from Paterson + Steele at Newrybar Merchants is the only collaborative gallery-style space of its kind. Jai's original and one-off pieces sit beautifully against Paterson + Steele ceramics. The space also showcases pieces from like-minded Australian designers including Megan Weston, Bonnie & Neil, The Beach People, Pop & Scott and Anchor Ceramics.
Beautiflora
Open since 2000, Beautiflora is the Byron area's longest established floral design studio headed by Britte Sunde, who is a renowned for tackling projects on a scale that others won't and achieving exceptional results. The brand's success is due in part to Britte's ability to strike a balance of creativity, attention to detail, skill and exceptional organisational skills. Specialising in botanical styling, Beautiflora provides exquisite bouquets for local delivery, weddings and large events. Their space at Newrybar Merchants provides a dynamic first impression of the creative space.
Diana Miller Artist
Artist Diana Miller describes her contemporary abstract paintings as expressive and emotive. They provide a striking and spirited pop of colour within the space, juxtaposed perfectly against the old, raw, heritage homestead that houses Newrybar Merchants. Diana now pursues her art on a full-time basis and in addition to her large-scale artworks she produces prints, greeting cards and a range of art cushions. Look out for Diana's work in other forms as she embarks on producing a range of fabrics.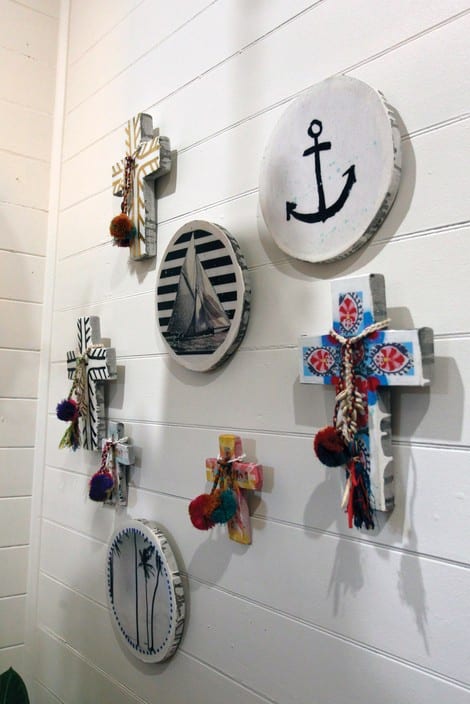 Fate & Fortune
Friends, Daniella Picone and Heidi Sidoti founded stationery boutique, Fate & Fortune in 2015 spurred by the notion that a little heartfelt message scrawled on the prettiest of paper can brighten any day. The talented duo, with their keen eye, are skilful curators and Fate & Fortune offers customers a delightful collection of paper-ware, journals, ribbons and pens, as well as hand-sourced gifts from both local and international artisans.
Mister Zimi
Husband and wife team, Jimi and Zoe Paul are the masters behind Mister Zimi; a carefully designed edit of 70s inspired garments that admittedly and unashamedly march to the beat of their own drum. The brand's aesthetic is about loud and proud prints on relaxed-cut designs. These take shape in classic shift dresses, maxi skirts, harem pants, leather jackets and footwear.
Miller Trading Group
Miller Trading Group is a creative brand formed by Newrybar Merchants co-owner, Todd Miller with artist wife, Diana Miller of Diana Miller Art, to showcase everything they love about design. The brand is made up of a few carefully handpicked design partners including Cape Town-based luxury accessory and lifestyle brand, Wolf & Maiden. Made from supreme quality sustainable and natural materials, each one of the fine handcrafted products promotes simplicity and sumptuousness and is designed to evolve with its owner.
Tigmi Trading
If I could have a floor covered in berber rugs I surely would which is why it was such a treat to see the Tigmi range of rugs sitting proudly at Newrybar Merchants. The carefully sourced, rare and characterful Berber rugs sit proudly against other artifacts from Morocco and around the globe. Tigmi aim to present an eclectic mix of vintage and contemporary pieces which stimulate cultural curiosity and promote the value of traditional production methods.
Newrybar Merchants is located at 19 Old Pacific Highway, Newrybar, NSW.