Council approves $800 Million Broadbeach ICON
WORDS: Hannah Matchett PHOTOGRAPHY Supplied
Iris Capital's stunning transformation of central Broadbeach has moved a step closer with Gold Coast Council giving development approval for its $800 million V & A apartments on the site of the iconic Niecon Plaza.
Iris Capital's CEO Sam Arnaout yesterday hailed the decision, saying it would pave the way for an anticipated construction start later this year.
"We're absolutely delighted that the Gold Coast Council has seen the vision of V & A and how it will play an enormous role in transforming Broadbeach," said Mr Arnaout.
"We were very eager to get the approval to meet our timelines for delivery and we're now focussing our attention on sales and marketing with the view of a construction start later this year."
V & A – named after Victoria and Albert streets in Broadbeach – will comprise 398 state of the art apartments over two towers of 56 and 40 storeys, and include a subtropical recreational podium, two levels of premium offices and commercial facilities, and a fresh food and dining retail on the street level.
Colliers' Director Residential David Higgins said the project had been well received by the market and the council approval removed any impediments on the project.
"There is a great air of excitement about what V & A will do to transform central Broadbeach," said Mr Higgins.
"This is an unbelievable project for the city in terms of liveability and the creation of a new commercial, office and dining precinct within the heart of Broadbeach.
"The council has recognised the significance and merits of V & A and also acknowledged the incredible role that the project will play in the city's cosmopolitan heart.
"Unlike many of the projects that have been launched in recent years, V & A will bring an air of sophistication to the cosmopolitan heart and provide apartments from which people can walk to everything they need."
V & A Broadbeach would create the first high end residential, retail and culinary precinct in central Broadbeach since the Oracle towers more than a decade ago.
"Currently Broadbeach has plentiful luxury full floor and half floor 3 bedroom plus apartments on the market, but very few offer a choice of 1,2,3-bedroom apartments with access to leading luxury amenity", said Mr Higgins.
"Historically Broadbeach has had a very strong family market and V & A will bring this market right back into the frame.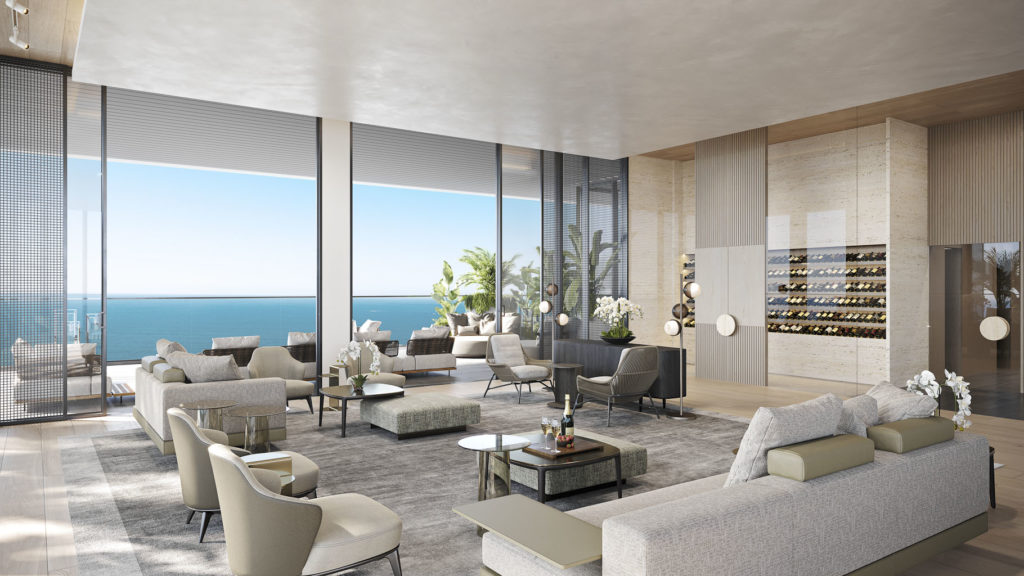 "We've introduced a mix of product right in the heart of Broadbeach that attracts the family buyer, luxury downsizer and investors looking for solid returns as the Gold Coast grows out of the Covid lockdowns.
"The project scores a 10 out of 10 for walkability located in the heart of Broadbeach in walking distance to the light rail, the casino, convention centre, the restaurant precinct and the beach and will bring a new type of residential apartments to the market that we have not seen for some time."
Iris Capital, a company founded and led by entrepreneur Sam Arnaout, has extended its reach over the past decade to become a developer of high quality integrated residential and mixed-use developments.
The company now holds an incredible $5 billion enterprise value, having significantly expanded its footprint over the past year through the acquisition of 17 Ibis hotels from AccorInvest.
Leading design firm DBI Architects has curated a design exclusively for the coastal environment, moving away from smaller unit type to embrace the growing demand for larger apartments.
The lower floors will offer a mix of one-, two- and three-bedroom layouts while the upper residences will offer a mix of threes with both towers topped by sub‐penthouses and penthouses.
Residents will live among world‐class amenities, with both towers offering an elevated recreational podium with a 25m lap pool, a gym, a yoga deck and resident's lounge as well as kid's area, a zen garden, an outdoor dining/ BBQ and a building surrounded with lush green landscape.
Both towers will feature luxury, spacious top floor owners-lounges complete with dining, yoga room, offices and spectacular views all beautifully finished with high end, coastal furnishings.
"V&A Broadbeach presented a unique opportunity to create a lasting icon for the coastal precinct that can be appreciate by more than just its residents," said DBI Director Raith Anderson.
"Its design is quintessentially Gold Coast, from its lavish double beach shower and surfboards storages to its cascading subtropical landscaped terraces, V&A is a rare product for those in pursuit of a coastal destination with the lifestyle and cultural variety of a cosmopolitan locale."