WORDS: PHOTOGRAPHY
Last November he cooked at the most easterly point of Australia – Lord Howe Island. Now, Steven Snow tells ORM just how amazing the entire experience was.
While Lord Howe Island – located in the Tasman sea 700 km north east of Sydney – was once a haven for seafarers and whalers, it could now be described as a haven for visiting guest chefs, nature lovers and foodies. A breathtakingly beautiful world heritage island where awesome mountains of rock stand guard over aquamarine waters teeming with the ubiquitous Lord Howe Island kingfish. The island is extremely beautiful and very " old world" Australia.
On land everything is relaxed and nostalgic. The few motor vehicles on the island are restricted to a leisurely top speed of 25km. Bicycles are the main means of transport. Kentia palms abound, as does amazing birdlife. You check into your suite and are welcomed to a key free room you never lock. It's about honesty here. The island reminded me of simpler, less hurried times seemingly existing in a wondrous time warp.
I cooked at the Pinetrees Resort named after the massive Norfolk pines planted around the property. Apparently they were planted for shipbuilding but this went by the wayside. Pinetrees is like a big plantation homestead first built in the 1930's and to this day is famous for its homestay style hospitality. The recent renovations to the building, and the addition of an organic garden, have enhanced the resorts appearance while keeping its soul intact.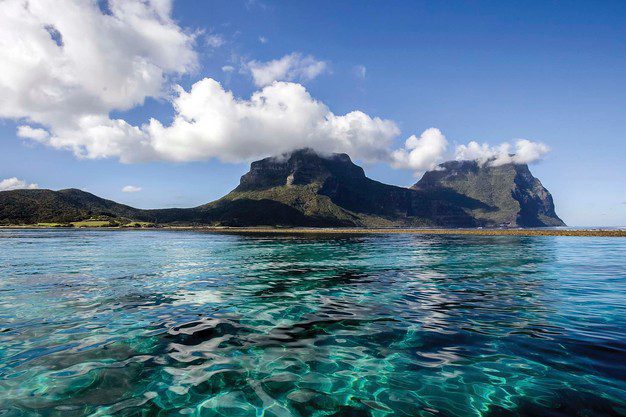 However, its not all old world; you are informed of the importance of recycling and not creating any unnecessary waste. Notes remind you that staff have to sort your garbage so please be diligent in using the right bin. Mainland please take note.
When in paradise recycling is a natural and fits perfectly with the eco experience offered on the island.
By day, my daughter would jump with shrill excitement while feeding huge fish at Ned's beach in knee-deep ocean waters. By night local fishermen would deliver perfect line caught fish from beyond the bordering calm water lagoon. Kingfish is the local specialty and over five nights we dined on every incarnation of this justly famous piscatorial local.
The resident chefs would bake, sauté, barbeque, marinate, salt and sashimi it to perfection. The chef talent at Pinetrees and on this island is amazing. Many have completed stints or headed the kitchens at Australia's most famous restaurants. Longrain and Fins chefs are particularly well represented. The "Anchorage" is the only option for those wanting to venture from their guesthouse. By day you can enjoy great coffee and cakes, but keep a keen watch for their excellent special nightly dinners.
Only 400 tourists are allowed on the island at any time. Often, you read about unspoilt paradises only to watch as they are over run by visitors- not Lord Howe Island. Just getting there is hard enough as Qantas link is the only airline that flies there. Pilots need a special rating to fly to LHI due to the very short runway considered one of the hardest places to land in Australia.
Everyone is related, with the original families at the top of the order. You cannot build a house here as the local administration board has capped it. This necessitates that the islands children need to move to the mainland when they are sick of living with mum and dad.
The walks on Lord Howe Island are some of the best in the world. Our favourite walks were the four hour Malabar, Nth beach and Kim's lookout walk which affords spectacular views of Mt Gower and all the other dramatic pinnacle rock formations. If you're fit do not miss the Mt Gower walk. It must be pre booked and a guide must accompany you. We were lucky enough to have Jack Schick as our guide on his 200th walk. Ropes, chains, sheer cliff drops and spectacular scenic landscapes ensure the walk will be permanently etched in your memory. Being afraid of heights I am so glad I completed the expedition but doubt I would attempt it again. If your not an intrepid walker you could always take a boat trip around the island and check out the amazing Balls Pyramid, deserted beaches or even throw a line overboard and catch your own kingfish. My wife and I kayaked to North Bay and enjoyed a romantic lunch while lazing on our own private beach. The sunsets are spectacular, and even better while sipping a cold glass of Riesling. I was told by the locals to tell other surf enthusiasts that there is no surf on the island. I'll leave that for you to research.
The island has next to no mobile phone coverage or Internet anywhere. I love this. The bottle shop opens from 1-30pm to 4-30pm.
Nightlife does not exist, shopping is minimal and the island works on an honesty system where you put your name to a cup of espresso or a beer from the unlocked fridge at the Pinetrees boatshed. Bad crime usually stops at people not wearing a bicycle helmet, although on one occasion, someone was suspected of stealing from the honesty box at the bowls club. Lord Howe Island is truly a unique place to visit. The following recipe was a favourite.
Kingfish Cakes
100g carrots
500g kingfish fillets
100g beans
1tbsp garlic
1tbsp ginger
1 stick lemongrass, finely chopped
2 tbsp sweet chilli sauce
½ bunch coriander, chopped
½ bunch basil, chopped
1 carrot-very finely chopped
10 drops fish sauce
2 kaffir lime leaves, finely chopped
Method
Finely chop all veggies, fish and herbs
Place fish into a food processor and blitz until small chunks remain. Do not blitz into a paste as these cakes are about texture
Combine all prepared ingredients, add all herbs and condiments and mix until well combined
Roll fish mix into 1 tbsp balls
Deep fry in vegetable oil or peanut oil and drain on absorbent paper
Serve with Davidson plum chutney
Garnish with finger lime to be eaten with snapper cake