Coconut and Chia Pudding with Gula Melaka and Passionfruit Pulp
WORDS: PHOTOGRAPHY
MasterChef Asia and MasterChef Singapore Judge AUDRA MORRICE COOK & FEAST
Sharing food is the greatest act of community and connection. Breaking bread. Sharing a table. Feasts are a gathering of family and friends. People and culture. Creating connections. Food is a conduit. Food, however simple or extravagant, has the immense power of bringing people together. Thus, eating with family and friends old and new, is something we should strive to do frequently. This sense of food as conduit is at the essence of Audra Morrice's food philosophy, and the thematic thread that seasons her second book of food, Cook & Feast.*
Audra gave up a successful twenty-year career in communications to reknit the threads that were unraveling inside her to work with food, applied for MasterChef, and became a finalist (Season 4). The show became a conduit of sorts that (re)connected Audra to food.
Fast-forward six years, and it's this connection to food and cultural practice that has informed Cook & Feast. Audra was born in Singapore to a Chinese mother of Hock Chew descent, and to an Indian father, thus Cook & Feast is the product of someone growing up in a family of such cultural mix, an intersectional multicultural melting pot. Food has always been a big part of Audra's life. This book therefore is a representation of the author herself.
Growing up, Audra's family cooked every meal like a celebration. Feasts. Generous abundance. Plentiful and full of heart. Generational recipes passed down and preserved. Diversity, heritage, and culture, key ingredients on display on every plate of food, every plate a link back to lineage, history and past. Through food, we learn about culture, through culture we broaden our palettes and our minds. To cook and to feast is always an act cultural celebration. Community and connection.
The wonderfully eclectic recipes in this book, from Asian to Western, and those inspired by the other, are easy to follow yet produce exciting, striking, sumptuous and enticing dishes, suitable for daily meals and parties, big and small. Audra provides simple, practical principles in the organising and preparation of ingredients through to the cooking of dishes to make the processes in the kitchen stress free and enjoyable.
Lovingly compiled, Cook & Feast is a conduit to your feasts and your celebrations. Happy cooking and connecting with great food!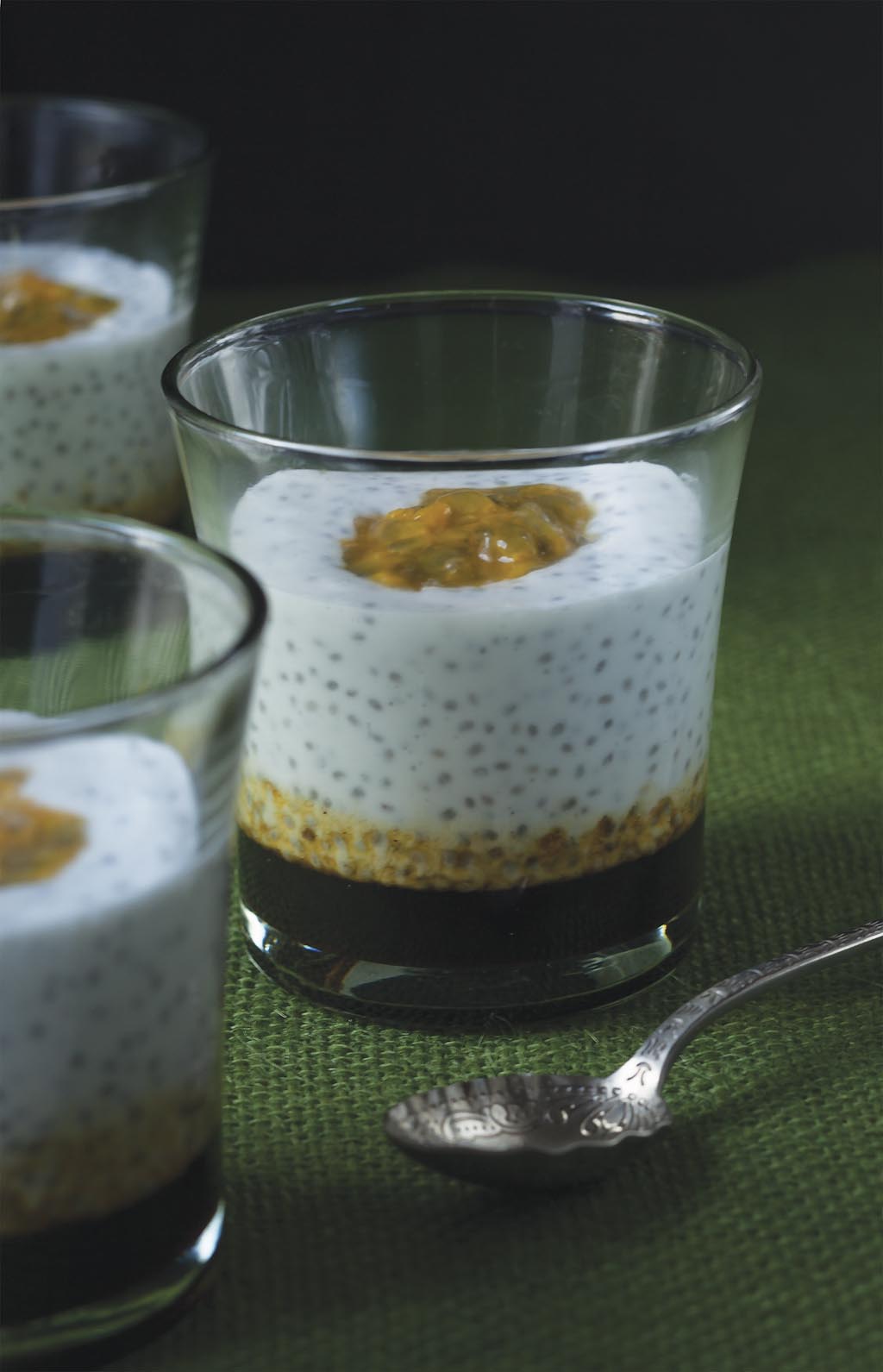 Coconut and Chia Pudding with Gula Melaka and Passionfruit Pulp
Serves 6-8
Chia seeds is a superfood. Though is not only easy to digest, it has a myriad of health benefits. It has low GI, is energy boosting, contributes towards healthy skin, reduces the signs of aging, maintains a healthy heart and digestive system and also builds strong bones and muscles. This is a delicious decadent pudding to have anytime of the day!
4 ripe passionfruits, halved
pudding
40 g (1.4 oz) chia seeds
500 ml (2 cups) coconut milk
1 teaspoon vanilla extract
1 tablespoon honey
Pinch of sea salt
syrup
100 g (3.5 oz) gula Melaka,
shaved
Water
In a large glass bowl, mix together the coconut milk, vanilla, honey and salt until well combined.
Add the chia seeds and stir to combine. Cover with cling film and refrigerator for at least 6 hours.
In a small saucepan, add the shaved gula Melaka and a tablespoon or two of water. Cook over low to medium heat until the gula Melaka has melted. Pass through a sieve to remove any impurities then return to the saucepan and cook until the syrup has thickened and become syrupy. Note that the mixture will thicken a lot more when it's cool so be careful not to reduce too much.
When you are ready to serve, fill each glass with a tablespoon or two of gula Melaka syrup according to your taste. Top with a couple of spoonfuls of chia pudding. Make sure you don't stir the chia seed pudding or you will get a very sloppy mixture. Finish with a teaspoon or two of the passionfruit pulp.
This dessert can be made a day in advance and kept in a covered container in the fridge until ready to serve. Top with the passionfruit pulp just before serving.