Chef and TV Personality, Rosie Mansfield, Partners with Lakanto to Create Guilt-Free Recipes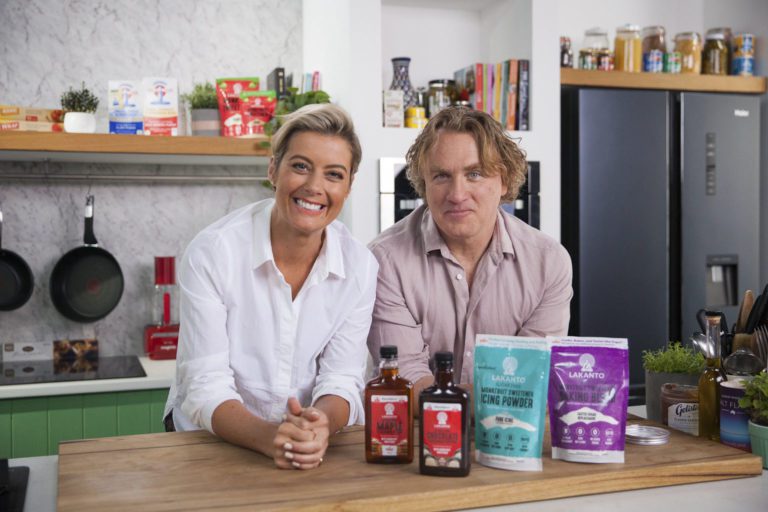 WORDS: Natalia Facelli PHOTOGRAPHY Supplied
TV Host and Chef, Rosie Mansfield, has partnered with Lakanto to bring you a mix of delicious recipes, including; Italian Lemon Ricotta Cake, Banana Chocolate Sundae and Carrot Cake Pancakes.
These recipes are perfect for kids and adults alike, and will help you and your family cut back on the sugar overload this year, without any compromises on enjoyment.
Recipes
Italian Lemon Ricotta Cake
Ingredients:
¾ cup butter, softened
1 ½ cups Lakanto Monkfruit Sweetener Baking Blend
500g whole milk Italian ricotta cheese
3 large eggs
1 tsp vanilla paste
1 large lemon, zested and juiced
½ tsp baking soda
1 ½ cups self-raising flour
Method:
Preheat the oven to 180C, fan-forced. Brush a springform pan with coconut oil and line with baking paper to prevent the cake from sticking.
In a food processor cream together the butter and sweetener.
Add the ricotta cheese, eggs, vanilla, lemon zest and juice, baking soda and flour and blend until light and fluffy, about 4 to 5 minutes.
Pour the batter into the prepared springform pan.
Bake for 40-50 minutes or until a toothpick comes out clean and the top is golden brown.
Allow the cake to cool to room temperature before removing it from the tin and serving.
Serves 8-10. Time: 1 hour.
Carrot Cake Pancakes
For the Pancakes:
1½ cup almond flour
1 tsp baking powder
1 tsp baking soda
1 pinch sea salt
¼ tsp cinnamon powder
¼ tsp nutmeg powder
1¼ cup almond milk
1 tbsp ground flaxseed
½ cup Lakanto Golden Monkfruit Sweetener
1 tsp vanilla extract
1 cup carrots, grated
3 tbsp currants
Coconut oil, to cook pancakes
To serve:
Vegan Ice Cream
Lakanto Caramel Topping (sweetened with monk fruit)
Method:
In a bowl, sift the almond flour, sweetener, baking powder, baking soda, sea salt, cinnamon, nutmeg, and flaxseed and mix together to combine. Add the almond milk and whisk until combined.
Add the vanilla, carrots and currants and mix. Let it sit for 10 minutes.
Melt a teaspoon of coconut oil in a nonstick pan, add the mixture in batches and fry for 2 minutes on each side over medium-low heat.
Serve at room temperature with ice cream and caramel syrup.
Serves 2-4. Time: 30 minutes.
Banana Chocolate Sundae
For the Sundae:
1 tbsp Lakanto No Added Sugar Chocolate Topping
3 frozen bananas
2-3 tbsp nut milk
Pinch salt
To serve:
Coconut flakes
Raspberries
Chopped peanuts
Cherries
Lakanto No Added Sugar Chocolate Topping
Method:
Add frozen bananas, nut milk, salt and Lakanto Chocolate Topping to a blender and blitz until smooth. You can freeze this to make it a thicker consistency.
Serve the ice cream in your favourite glass or bowl and serve with your toppings.
Serves 2-4. Time: 15 minutes.