Checked into Banyan Tree Seychelles
WORDS: PHOTOGRAPHY
Could the Seychelles be the most beautiful and intriguing islands on Earth? Journey with me to this island nation to find out
These unique granitic and coral islands, around 1,770 kilometres from the Tanzanian coast, are wilder and less pristine than some of their luxury island competitors in the Indian Ocean. They offer an authentic creole style of living, with surreal rock formations, lush forests and some of the world's most spectacular stretches of white, sandy beaches.
The Seychelles beckons discerning travellers to its shores, by offering adventure, romance and luxury resorts in unspoilt tropical surrounds.
WHERE TO STAY
The first thing to choose is mainland or outer island. The main island of Mahe is the largest of the archipelago islands that make up the Seychelles. It's also home to Seychelles International Airport and resorts of all levels, making it the easiest and most versatile location to base a holiday.
The outer islands should not however be ignored and contain both lush, tropical, natural settings along with surreal rock formations not seen anywhere else in the world.
Travel tip: if this is your first trip to the Seychelles, base yourself on the mainland of Mahe and take day trips to see outer islands. And by that I mean La Digue. You've already travelled far enough and you'll fall in love with Mahe. La Digue is incredible, however, so don't miss out.
If this is your second (or more) trip to the Seychelles, then you'll definitely want to get more intrepid and explore the outer regions. This isn't Fiji … rock stars stay on the mainland as well.
Checking In
The Banyan Tree Seychelles was at the top of my list. It was the first five-star resort built beachfront on the main island of Mahe, the colonial house originally owned by actor Peter Sellers (Pink Panther fame) and Beatles member George Harrison. Its most attractive feature is its fabulous location along the Indian Ocean at beautiful Intendance Bay. In terms of location, this is one of my favourite in regards to absolute beachfront locations and luxury.
Day one at Banyan Tree was my highlight – there aren't many places in the world where Hawksbill turtles feel so unthreatened that they come ashore in broad daylight to lay their eggs. The Seychelles is one place where they do and on our very first day on the beach we encountered a beautiful big Hawksbill turtle right out the front of our villa. Turtle season begins in October and ends in February, during the season you can join the Wildlife Conservation and Rehabilitation Centre officers on their daily beach patrol and learn more about the turtle species.
The main swimming pool overlooks the beach and ocean and it's a photographer's delight. It has featured on the cover of many luxury travel magazines it has also been voted one of the 10 best infinity pools in the world by Condé Nast travellers. I would have to say its one of best features of the resort other than the beach location.
The design of the main hotel building is a distinct white colonial homestead. It feels very homely yet chic and upscale with that fresh "beachy" feel.
The hardest choice to make is what villa to book. Why not try a few to mix up the stay – that's what we did. All six styles of villas are luxurious and spacious and spread along the direct beachfront and scattered amongst the tropical jungle hillside. When you are looking for complete luxury, Banyan Tree Seychelles does tick one of the major boxes, which is that they all come with a private pool.
I would highly recommend you indulge with a pamper experience as the spa is serene, pairing incomparable views with soothing Asian-influenced treatments.
As you would expect from the high-end Banyan Tree brand, the service is fantastic. The staff are extremely friendly and helpful. They confidently offer an incredible level of customer service with butler/buggy service, or for a more athletic way to get around, you could use the resort beach bikes to get from your villa to the restaurants and main areas.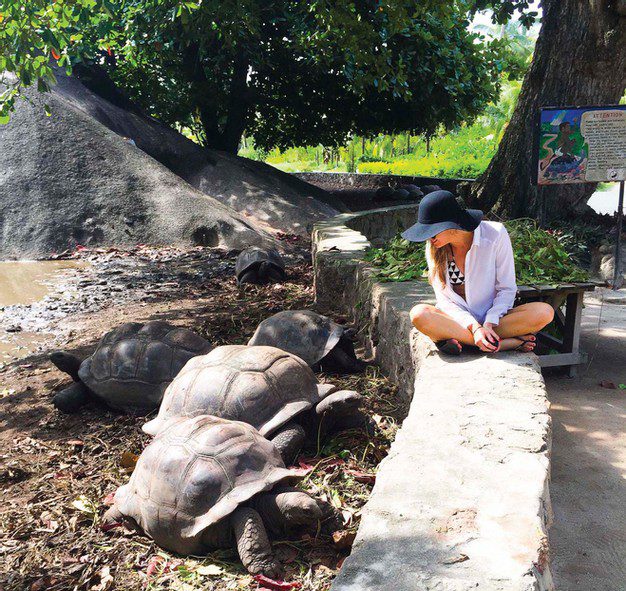 THINGS TO KNOW
The resort offers magnificent views of the Indian Ocean and while the sea was swimmable during our stay in January, it can get quite rough at different times during the year.
This Seychelles resort is a paradise for the food lover. The Thai specialty restaurant was a "must dine" experience. The modern Thai cuisine was delectable, and the wine selection impeccable. I am being honest and it's a need to know fact – food pricing is high, but that's the case with all high-end resorts in the Seychelles so just keep that in mind when budgeting for your stay.
The highlight of my stay was the Banyan Tree's quaint and rustic "Rum Shack" beach bar. It was our afternoon ritual to watch the sunset in the relaxing day beds sipping rum-infused cocktails. It was the cutest and quietest beach bar on the island, with the most memorable setting that photos cannot do justice.
BEST TIME TO VISIT
Seychelles is often sold as a year-round destination. However, there is more chance of rainy days, November to March. The transitional months of October and April are excellent for a visit as the oceans are very calm and perfect for sunny, lazy beach days.
HOW TO GET THERE
Banyan Tree Seychelles Resort is a 40-minute drive from Seychelles International Airport (SEZ).
I hope this has inspired you to grab a few good books, a bikini and get your next beach vacation in the diary.
Discover more exciting destinations at www.luxperiencewithjodie.com.au
or follow her on Instagram 
@luxperiencewithjodie. Happy Travels!
__________________________________________________________________________
DAY TRIPS AND EXCURSION
Experiencing more than one island during your stay is a must and will add a whole other level to your holiday experience that you will never forget. Whatever your choice, ift it's a private helicopter tour or domestic flights, and there are ferries operating regularly out of Victoria (the city capital of the island).
Mahe, Praslin and La Digue are the main islands that you need to put on your itinerary when traveling to the Seychelles.
You can explore Mahe main island with a self-drive. We hired a car and had it delivered to the resort. Mahe is the largest island in size and population, with a dramatic mountainous interior, thick Jurassic rainforest, and plenty of bays, coves to explore and even a hidden waterfall.
Take the day to experience the outer island. Start the day with Praslin, its known for its exquisite white-sand beaches and clear waters, Praslin is the Seychelles' second largest island, with only a few villages and luxury resorts.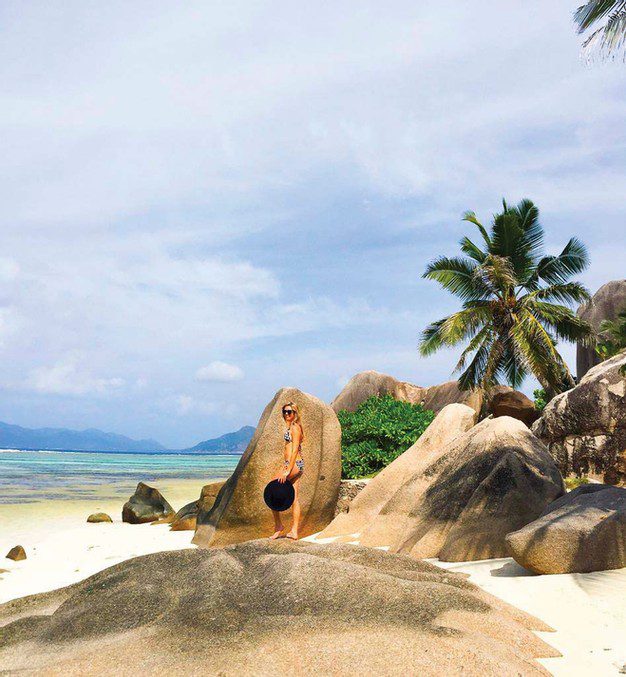 On the famous La Digue island you can easily get around on a bike and explore this island in only a few hours or take an ox cart tour to see the sights. It features the most iconic beaches and known for Seychelles most beautiful UNESCO site the world-famous Anse Source D'Argent).