Business Brains Of The Future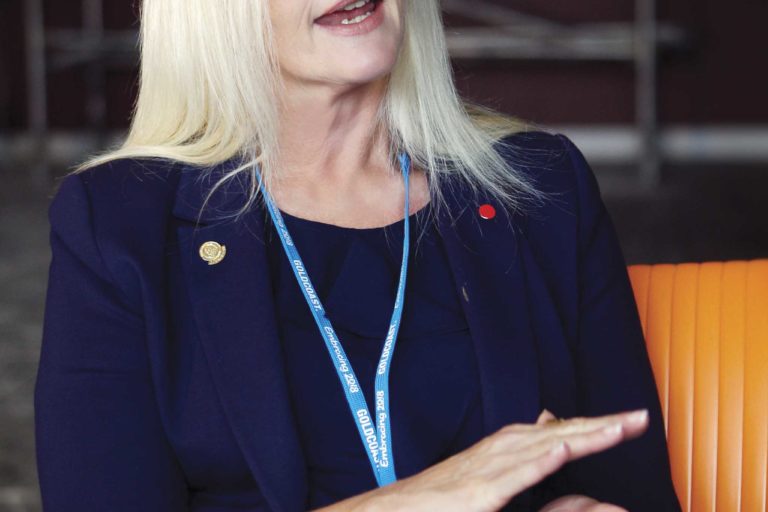 WORDS: PHOTOGRAPHY
Who better to discuss the Gold Coast of past, present and future? Councillor Pauline Young meets Simon Gloftis.
With her long blonde hair, tan and sunny disposition, Councillor Pauline Young seems like a Gold Coast girl, through and through. And she very much is, the Biloela-born 55-year-old having moved to the Glitter Strip with her family 50 years ago this year.
She attended Burleigh State School and later Marymount College before training as an emergency nurse at the old Gold Coast Hospital, running her own businesses and working in real estate. She raised her two children, now aged 21 and 30, on the Coast.
Last year, Cr Young was one of six new faces elected to the Gold Coast City Council. She is the councillor for idyllic Division 12, covering Burleigh Heads (where she has lived for 45 years), Miami, Nobby Beach and parts of Burleigh Waters, Mermaid Beach and Mermaid Waters.
A passionate community representative, Ocean Road recently caught up with Cr Young as part of our regular series of chats with Gold Coast identities hosted by prominent restaurateur Simon Gloftis at his iconic Nobby Beach eatery, Hellenika.
Normally, Simon lays on a sumptuous Greek feast for our interviews but at the time of writing, Hellenika was undergoing a spectacular two-level renovation, including a rooftop dining area with retractable roof and private function room.
Simon's builder brother, Jason, of Gloffy Constructions, is carrying out the refurbishment and workers are buzzing about as we pull up a chair in the downstairs part of the restaurant.
"Jason is working for contra but he doesn't know it yet," Simon says with a laugh. "That's a lot of dolmades!"
Cr Young begins by telling us about her near lifelong connections to Division 12 and her desire to preserve its 'village' character while still ensuring progress with projects like the light-rail extension from Broadbeach to Burleigh.
"It's my 50th year here this year," she says. "I went to school at Burleigh and Marymount and as schoolkids, we planted the Norfolk Pine seedlings on the Burleigh Esplanade that you see today as towering trees. I used to come to Nobby Beach when we had the Magic Mountain theme park with a chairlift going up to the top, next to Miami High. You've still got that same village feel here. People still walk off the beach with no shoes and come to the shops or for a meal. I'm all about protecting what we've got but keeping the area moving forward."
Simon chips in, "I feel like in the short amount of time Pauline's been on council, because of her long connection to the area, she's been able to get a great understanding of what's really important to protect and preserve, but also have a good eye on the future. And as a business guy, that's all I really want to hear – that our past is protected and our future is safe."
Talking about her background and she got into council, Cr Young says, "I was an emergency nurse for 25 years, I trained at Gold Coast Hospital. My husband and I ran our own building company, building mainly old Queenslanders. We went our separate ways but we've stayed really good mates which has been ideal. I spent four years in real estate and then did full-time voluntary charity work. When I turned 50, I semi-retired. I was approached for several years to run for local council because I'm very community-orientated. I took myself to South America for four weeks and trekked around there and made the decision to do it. I came back and was straight into campaigning."
Cr Young says it's been a 'massive learning curve' since being elected in April last year to Division 12, which runs from Markeri St at Mermaid to Tallebudgera Creek and west of the highway to Burleigh Waters and Mermaid Waters.
Simon replies, "As a restaurateur, you always keep your ear to the ground and chew the fat with customers, but I haven't heard any negatives since you were elected – so you've obviously been able to keep most people happy."
She says, "I've been working really, really hard at it. I make sure I stay connected to all the schools, especially our high schools because they're the future of staff in our area – they're the kids we're going to employ in our local businesses. I also keep connected to the elderly, who make up about 40 per cent of my constituents. We've got to make sure we have accommodation for them when they have to move out of their homes, so they can stay in the area."
Cr Young says she's had her challenges, notably the controversial decision to introduce paid parking at Burleigh beach.
"I copped it big-time over that," she says. "There's been a few not-so-nice laminated posters done up of me stuck to the new [parking] meters with super glue. The first one I loved, I stuck it up on my fridge. The second one was a pig with wings."
Cr Young says as unpleasant a shock that paid parking was for many locals, it was a tough decision that had to be made to ensure fairness for everyone to be able to enjoy one of the Gold Coast's most popular beaches.
"We've just got to manage things better and paid parking is about turning over car parks so more people can enjoy the beach," she says. "When I first came here when I was five, there was 35,000 people and now we're at 585,000. We need to manage what we've got and protect our amenity and lifestyle. Six years ago you could have shot a gun down James St at Burleigh and not hit anyone. Now people are fighting for parks. At the moment, we're running on capacity at weekends and we need to be able to balance that out so everybody gets to enjoy the beach lifestyle. "
Cr Young and Simon both agree that the $600 million light-rail extension to Burleigh, due for completion in 2021, will do much to ease traffic and parking issues in the area and improve accessibility.
Simon says, "I think light-rail is going to be massive for the area. We use cars a little too much here on the Coast. In Vienna, for example, something like 80 per cent of people use public transport more than three times a week. Light-rail is going to help alleviate a little bit of stress for people and make it easier for them to get down here. But I think we should call the Nobby station the 'Hellenika stop!'
Laughing, Cr Young says, "Once the light-rail comes through, I think there will be people from up north who frequent their own areas coming down here to experience our local restaurants, shops and beaches. It's going to be huge for the day and night-time economy of the area, not to mention the residents. I was talking to some elderly ladies the other day and they're so excited for the light-rail to come through to make it easier for their grandkids to visit."
Discussing the desirability of Division 12, Simon recalls selling up his Broadbeach café Three Beans about seven years ago to come to Nobby Beach and set up Little Beans and later Hellenika
"I remember people saying I'd lost my s..t, selling a café in Broadbeach to come to Nobbys," he says. "But it has changed, massively. When you think about going out to dinner now, how many times do you think about going north of Broadbeach?"
Cr Young says, "I haven't been north of Broadbeach [to dine], I don't [go] at all. With what's available in Nobbys and Burleigh, there's no need to leave the area."
Simon replies, "It's so nice that the locals can stay local and eat local. So good. My proudest thing is that nine of my former staff have opened up venues between Broadbeach and Palm Beach. That just shows how much faith people have in this area – it's unreal."
Cr Young says, "That also comes back to what Simon does best and that is great food and hospitality … it's like being invited into a Greek family dinner. His staff learn the tricks of the trade from Simon and can open their own restaurants in this area, and the population can sustain that. It's phenomenal, I love it. I grew up in Burleigh when there was just a fish and chip shop and a chicken shop and the only thing in Nobby's was the Pavlova Pantry."
"It's such a nice area," Simon concurs. "I live in Nobbys. I had my house on the market three years ago – thank God I didn't sell it. I don't know where I was going to go. It didn't sell and now I'm thinking 'oh thank God'."
Cr Young replies, "It's really exciting what's happening here in Nobbys. Since Simon opened here seven years ago, it's set a different benchmark for the Gold Coast. I believe that the other businesses in the area are very supportive of what he's doing because they know it's creating a great environment here."
Simon remarks on the broad range of Cr Young's constituents, from average young families through to the well-heeled residents of 'Millionaire's Row' at Mermaid Beach.
"I reckon that Hedges Ave, Albatross Ave, Marine Pde (Miami) strip is our our version of Beverly Hills," he says.
Cr Young says, "A lot of people think those who live along Hedges Ave and Albatross Ave are the lucky ones but they've worked hard for their success and are big supporters of local businesses like Hellenika and the surf clubs. People very wrongly think they build these big homes and then travel overseas but they're locals and they contribute to our economy. I get down on the beach with some of them who are in their 70s and 80s, and they're just lovely salt-of-the-earth people. A lot of the younger ones are new entrepreneurs to the area and they're helping drive the Gold Coast forward."
Cr Young goes on to reveal that she's an active patrolling member of Nobby Beach Surf Club, where she has been head training officer for 10 years.
"Simon Gloftis will be down there doing his bronze medallion before he knows it!," she says to laughter all 'round.
At the time of going to press, Cr Young was in the midst of debate for her second council Budget, rushing from meeting to meeting in between community engagement. How does she manage to juggle her busy schedule, Simon asks?
"A lot of nights it's pass out from exhaustion," she says."I make sure I go to absolutely every committee meeting because I figure if you're voting (in full council), you need to have an understanding of the issues.
"I make sure I stay connected to the community. I go to as many school P & C, Neighbourhood Watch, Rotary and Lions meetings as I can so then you know what your community's looking for. Sometimes it's a stretch when you might get 30 invitations over a two-week period. I try and go to as much as I can within my patch, within my area. The reason you get voted in is to listen to your residents to see what they need in the area.
"There's hard days and nights but I love what I do. And look, not everyone's going to like me, but I'm listening to them."
Simon says, "I'm glad there's people like you because I certainly couldn't do the job. I haven't got the patience!" He also notes that, as a former small businesswoman herself, Cr Young is very supportive of small business.
"Absolutely, because the small businesses in the area are the backbone of our community," she says. "We started as a small seaside town and it's the small businesses that have carried us forward, and are now employing our kids in businesses like Hellenika. Hospitality on the Gold Coast was always seen as a way to pay your way through uni or to get an overseas trip. Now, it's a profession, and it's a profession that people are really proud of. When you fly to Melbourne or Sydney now and you come back here, you realise the Gold Coast is right up there in terms of our standards of service and hospitality."
Cr Young asks Simon about the Hellenika renovation and how important it will be for business.
"When it gets busy, I want to make sure we can look after people here," he says. "I reckon I knock back two functions a week but with the refurbishment, we'll have a function area upstairs as well as a private dining room for 40 people. It'll be ideal for business functions, birthday parties or big Greek family gatherings!"
Simon, who hosted an annual breast cancer fundraiser Cr Young helps organise at his former Burleigh Heads restaurant The Fish House, says he'd gladly look at holding the event at the new Hellenika.
"The refurbishment is scheduled to take about 14 weeks, but I hope to have the downstairs section opened in six," he says. "I have to have the whole thing finished by July 15 because that's my mum's 60th birthday and she said if I'm not open, I have to pay for another venue (laughs). I really want to have it here for her."
As for her closing thoughts, Cr Young says: "I think we have to make sure we work with people like Simon to preserve what we've got but also be progressive and provide the employment and the opportunities. For me, we now have a population that can support these extraordinarily talented and creative people like Simon and so many others who are going to create the next Gold Coast. That's the narrative we've got to get out to people."
And Simon?
"The thing about this area, Nobbys and Burleigh, they don't want to change too much, the locals," he says. "Pauline's been in the area her whole life, she understands the past but still has that business brain of the future. That's why I support what she's doing."