WORDS: PHOTOGRAPHY
15 years into the game and Pam and Martin Brook are heading into the biggest growth period and challenge of their business careers. And there's no holding them back.
The moment I met Pam and Martin, I felt like I had known them forever. Perhaps it was the fact we live on the same road in Byron Bay, or it could be that we'd all moved from a city to find our place here in the Northern Rivers with the challenge of still wanting that big life and knowing we would have to create it for ourselves. Perhaps it was the fact that Martin is a born again TV executive. Or maybe it was because Pam used to be a ski instructor and that was the career I always wanted – my unicorn – a dream I still chase.
Whatever it was, I love these people and everything they stand for; small start, big dream, and all with the betterment of humanity in mind.
They put it succinctly; 3 P's Principal: Passion for quality, Passion for a better environment and Passion for great tasting healthy food.
I'm sure you've all experienced a Brookfarm product from the award-winning range. It's a great range to choose from; Macadamia Mueslis, Porridge, and Bircher for breakfast, delicious nut mixes for anytime snacks, muesli bars, and Premium Grade Natural and Infused Macadamia Oils for the chef in all of us.
So, where and how did it all begin? The inspiration was Pam's father, Mick, a high country legend and a pioneer of downhill skiing in Australia. "Mick was as passionate about muesli as he was about his skiing," Pam reveals. "Our kitchen used to be filled with jars of oats, bran, nuts, grains, seeds, dried fruits and secret ingredients my father would specially request. He would then blend a new mix each week until the ideal combination was achieved."
For the first two years of the business, Pam would create the recipes. Together they baked and packaged in the local bakery, then Martin would load the muesli into the back of his car and sell to local shops and cafés.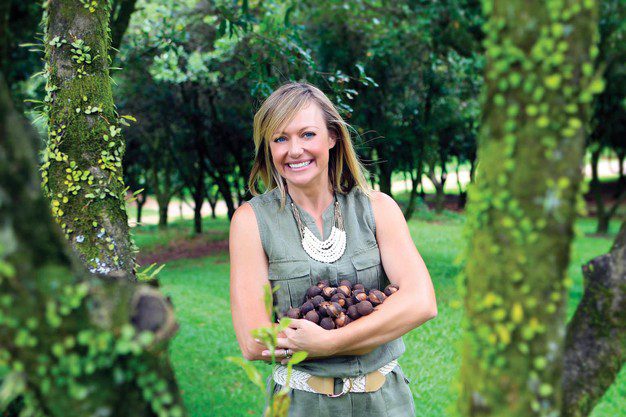 The product range grew by popular demand and today all Brookfarm products are made in their purpose built factory, they supply Qantas and export all around the world. Products head to 60 locations on the Gold Coast in addition to USA, Germany, Singapore, the Middle East. In the UK you'll find them in all Carluccio's Caffe's.
They might have gone global, but high quality and attention to detail still lies at the very core of their business, as does being local. With such growth often comes great change but Pam and Martin still call themselves farmers.
Indeed, their property on St Helena, with over 4200 Macadamia trees, is the core supplier of the nuts used in their products. The entire company is based in Byron Bay offering employment opportunities and career paths in business and supporting other local growers in the area as well.
Nuts about nuts and dedicated to environmental sustainability, they've installed 288 solar panels on their bakehouse to further reduce their carbon footprint and environmental impact by generating clean energy and reducing electricity costs. They've also installed a system to capture rainwater from the bakehouse roof and store it in underground reservoirs for irrigating rainforest gardens.
It's been a big year for this savvy teenager. In March, Brookfarm received Silver Recognition under the NSW State Government's Sustainability Advantage programme; it's one of only 71 businesses in New South Wales to have achieved this level of recognition for improving competitiveness and bottom line through better environmental practices. To add to the trophy cabinet, Brookfarm won the very prestigious Premiers Award for Environmental Innovation and the Small Business Sustainability Award from the Green Globe Awards in October.
"Our commitment to sustainability remains very strong and ongoing. A cause we feel so passionate about," says Pam. "On our farm we have planted more than 30,000 sub-tropical and eucalypt trees in the midst of our macadamia plantation as part of our ongoing commitment to rainforest regeneration."
This regeneration has created a delightful haven for native wildlife including echidnas, duckbill platypus, koalas, wallabies, turtles, pythons and birds all of which I was on the lookout for during my tour of the property. I'm somewhat thankful all I saw was a beautiful natural landscape and gorgeous trees… No snakes!
Brookfarm is a local success story on a global level, all achieved while keeping it real here in Byron Bay. Pam and Martin are a force to be reckoned with and they do it all with passion, heart and a wide smile. And why wouldn't they, at only 15, we know the best years are still to come.
Brookfarm proudly supports Landcare and is an active member of the local Big Scrub and the Byron Creek Landcare Groups.