Blood will flow through Gold Coast's veins as Dracula's launch Nine Pints
WORDS: PHOTOGRAPHY
The eternally damned has birthed a new show with the hypnotically captivating and gloriously seductive show Nine Pints open now at Dracula's on the Gold Coast.
Brought to you by the masters of the macabre – Newman Entertainment International – Nine Pints, the Tarantino-esque title of Dracula's latest live extravaganza, has splashed on to the stage in the re-imagined Vampy-theatre.
Nine Pints launches Dracula's shift from sassy vaudeville to a far more scintillating and subversive Vegas After Dark style and sees the blood flowing as freely as the booze and sinful laughter. It's a more refined entertainment experience, from the new cabaret-style seating to the addition of a spiegeltent-style catwalk stage.
Purchase the new show only tickets for the bare bones experience or dinner and show package that includes the signature slow-cooked beef short rib with Texan bourbon sauce. Show only ticket-holders can sip wine and dine a la carte with a slick new supper menu, with treats such as the Japanese Kuro bamboo charcoal-infused prawns or salty cod croquettes. Let's not forget the smoking cocktail creations, served in all manner of strange vessels and vases.
Nine Pints reveals subterranean acts that shift from surprising intimacy to seat-slashing comedy, and there is a noticeable presence of nouvel arthouse.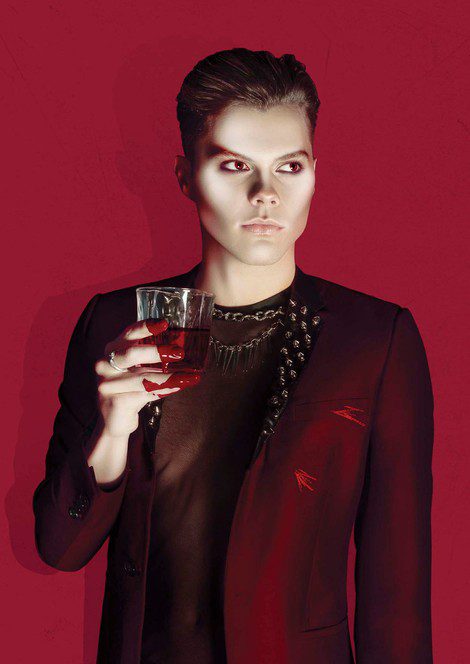 Producer Marc Newman says, "If your last Dracula's memory is a faded photo stuck to the fridge, now is the time to check out the end result of 35 years of theatrical evolution. The new vibe fits in perfectly with the current wave of sophisticated rooftop bars and quirky hole-in-the wall eateries. In effect, we have brought the Melbourne touch to our Gold Coast venue and the audience is loving it."
The show explodes mid theatre with aerial trance acts, live rock, dark mime, burlesque and insane comedy. Nine Pints opens with the mesmerizing identical twin contortion artists Amy and Alyssa Cameron, and closes with a tribute to members of the deceased 27 club, brought back to life by the amazing drumming of Ben Winstanley and glam-rock guitar shredding by Viola Skyes. Special guest Stewart Reeve pairs with Antonia Marr, a theatre A-lister who brings with her big stage kapow, and the vamps fresh look is rounded out by Will Rogers, the moustache twitching dandy from Melbourne's comedy circuit.
Artistic director Adelaide Clark sets the scene: "It's like we've percolated all the ballsy burlesque, mad variety acts and vampire sensuality and drip-filtered it into a more concentrated, bitter-sweet brew. The show has a decidedly darker edge, challenging the audience comfort zones with more gender-shifting characters, mind-bending puppetry and subversive vamp chic. I feel like we've got the flavour just right."
The show is produced by the second and third generations of the Newman family, with specialist artistic support by Adelaide Clark and Richard Macionis. Jayne Newman and her talented costumiers have let their imaginations run wild. The technical team, led by Paul Newman and his son Luke, have created a more stadium feel, adding showers of sparks, video projection and a more surround experience.
Luke Newman explains, "We assembled a quirky and talented young team of artisans and techies to inject a fresh new vibe into the Dracula's experience. The effect has been immediate with a spike of traffic through our online bookings and social media. It's still Dracula's, only we've switched the cape and fangs for nine-inch heels, a concealed weapon and a phallic lipstick."
Nine Pints season runs for 12 months and launches a fresh new direction for the re-branded Dracula's on the Gold Coast. Be warned: there is partial nudity, extreme staging FX and adult themes. Hot tip: You may require a fresh nine-pint blood transfusion to survive the night!
Nine Pints – Thrillertainment… Tick!
Packages start at $59 per person for supper club, show only tickets with optional tapas menu. Or $95 per person for a succulent three course dinner and show experience.
Don't be the last to be immersed into the newest entertainment experience to storm on to the Gold Coast scene… Nine Pints @ Dracula's will run for a limited season, five days a week.
• For bookings and more information go to www.draculas.com.au