Block Judge Creates Star Style
WORDS: PHOTOGRAPHY
The Block judge Darren Palmer is a successful interior designer with a flair for creating special spaces. So he was the perfect choice to join forces with Boystown to decorate their latest prize home. Here he talks about why he was keen to take the project on, his approach and shares some style tips.
Through their prize homes, Boystown Homes do fantastic work raising funds to provide disadvantaged young Australians and their families with a brighter future. I was thrilled to catch up with Block judge and one of Australia's leading interior designer's Darren Palmer to talk about his recent collaboration with Boystown.
Also a skilled speaker, writer and brand ambassador, Darren happily leant his skills and celebrity status to the latest Boystown prize home, and is responsible for furnishing and styling what is their most prestigious property yet; a $3.2 million luxury beachfront apartment on the spectacular Gold Coast.
Darren and I caught up on the Coast where I received a VIP tour of the newly decorated apartment – and this time it was my turn to pass judgement…
Carlene: Why did you decide to join forces with Boystown to furnish and decorate their latest prize home?
Darren: Boystown do such great work. Through property, they raise funds to care for young people and provide resources that are hugely needed. I love property and my skills are geared toward adding value through transformation of property so I was only too happy to do what I love to contribute to such a good cause.
C: What was your design for this project brief – or did you have complete creative freedom?
D: I had complete freedom but that doesn't mean I could do anything! The apartment itself has a blend of refined and relaxed elements so the design had to be both relaxed and refined too. The view is amazing and the setting is nature at its best so I wanted to create a room setting that captured the best vistas and that didn't get in the way of the view.
C: How would you describe your design aesthetic in general and is the outcome of this apartment in keeping with it?
D: Always natural. That's my aesthetic. Natural, friendly and appropriate are the keys to my work. Natural textures and materials, friendly to live in and relate to and appropriate in terms of the area, the building and the occupant. When all of these things come together you have a successful result as far as I'm concerned.
C: What was your starting point?
D: I started by looking at the property and began sourcing options, filing them away in folders so I could look at all of my different choices. I only had a few days to source and secure all of the furniture and decor items so I had to be structured and organised.
C: What were your main priorities?
D: Giving as much to the recipients as possible. We had a budget to adhere to and a lot to achieve with it so I wanted to give a comprehensive, well considered and beautifully designed home.
C: If you had to choose, which is your favourite space in the apartment?
D: I love the master bedroom. If I could wake up every day in that space I would be a very happy man! The textures, view…seriously, there can't be a wrong side to get out of in that king-sized bed.
C: Tell us what your favourite piece is in the apartment…
D: So many things! I love the pendants in the dining area. I love the four post bed. I love the sofas and actually, the whole lounge room setup; consoles, coffee tables and rugs. The art is beautiful. Can I just say, 'everything'?
C: Of course! What challenges did you face in the design process?
D: The timeline was super tight. The budget was respectable and thankfully I leaned on all of my amazing wholesale suppliers to help us out so we were able to get a whole lot more bang for our bucks.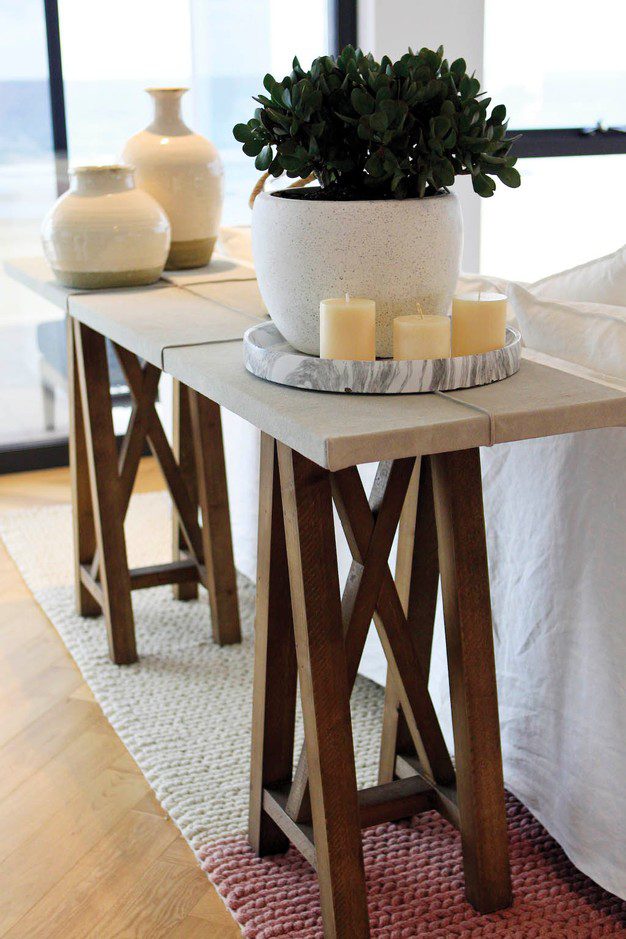 C: How do you think Gold Coast/Queensland design and way of life differs from other states?
D: Well the beaches are certainly different. When I moved to Sydney I visited Bondi and was surprised by comparison to the horizon-to-horizon beaches on the Gold Coast. Being beachside encourages a more relaxed pace of life and Queensland has more beach than most states so it must be one of the most relaxed places, no?
C: Absolutely. What's your advice to budding interior designers?
D: Study, practice and learn from all of your experiences. Read books, study texts, look at pictures to work out why some rooms work and work out what's missing or wrong in the ones that don't. Learn from your failures and your successes alike, and always keep practicing.
C: What are your top tips to homeowners who want to reinvigorate their interior?
D: Buy my book and have a good read! There are many things you can do to elevate the interest in your home, you need to know why and how, but thankfully that's all in my book.
·You'll find Darren's book 'Easy Luxury: An Expert Guide to Creating Your Perfect Home' in all good bookstores (price varies): http://www.angusrobertson.com.au/books/easy-luxury-darren-palmer/p/9781743361023