WORDS: PHOTOGRAPHY
To unleash the phenomenal power of 300 horsepower from a supercharged jet or outboard engine — now that's a choice never before witnessed in the industry …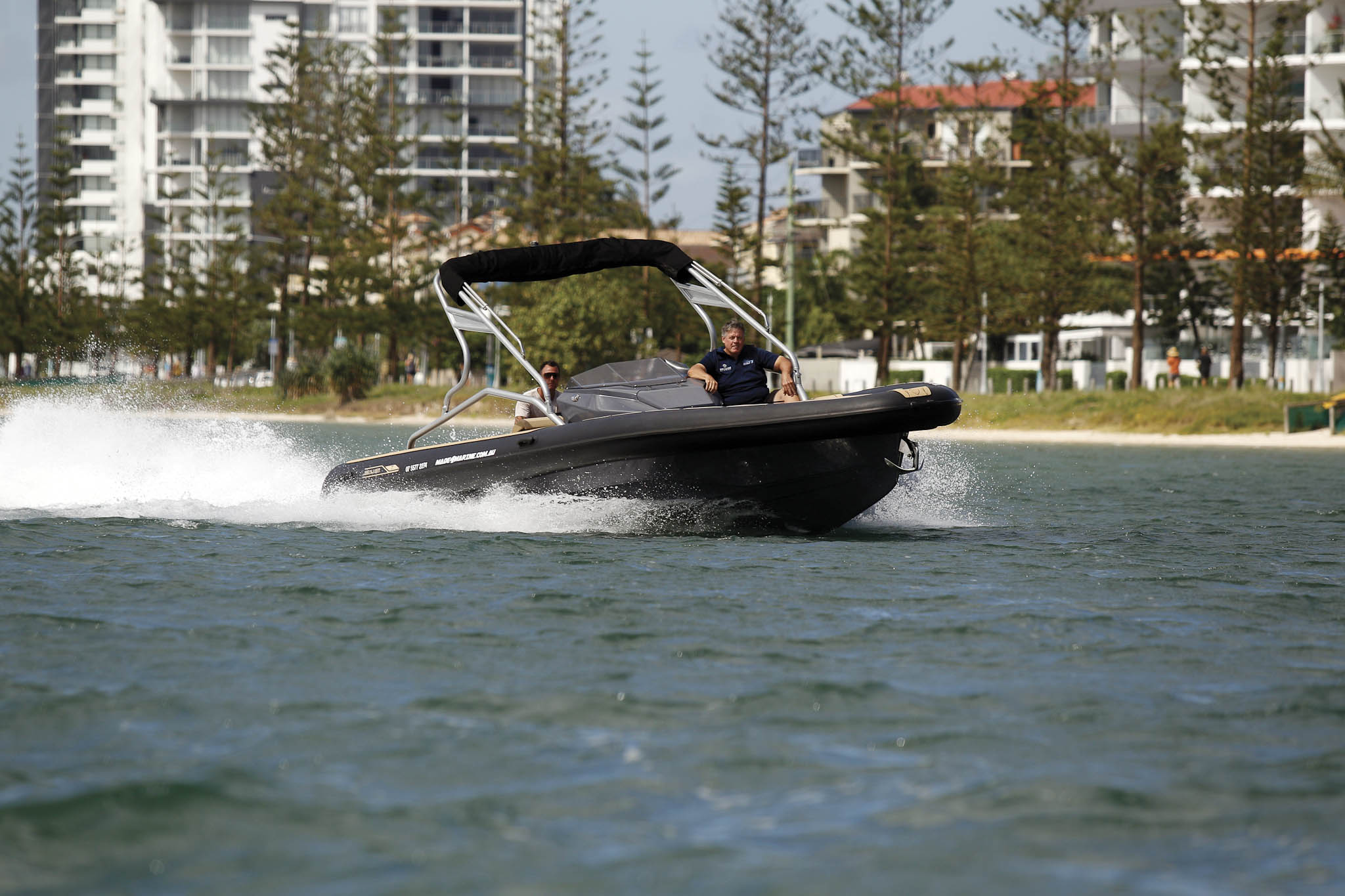 The jewel in Sealver's crown, the all new Z7, will give you the ultimate in luxurious comfort, handling and performance.  That's a big promise I thought!
I witnessed all of this first hand when I tested the Z7 Full Wake edition in our very own Broadwater on the Gold Coast, powered by none other than the latest 300 hp Sea-Doo RXT-X.
Sealver are the new age boats where you click in your jetski and away you go. Their exclusive, innovative Hybris Technology will simply wow any jet ski or boat owner.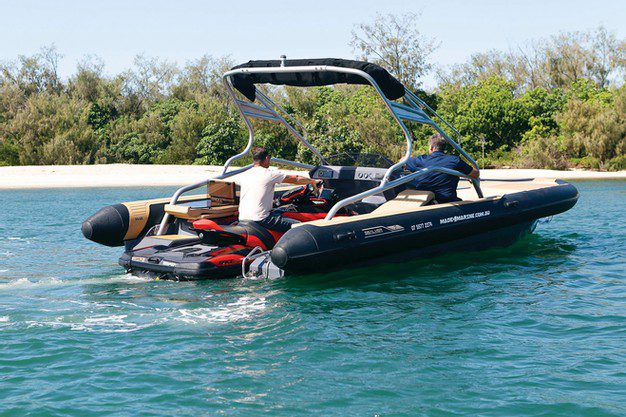 Not convinced the jetski-powered boat is the way to go? Sealver have developed an outboard pod version so you can add your choice of  outboard motor, it's that easy!
With a fully inflated beam of 3.2m, you would assume the Z7's natural home is on a pontoon. Yes this is an option however in keeping with Sealver's innovative design objectives  it  is fitted with an integrated, high capacity inflater/deflater which makes the boat legally trailerable or water-ready at the boat ramp in a few minutes.
The design and craftsmanship is  impeccable; everything has been thought of — from essentials to the latest creature comforts.
The Z-line range is based on the new generation of HEVO hulls. Latest 3D design and wavetank technology has been used to deliver unparalleled handling, performance and efficiency.
The Z Line promises to offer you what you want and compromise is a thing of the past — and just wait until you see the list of goodies this comes with! We're talking: 280w Fusion Bluetooth sound system, fresh water tank and deck shower, windlass anchor system, boarding ladder, massive front storage compartment (830L), teak foam decking, 12v fridge, wake tower, bimini, shore power, 220ah of lithium batteries and even a 100L reserve fuel tank with transfer pump to top up the ski on those extended outings.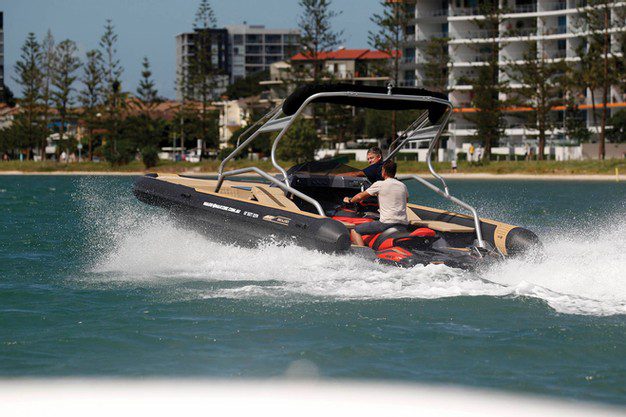 The day was perfect for a boat test — sunshine, fresh 40-50kmh breeze with a sharp Broadwater wind chop. As  we headed to Wave Break we were up on the plane doing 25 knots in just  seconds. At 33 knots we cruised over the chop as if it wasn't there — downwind, crosswind  or on the nose.
Turning and manoeuvring this 7.4m boat — even in these conditions — was effortless, providing a smooth, stable, yet exhilarating ride. If you know how easy it is to ride a jetsk, well it's the same driving  this 24-foot vessel.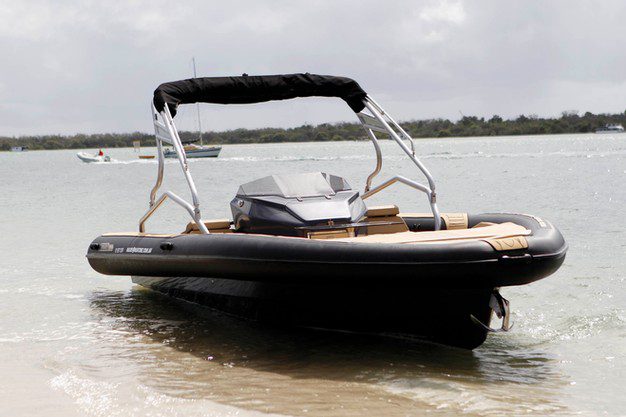 Beaching  was effortless as was reversing the Z7 back into the water. The ski jet only need minimal water to operate in and with a couple of squirts on the triggers this 24-foot full wake edition Sealver was again back ready for action.
With French/Italian designers, this boat oozes style, has acres of space and what a super trendy, head-turning boat to be out in! Plus, with seating capacity for eight, there is plenty of room for all of your mates to enjoy the best of the Gold Coast lifestyle.
I really was blown away from the luxury and comforts of this amazing designer Wake Boat.
• The full Sealver range is available exclusively from Made 4 Marine here on the Gold Coast. Call the team for a test drive on 07 5577 2274 or check out their website www.made4marine.com.au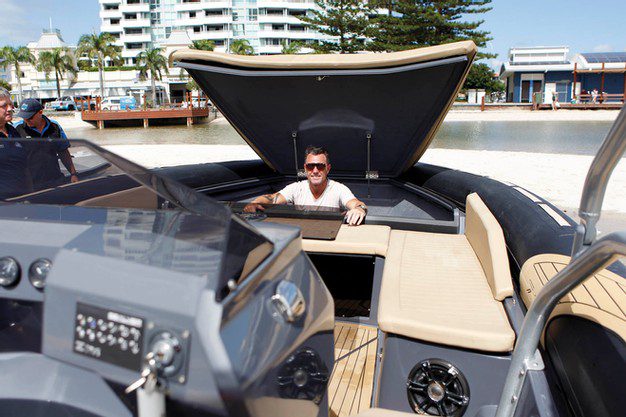 Specifications:
• Polyester hull with black gelcoat
• Carbon effect Hypalon tubes 1670 DTEX
• Teak foam decking on deck and tubes
• Front deck living room (comfort sunbeds + cushions)
• XXL front storage 830L volume
• Three storages under front benches
• Two right and left rear sunbeds (+ cushions) convertible into comfortable seats
• Two middle right and left rear seats (removable)
• Plumbing pack: deck shower + 54L stainless steel fresh water tank
• Wiring pack: 2x 12v batteries + navigation lights + 100L fuel tank console (including wiring and water systems)
• Dashboard + electrical navigation command panel
• Removable table
• Electrical windlass + stainless steel anchor + stainless steel chain
• Fusion sound system (Bluetooth station + 4 LED speakers — 280W)
• 42L fridge
• Electrical inflator/deflator 12v (fixed on hull)
• Aluminium monster wakeboard tower
• Folding bimini installed on top of the wakeboard tower