Beauty Essentials – Must-have Beauty Products for a SIZZLING HOT SUMMER!
WORDS: Compiled by Melissa Usher - Fashion & Beauty Editor PHOTOGRAPHY Supplied
ASRIQ Essence of Luxe
Australia's own Asrìq provides a range of expertly curated, scented body oils that perfectly merge and modernise skincare and perfume.
The premium blend of naturally nourishing and nutrient-rich body oil infused with indulgently irresistible fragrance allows for a luxurious experience that celebrates the world —  and bodies —  in which we live. The sophisticated collection includes six different perfumed body oils; Luxor, Bondi, Mirissa, Marrakesh, Byron Bay and Ubud.
ASRIQ Discovery Set Luxe Perfume Body Set 6x 5ml $39.95- 100ml RRP $139.95  www.asriq.com.au
BENEFIT COSMETICS
Fluff Up Brow Wax  "NEW", launching January 2023!
Fluff up your brows with the NEW Benefit Cosmetics brow wax. It has a clear & creamy texture giving a flexible and re-workable hold for shaping the perfect brows. TRY Benefit Cosmetics Fluff Up Brows 5ml RRP $48.
The POREfessional Super Setter Makeup Setting Spray
Locks on makeup for 16 hours, instantly blurs pores. Feels weightless & absorbs instantly.
This multi-tasking Microfine mist is the perfect finish to a flawless make-up, leaving skin feeling smooth, refreshed & hydrated. TRY Benefit Cosmetics- The POREfessional Super Setter Makeup Spray 120ml RRP $54 www.benefitcosmetics.com.au
SUN SAFE
Protect your skin this season with the Cancer Council Face Day Wear sunscreens. With skincare in mind, you can choose from nourishing tinted formulas to hydrating serums or the beloved lightweight matte formula.  TRY Cancer Council Face Day Wear
Mineral CC Creams SPF 50+ Rrp $22.95, Invisible Fluid Matta SPF 50+ Rrp $19.95 50ml, Invisible Fluid Matta SPF 50+ Rrp $19.95 Visit www.cancercouncil.com.au
CURRENT BODY SKIN LIP PERFECTOR (MUST HAVE)
The first LED device targeting the lip area will help you get the best lips from just 3-minute treatments. Achieve fuller, smoother and more toned lips with the LED Lip Perfector. Featuring 4 wavelengths of LED, the Lip Perfector smooths feather lines and smile lines, increases fullness, and evens out lip tone for the perfect pout from the comfort of your home. The pain-free treatment achieves the best results with consistent use over an 8-week period. TRY CurrentBody Skin Lip Perfector RRP $265 www.currentbody.com.au
Relax To The Max Bundle
Relax and soothe your muscles this season with Epzen salts and calming body products. Full of natural goodness and vegan friendly.  Australian-made and owned. TRY: EPZEN Relax to the Max Bundle RRP $56.00 Visit: www.epzen.com.au
Age Revitalising Face Defence Mask
These sheet masks contain the power of high antioxidants to target the signs of ageing and will help reduce the appearance of lines and wrinkles. Easy to apply and only taking 15-20 mins to hydrate and revive the skin, leaving the skin feeling supple and hydrated. TRY: Enbacci Age Revitalising Face Defence Mask. Rrp $23 each or $85 for a pack of 5 Visit: www.enbacci.com.au
Hydration Booster
Give your skin a boost of hydration. Enhanced with hyaluronic acid and "MultiMoist", an innovative beetroot extract that supports both short and long-term hydration. Your skin will love you for it! TRY: Jeuneora Hydrating Booster – RRP $48 www.jeuneora.com.au
Mellow Cosmetics
Liquid Lip Paint
 A best-selling cult favourite in the professional beauty industry. The long-lasting liquid-to-matte formula provides full coverage and a non-drying finish. The highly pigmented range is comfortable to wear with a light feel. TRY: Mellow Cosmetics Liquid Lip Paint $24.
Treasure Chest Eyeshadow Palette
An essential staple to create a timeless look. The highly pigmented easy-to-blend formula allows for stunning daytime or evening looks with neutral and dark tones. Treasure Chest Eyeshadow Palette $42 Stockist: www.mellowcosmetics.com.au
Flora + Skin Probiotics
Nourish your skin and keep it looking and feeling healthy. Suitable for all skin types. Formulated with a specialised blend of probiotic strains that are known to protect your skin against daily stresses. TRY Meluka Australia Flora + Skin Probiotics RRP $48 www.melukaaustralia.com.au
NEE-V Collagen Powder
An ingestible collagen which has been clinically proven to promote collagen formation, improve skin elasticity and improve hair and nail growth. This all-in-one daily beauty ingestible also supports the gut, digestion and joint health, all while improving the quality of skin, hair and nails. Harnessing the power of the highest content of bio-fermented hydrolised collagen, NEE-V's Collagen Powder formula is scientifically proven and backed by the TGA. NEE-V COLLAGEN RRP $69.99 for 150gms Available at www.neeuv.com.au
Pro-Aging Collection (New Zealand Product)
 The Pro-Aging Collection by ManukaRx is scientifically proven to boost collagen and elasticity, and minimise fine lines. The secret to youthful-looking skin is the East Cape Manuka oil and its scientifically backed powerhouse potency to nourish, restore and rejuvenate skin. TRY: ManukaRX New Zealand Pro-Aging Day Cream $43.95, Pro-Aging Skin Oil $40.95, Rejuvenating Manuka Oil Exfoliant $44.95 www.manukarx.com.au
Supergreens Lip Scrub
Replenish and refine your lips this season. With a botanical cocktail to smooth, parched, dull lips to help reduce fine lines whilst re-invigorating natural colour. TRY Luk Beautifood – Supergreens Lip Scrub $28 www.lukbeautifood.com
Natural Blemish Spot Remover
A potent gel made from natural ingredients that fight those pesky blemishes. Perfect for anyone with problematic/sensitive skin or anyone who suffers from periodic breakouts. This product is naturally scented with natural ingredients. TRY: Mary Grace Natural Blemish Spot Remover RRP $50. Visit www.marygrace.com.au
Skin Replenishing Niacinamide Miracle Serum
This powerhouse serum is the epitome of skin restoration. With Niacinamide, Vit. E and Watermelon Seed Oil, it will help minimize the appearance of enlarged pores, aging and redness. Your skin feels hydrated and smooth with a glowing result. Try Mary Grace Skin Replenishing Niacinamide Miracle Serum RRP $60 www.marygrace.com.au
Progloss Perfect Blow Dry Volume & Shine Air-Styler
Powerful drying and styling combined into one simple hair tool. The Revamp Progloss Perfect Blow Dry Volume and Shine Air Styler dries, detangles, smooth and styles your hair in just one pass. The oval ceramic barrel of the brush works to smooth and style hair, while the rounded edges add volume at the root, to help you create a salon-quality blow-dry at home. TRY: Revamp Professional RRP $ 149.05 www.revamphair.com.au
FLAWLESS SKIN -IS Clinical
Cleansing Complex Polish NEW
This deep cleansing, resurfacing and soothing cleanser cleans the surface of the skin without stripping essential oils. With a light and foamy gel consistency, its powerful botanical extracts and salicylic acid provide the perfect exfoliation.  TRY: IS Clinical Cleansing Complex Polish RRP: $80, 120g www.isclinical.com.au
Hydra-Intensive Cooling Masque "SUMMER SENSATION"
The perfect summer mask that delivers powerful hydration, giving you a cooling, refreshing sensation while soothing any sunburn or redness to your skin. A "Must Have" in your summer beauty bag this season. TRY: IS Clinical Hydra Intensive Cooling Masque RRP $138. Visit www.isclinical.com.au
Professional Hair in the Blink of an Eye
The Revlon Professional UniqOne hair treatment will create great hair in no time, with 10 benefits in one. This revolutionary leave-in treatment delivers professional results for all hair types anywhere, anytime on wet or dry hair. Key benefits include heat protection and repairs to dry and damaged hair. It strengthens, conditions, detangles, boosts shine and helps to prevent split ends. Try Revlon UniqOne Hair Treatment. Visit: [email protected]
Runway Room- Glow Stick Trio Gift Box
Get that professional-grade glow in seconds with the versatile Bronze, Peach Punch, and Ice Cream Mineral Sticks. Creating the perfect summer glow this season. RRP $159.95 Visit: www.runwayroom.com
TRUYU Beauty Starts Here:
TRUYU's mission is to support people every day with affordable in-home, head-to-toe beauty tools that are practical, easy to use and get the results their customers want. They empower people to 'tool up' and to put their beauty routines in their own hands. With 24 user-friendly beauty tools available at an affordable price point. Try TRUYU by QVS.  Visit: www.truyubeauty.com
Platinum Blondes
Keeping your hair cool and ashy, the INNOluxe Platinum range is the perfect system that neutralises those annoying yellow tones that creep back into your blonde over time. A "Must Have" this summer season: TRY INNOluxe Platinum Shampoo $ 39.50, 250ml, Platinum Conditioner $43.50, 250ml and Platinum Mask $45.50, 150ml.  Visit: smithscollectivebrands.com.au
100% Silk Pillowcase
Look after your skin and hair while you're fast asleep, what more can you ask for? A Coverluxesilk 100% Silk Pillowcase is the foundation of your beauty routine! These silk pillowcases have a number of beauty benefits including preventing wrinkles, blemishes, improvement of hair growth and many more!  TRY: Coverluxesilk 100% Silk Zippered Pillowcase RRP: $74.95.  www.coverluxesilk.com
Coverluxesilk Lash Luxe™ Advanced Eyelash Growth Serum
Lash Luxe™ is a gentle formulation of natural elements, dermatologically tested and proven to increase your eyelashes' length, thickness, and overall strength. Its cutting-edge formula compounds a blend of Organic Plant Extracts, Peptides, Biotin, and Pro-Vitamins including B5 and E that toil simultaneously to produce breath-taking lash growth results! TRY Coverluxesilk Lash Luxe RRP $68.95. www.coverluxesilk.com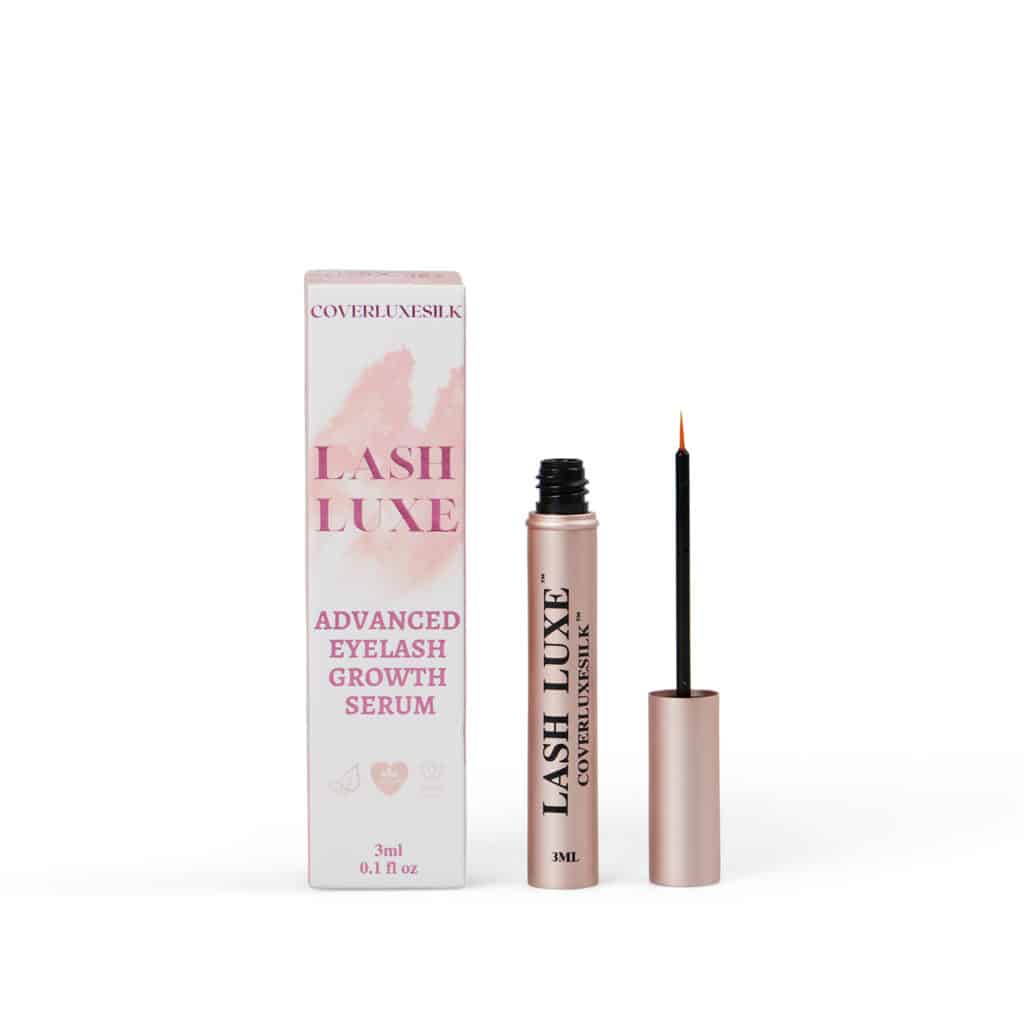 Coverluxesilk Lighten Luxe™ Heat Activated Hair
Lighten Luxe™ has a unique innovative formula which includes a blend of hero ingredients derived from nature with hydrating & lightening properties rich in vitamin E, B12, K, and C that simultaneously work together to gently lighten your hair whilst protecting and nourishing it. RRP $58.95. www.coverluxesilk.com