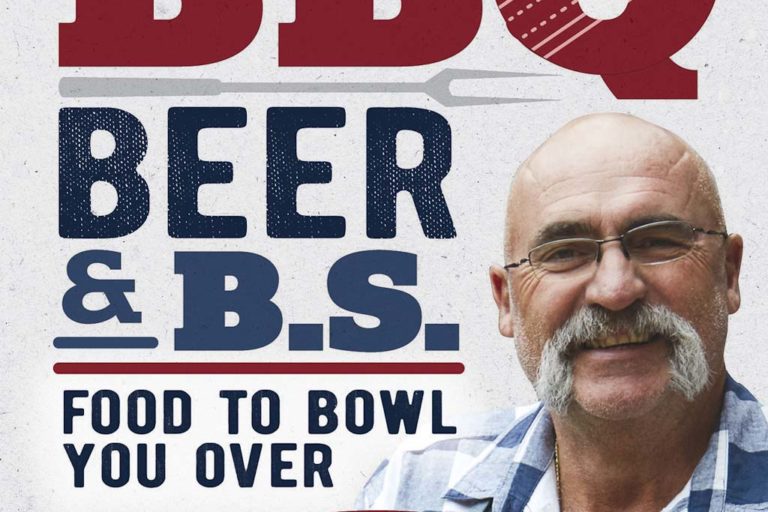 WORDS: PHOTOGRAPHY
Food to Bowl You Over
Merv Hughes and barbecue food: a match made in heaven. Big-hearted fast bowler and sporting legend Merv cooks up a collection of his most-wanted barbecue recipes along with a side of cricket anecdotes and beer adventures from the cricket star's career.
Just like Merv ripped through batting line-ups all over the world, his recipes will bowl everyone over at your next barbecue. Backyard cricket optional.
• BBQ Beer & B.S., New Holland Publishers, RRP $40, available from all good bookstores or online www.newhollandpublishers.com
beer marinated lamb rack
Ingredients:
1-3 racks (allow 3-4 chops per person)
200 ml pale ale, or your beer of choice
1 tablespoon brown sugar
1 rosemary sprig
salt, to season
1 tablespoon cracked black pepper
Serves 4–6

METHOD:
Combine the ale, sugar, rosemary and salt and pepper and mix until the sugar is dissolved.
Place lamb in the marinade for at least 30 minutes at room temperature (1-2 hours would be better with the meat at room temperature for the last 30 minutes).
Remove the lamb racks from the marinade and pat dry with paper towel. 

Grill the lamb rack, fat side down, for approximately 5 minutes on a medium-high temperature with the lid open. Turn the lamb rack over and cook for an additional 5 minutes for medium-rare with the lid down. Cook for longer if you like your lamb cooked more or the racks you have are bigger. Remove from the grill and rest for 5 minutes, then cut into individual chops to serve.
blue cheese stuffed hamburger
Ingredients:
1 tablespoon butter
1 brown onion, finely diced
1 garlic clove, crushed
1 kg beef mince
1/2 teaspoon salt
1/2 teaspoon cracked pepper
1 teaspoon Worcestershire sauce
1 tablespoon barbecue sauce
30 g panko breadcrumbs
1 egg
250 g blue cheese (cut into five 20 g slices)
5 soft burger buns of your choice, halved
1 baby cos lettuce
2-3 tomatoes, sliced
aïoli or caramelised onions, to serve
Method:
Melt the butter in a frying pan over medium heat. Add the onion and garlic and sweat until golden. Allow to cool. Combine the mince, onion and garlic, salt, pepper, Worcestershire sauce, barbecue sauce, panko breadcrumbs and egg in a bowl. Mix by hand until well mixed. Separate the mix into five equal balls.
Separate each ball again into two equal balls and place a piece of blue cheese into the centre and mould into a patty. Flatten and ensure each patty is well-sealed around the edges. Place the patties on a medium-high barbecue flatplate and cook the patties for 3-4 minutes on each side or done to your liking.
Spread the top half of the burger bun with aïoli or caramelised onion. Add the patty, then the lettuce leaves and tomato.
Serve hot (but make sure you warn everyone about the hot cheese filling).
Serves 5
bacon-wrapped scallops with spicy mayo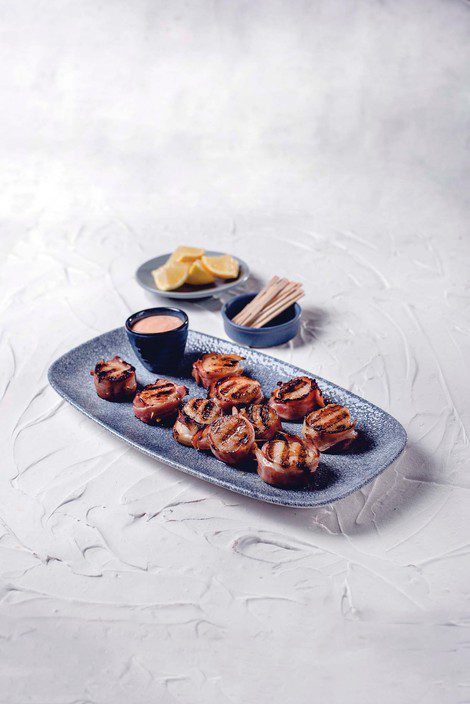 Ingredients:
12 streaky bacon strips
12 large sea scallops
1/2 teaspoon garlic powder
salt and pepper, to taste
lemon wedges, to serve
Spicy Mayo:
60 g mayonnaise
2 tablespoons tomato sauce
1 tablespoon hot sauce
2 lemons (juice of half a lemon for the sauce and half
to squeeze on before cooking)
method:
Cook the bacon on a barbecue flatplate so it is about half cooked through, then leave to cool.
Wrap each scallop with a slice of bacon and secure it with a toothpick or short skewer. Squeeze over the lemon and garlic powder, then season with salt and pepper. Cook the bacon on a hot barbecue grill until it is sizzling and the scallops are opaque. Meanwhile, make the spicy seafood sauce.
Mix together the mayonnaise, tomato sauce, hot sauce and lemon juice in a bowl. Refrigerate until needed. Serve the scallops while still warm with lemon wedges and spicy mayo.
Serves 4–6