WORDS: Corrine Barraclough PHOTOGRAPHY Brian Usher plus supplied
Believing that every baby deserves an equal start was at the heart of a new community venture that's now transforming lives across the Gold Coast.
The mission of Baby Give Back is to help families in crisis — for any reason.
"We believe every baby deserves an equal start," CEO Carly Fradgley tells ORM when we meet at the company's warehouse in Burleigh.
"Three years ago, I'd just had my son. I was feeding him in his high chair, I looked around at the baby bouncer and a pile of toys and it struck me how much stuff we had.
"I started to think about how much stuff we all need for our kids. I started looking for somewhere to donate and found St Kilda Mums in Melbourne, but I couldn't find anything in Queensland."
And so Baby Give Back was born, initially started in Carly's spare room at home — plus the spare bathroom and garage!
"I set up a Facebook page and very quickly saw there was a desire to help," she says.
"Getting the warehouse enabled us to step up to the next level of organisation. We now have more than 100 social service agencies and 250 caseworkers signed up.
"When you come together as a community, you can make a huge impact in people's lives."
Baby Give Back took on the warehouse in April 2018 after running a fundraiser high tea and golf day to get some money in the bank. Output grew by 700 per cent. Helping 10 families a month transitioned into helping 20 cots per month.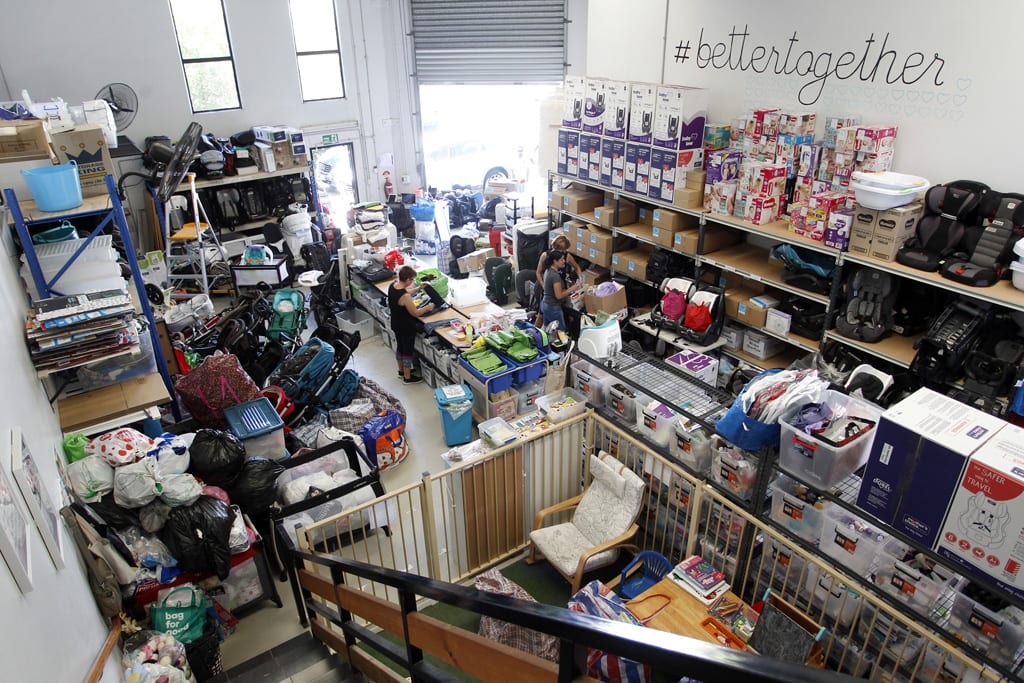 In 2019, the goal was to help 100 children per month; incredibly, they provided essential items to 2223 babies and children. That's an average of 185 children helped each month — nearly double the goal!
One in six children on the Gold Coast is living in poverty. Workers at Baby Give Back are all too familiar with the depths of trauma that are a reality for some families in our region.
"It's easy to be in a bubble, but the need is immense," Carly says.
"The level of need in Logan is especially high; that figure goes up to 60 per cent of children living in poverty.
"It's not our job to assess the family's need; that's up to the social workers. We put together the packages and we ensure that everything is given with dignity. If we're doing a box for a family with a little girl, for instance, we will make sure there are dresses, tops, skirts, a good mix in there."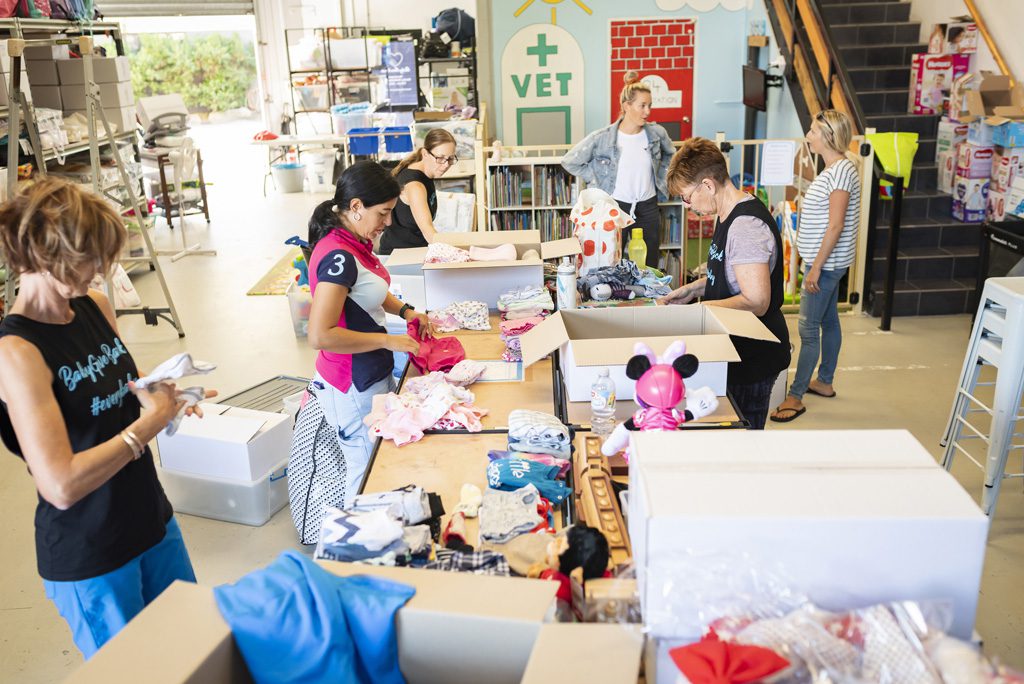 One of the most time-consuming — but vitally important — parts of Baby Gives Back is ensuring that car seats and products are up to Australian safety standards.
"We check every plastic shell and share a lot of safety information with St Kilda's," Carly says. "Our general rule is if we wouldn't put our own children or grandchildren in it, it's not good enough quality to send."
As you may expect, Baby Give Back relies on a huge army of volunteers.
"I can't even tell you how many we have — around 150 to 200 — we don't have the technology to capture that," Carly says.
"But I can tell you it's a big army of very dedicated volunteers who do very labour-intensive work. One volunteer was stacking shelves at Woolworths at night to keep her head above water financially; that's how committed they are. We all do whatever it takes."
Requests from social workers or agencies come in via the website. Lauren, social coordinator, organises the packages from there.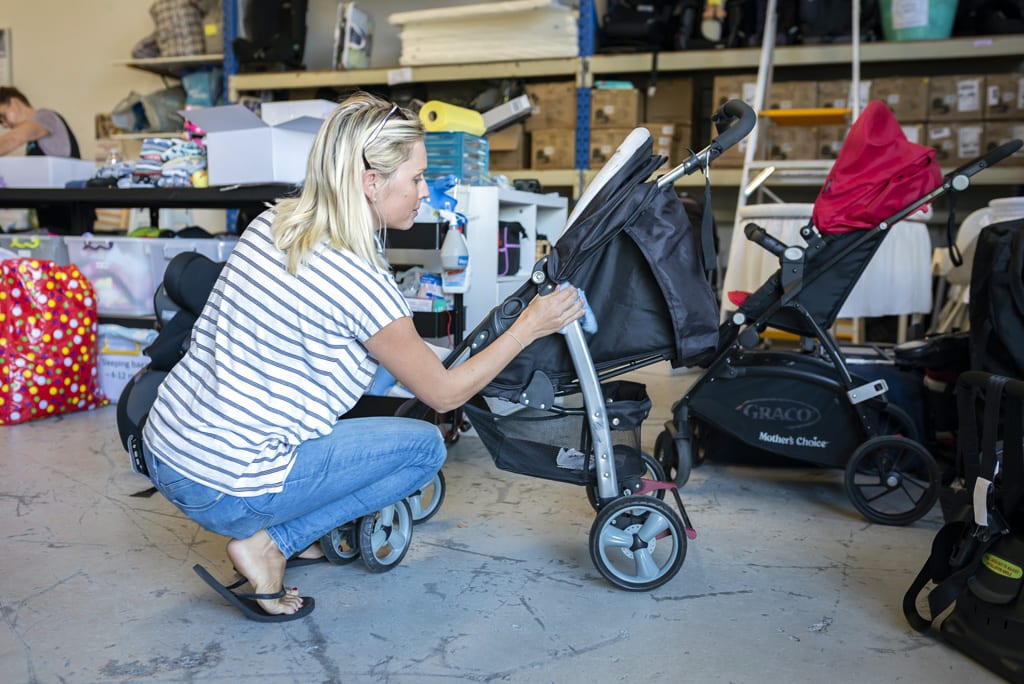 "We can have 25 different requests each week," Carly says. "One recently from Gold Coast Hospital was for an emergency foster carer who was due to be discharged with twins to care for. They needed a bassinette, clothing, nappies, everything."
Before securing a private grant, which enabled her to pour her time and energy into her passion, leaving her career as a lawyer behind her, Carly juggled it all.
"It was a huge relief to be able to focus purely on Baby Give Back," she says.
"I'm hugely passionate about it; it's part of who I am. My younger sister Mindy came on board as warehouse manager. We're very different. I look after the business side of things; Mindy's more creative, runs the warehouse, volunteers, and looks after our social media.
"She lived overseas but came back to become part of it. She moved back to Australia a week before we opened the warehouse. Sometimes I joke she missed all the hard work!
"Christmas was huge for us — we've done two Christmases now and we do brand-new gifts only. It's a really tough time for those on the poverty line; many try to pretend it's not happening. We've even heard stories about parents telling their children Santa isn't real just to avoid them being disappointed when they don't get any presents.
"Our team ran a Santa's Workshop collecting, sorting, wrapping, and giving out more than 2500 gifts to 584 children this year, plus gifts for their parents. Many of those children were not going to receive a gift at Christmas."
Some of the stories Carly can share without breaking any confidentiality are truly heartbreaking. One young mother said she wanted to have a baby so there would be someone in the world who'd love her.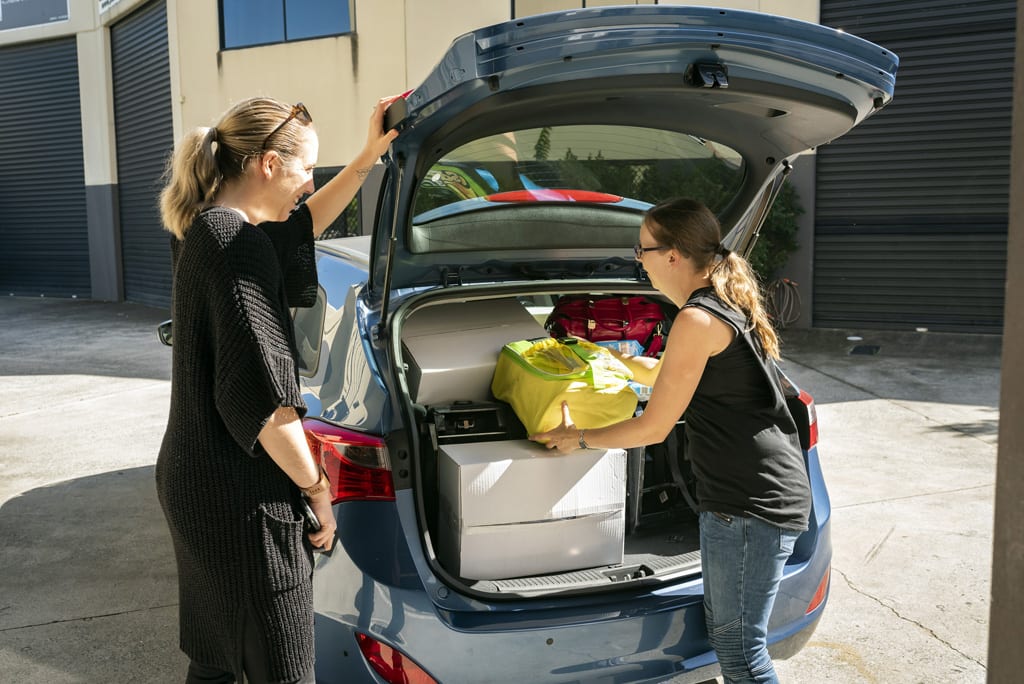 Another young girl had a five-year-old at Christmas because she'd been raped at the age of 13.
"If society judges her, how is she going to be able to go beyond these kinds of difficulties," Carly asks.
And then she shares the story of Lee, an amazing supporter who came to Baby Give Back in her hour of need. She was expecting twins when doctors told her they suspected she had ovarian cancer.
To give her babies the best chance, Lee had to wait until her babies were born for her cancer to be investigated and treated. Her babies were delivered safely at 38 weeks.
"Lee said that every time she opened the box and took out a nappy, she felt it had been packed with her in mind," Carly says. "As soon as she got back on her feet, she became a financial donor."
And that speaks volumes about what Baby Give Back is all about.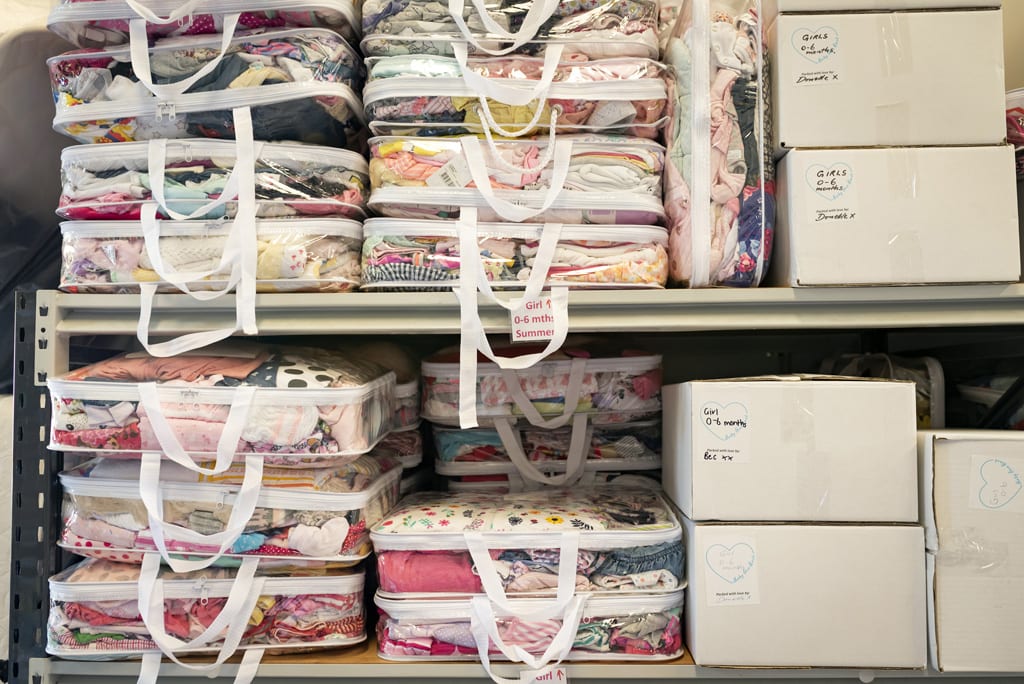 Testimonial from Lee, a beautiful mum Baby Give Back helped:
When you give to Baby Give Back, you are genuinely helping people in need. They give genuine, real, practical help that makes a big difference during a tough time.
There are so many ways to give to Baby Give Back, and they transform every physical or monetary donation into joy, hope, and love.
I encourage you to reach out to someone in darkness and brighten their tough time. Give a complete stranger joy and hope for the future. Send them love.
I was once that stranger.
Thank you,
Lee
Find out more about how you can help Baby Give Back by visiting the website  www.babygiveback.org or you can also find them on Facebook www.facebook.com/babygiveback/ and Instagram @babygiveback