AWARD WINNING MUSICAL OPENS IN BRISBANE 2018 HELPMANN® AWARD WINNER ACROSS FIVE CATAGORIES INCLUDING BEST MUSICAL AND BEST FEMALE ACTOR IN A MUSICAL.
WORDS: PHOTOGRAPHY
Like most music legends, the life story of American hit maker Carole King is one of highs and lows. The singer played an instrumental part in bringing her story Beautiful: Carole King The Musical to the stage in 2013. It hit Broadway in 2014 and garnered 7 Tony nominations
including Best Musical. Finally, in 2018 the widely praised Australian production has made its way to Brisbane.
The musical follows the rise of King as a young singer songwriter. We meet her at 16 when she meets and falls pregnant to her husband and collaborator Gerry Goffin. Their relationship
was a creatively driven partnership that proved tumultuous and resulted in pain and heartache for King. However, it fuelled the inspiration for Kings career defining album Tapestry. It featured songs such as, "I Feel The Earth Move", "You've Got A Friend", "It's Too Late", "Beautiful" and "(You Make Me Feel) Like A Natural Woman".
Tapestry was released in 1972 and won the 4 Grammy awards for King, including the top prize for Album of The Year. It's a timeless album. Like Fleetwood Mac's "break up album" Rumours, Tapestry struck a chord with women around the world. It was an intimate, authentic and melancholy account of heartbreak. These songs from the album are ever so
present in the production.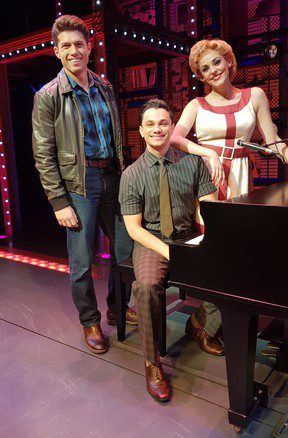 At the heart of this production is Esther Hannaford who portrays Carole King. Recently, she was awarded the Helpmann Award for Best Female Actor In A Musical. Hannafords work here is superb, she commands the stage and beguiles the audience from beginning to end.
Along with two gongs at Act II of the Helpmann® Awards on Monday night, the musical also took home Best Direction of a Musical, Best Female Actor in a Supporting Role in a Musical, and Best Male Actor in a Supporting Role in a Musical for Cairns-born Mat Verevis at Act I of the theatre industry's annual honours on Sunday.
Beautiful is jukebox of timeless hits, that's full of heart. It's not to be missed. For tickets and more information about this production go to: http://www.beautifulmusical.com.au
BRISBANE
MUST CLOSE SUNDAY 2 SEPTEMBER 2018
Lyric Theatre, QPAC Corner of Grey St & Melbourne St, South Bank QLD
Book at QPAC 136 246 or www.qpac.com.au
Groups 10+ call 07 3840 7466 or [email protected]
In person at QPAC Box Office
Tickets from $60 – $195* (*Transaction fees may apply)